From basketball team manager to international career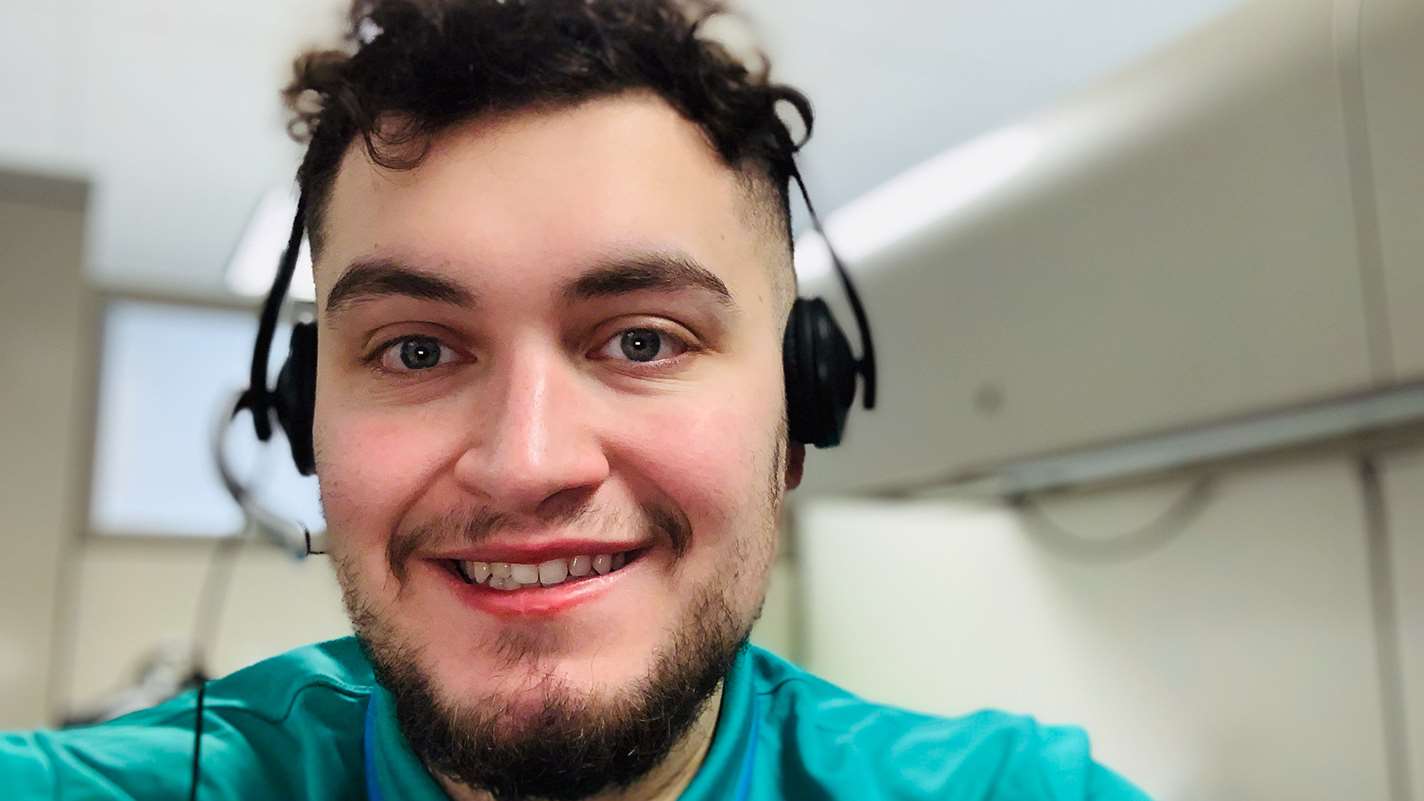 Degree: BBA in Management, May 2019
Occupation: Sales Trainee, Graduate Rotational Program, UPM
During his time at Loyola, Sameer Sawaqed (BBA '19) invested in both class and activities outside of class, including managing the men's basketball team and connecting with faculty. His hard work has paid off with an international start to his career.
Below, Sawaqed shares his Quinlan journey and how he continues to apply his learning to his life.
What are you doing now?
I'm currently part of the 12-month early talent graduate rotational program for UPM, an international forest industry company committed to sustainable business. I'm working in their Naperville office as the first U.S. sales trainee in program history. I've had the chance to work with sales, customer service, supply chain, and more through the program. I was able to travel to Finland at the start of the program, and also visited Augsburg, Germany. While I was in Helsinki, I visited UPM's headquarters, met the executive team and had the chance to even ask the CEO a question. Unfortunately, due to the COVID-19 pandemic, I was unable to do my 3-month rotation abroad.
What are your passionate about?
I have a passion for mentorship. When the pandemic first hit in March, I got the sense from many of my peers at the college and recent-grad level that people were feeling lost. I had people reach out to me asking for guidance. There was a lot of fear of what was next and a lot of uncertainty. I decided to launch a podcast, The More We Know with Meer, to use my platform to connect my peers with free mentorship or guidance from the entrepreneurs, actors, and others that I interview. Everyone is so busy and it's hard to find a mentor now, but through my podcast, I'm gathering advice from successful business people to share some wisdom with a young audience. I was lucky to have mentors through college that shaped my career, and I want to do the same through a free podcast.
What are your goals?
I lost 100 pounds during my time at Loyola and am hoping to lose my last 60 pounds and inspire others in any way I can. My future plans include pursuing my MBA and PhD and having one million-plus listeners on the podcast and being able to motivate and empower as many people as I can on their own individual journeys. I am constantly asking myself, "What is my why? What impact do I want to leave here?"
Why Quinlan?
Loyola offers the best of both worlds – the Lake Shore Campus gives the traditional campus feel, while the Water Tower Campus puts us steps from the business world. Quinlan offered a unique opportunity to learn in the heart of Chicago and network with successful alumni to learn more about business through them. Quinlan also promotes doing good business, making sure it is ethical, moral, and making a difference. The resources Quinlan provides, from the faculty, career services, networking events, and more, is exceptional. The professors are like family, and if you show your interest, they will go above and beyond for you.
Why management?
I came in with a management major because I didn't know what exactly I wanted to do in business, but I knew that it would set me up with the foundational knowledge to be successful. I added the entrepreneurship minor because I've always had an entrepreneurial spirit and wanted to launch my own business. The part of business I love is building relationships and learning from other people. In business, I get to solve people's problems and make them happy as a result.
What is your favorite Loyola memory?
I was a head manager for the men's basketball team the year we went to the Final Four. It was incredible to have that experience. It did not end the way we wanted, but that was an experience of a lifetime! I used my education from class to apply it to my time with the basketball team, whether that be empathy in leadership from Dr. Gini's class or structure and leading by example in Dr. Len's class.
Any advice for current students?
Time flies in college, so seize every opportunity you can. When I was in school, I thought of my college experience like stocks: you have to invest in order to get anything out. I wanted to get a maximum return on my investment in school, so I invested my time and energy into it, and I got so much more out of it. If you're willing to put in the work, then the world is yours. If you are at Loyola, you have a head start because of the plethora of opportunities.
I would also add to make connections with as many people at school as you can. Your classmate maybe your co-founder, or your professor may have a connection at a firm you want to work at. Lastly, there are so many people at Loyola who impacted me, from Porter Moser, London Dokubo, and Drew Valentine with basketball, to Al Gini, Carolyn Kmet, Fady Harfoush, Kevin Lee, and April Lane Schuster from Quinlan, just to name a few. Their mentorship and advice made a big difference in my growth over the four years. I am still applying what I have learned from them to this day!
Learn more