In networking, be fearless and be yourself, says alum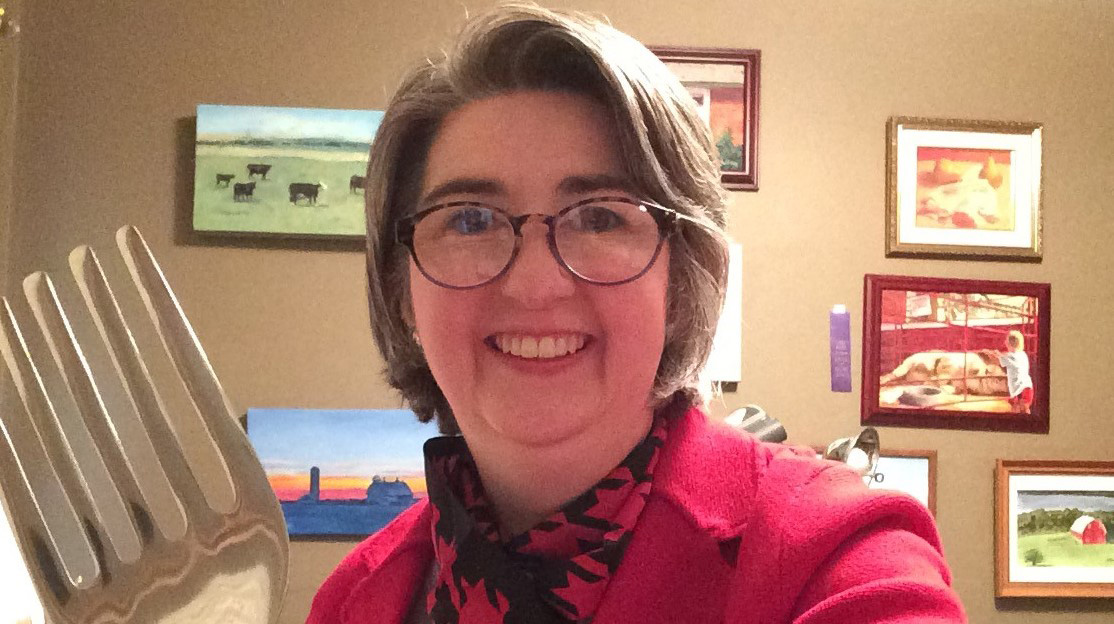 While working in the music industry, Callista Gould (MBA '97) would sometimes see artists behaving poorly behind the scenes and how it negatively impacted their career. This helped propel her to becoming a certified etiquette instructor.
"One of the things I enjoy the most is helping prepare people for the job market," says Gould. "I founded the Culture and Manners Institute to do this. At Loyola, they talk about doing good for others, and this business feels like a good way to do that."
Gould's family has a long relationship with Loyola: her dad earned his undergraduate and medical degree from Loyola and her sister Maureen earned a Quinlan MBA. "I decided to go for it, and it changed my career path," Gould says.
She worked her way up at Sony Music (Columbia and Epic recording labels) from the reception desk to the marketing team. She later served as public relations manager at Amana Appliances and marketing director at tech start-up InterTech Media.
Now with her etiquette business, Gould travels the country speaking at colleges and corporations on the topics of business etiquette, networking, and career advice.
Below, she shares her top tips for students.
Networking tips for students
Don't be afraid
Students often think they're bothering people when they try connecting with people. Instead of imagining networking as a room full of strangers that you have to give your elevator pitch to, think of it as a room full of stories. Get to know people's stories by asking questions, and it'll be much easier and more enjoyable. Never underestimate how much Loyola alumni want to help their fellow Ramblers.
Start with a personalized invite on LinkedIn
Invite people to connect – maybe they're a fellow Rambler or they work in the field you want to be in. Send them a personalized note when you invite them, and you'll be surprised how positive the response will be. Then, make an effort to like posts and leave comments. Lift people up and it will come back to you. Something as simple as a "Congratulations on your promotion" or an encouraging message makes a difference.
Make it a conversation
Go into each opportunity asking questions about the person. Learn how they got interested in their field, ask questions you're wondering about them, and really listen. Then ask questions based on their answers. And don't be afraid to ask about their hobbies and other interests – make connections with people! If you show interest in people, they'll show interest in getting to know you, too.
Write thank you notes
Take the time to thank people who meet with you to chat. Send a note to a favorite professor who had an impact on you. Professors almost never hear from students after they graduate. I had a professor who gave me a lot of good direction when I was struggling right out of college, and later in my career, I wanted to let him know of my success. By the time I tracked him down to send a note, he had passed away. Show gratitude for people when you can.
Make the effort to learn names
One of my marketing professors at Loyola gave us 10 minutes on the first day of class to mingle and introduce ourselves to each other. He said, "One of the questions on your final will be to name as many classmates as you can – first name, last name." A few of the students in the class of 45 to 50 groused about it and said it had nothing to do with marketing. It had everything to do with marketing. Name recall isn't something we're born with – it's a skill that requires constant practice.
Use humor
Humor helps you connect to people and engage your audience. For one of my group presentations during my MBA, I made a presentation entirely of Far Side cartoons. They connected to the content of the project, and it was a totally different take than other groups had done. At first my teammates were shocked, but by the end we had everyone laughing, including the professor, and we got an A on the project.
Keep something quirky in your resume
I had a minor in medieval studies in undergrad. People always would tell me to take the medieval studies minor off my resume, that it has nothing to do with public relations or marketing. But I kept it. When I interviewed with the CEO of Amana, I found out he was a collector of medieval maps. I ended up getting the job over other candidates, and I think my MBA experience and the medieval studies minor made a difference.
Learn more