Leveling up with the Next Gen MBA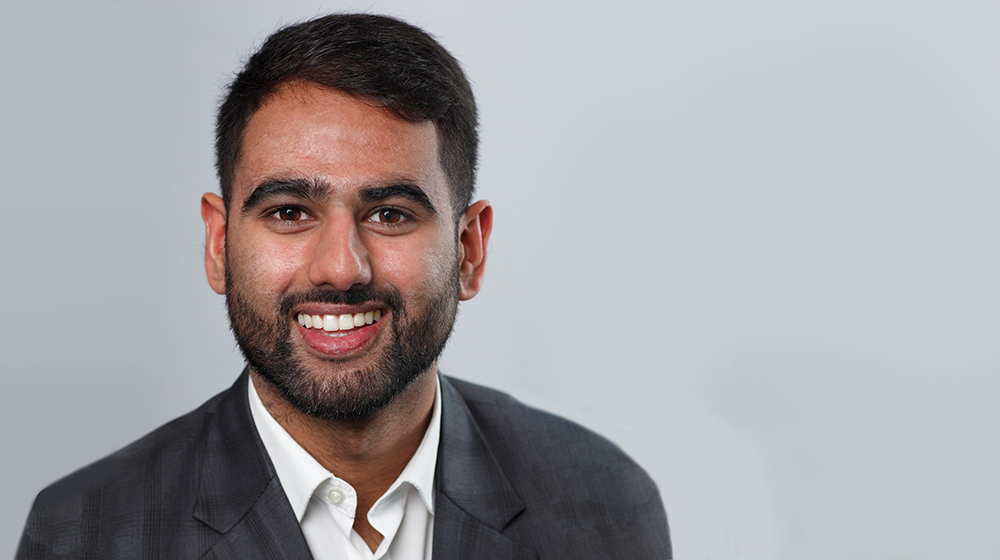 Degree: MBA '21
Occupation: Business Skills rotational program, Boeing
Veerkanvar (Veek) Cheema (MBA '21) is seeing the impact of the Next Gen MBA in real time.
During the day, he works for Boeing in its Business Skills Rotational Program. At night, he's learning key business skills through the MBA program, including collaborating with classmates from business, nonprofit, and government sectors. Together, his experiences are changing his approach to business problems and helping him learn how to work more effectively.
Below, Veek discusses how he chose the Quinlan and how he already sees his learning impacting his career.
Why the Next Gen MBA?
Early in my career, I knew that I would eventually go back to earn my MBA. As I wrap up the Business Skills rotational program with Boeing, now felt like the right time to take my education to the next level.
Quinlan has a top 50 MBA and is also located in the top 3 largest cities for business, making it a no-brainer for me. It also offered small class sized and the opportunities to focus on service- and inclusion-based leadership rather than solely technical skills. The classes are also tailored to the students. Because my undergraduate degree was in business, I was able to wave out of some of the foundational business courses I already had in my toolkit, and focus more on strategic decision-making.
How will the MBA help your career?
An MBA is the next critical step to move from my early career and getting my feet wet to becoming a business leader.
Already, I am able to think more strategically and approach problems differently thanks to the MBA program. From my first quarter of the program, I learned how to look at issues from the top down, which has helped my problem-solving skills tenfold. I'm also taking a marketing concentration, as I'm interested in moving into the corporate branding side of Boeing after I complete the rotational program. My classes allow me to explore my interest there and build the skillset I will need to succeed.
Another great part of the program is collaboration with my classmates and colleagues. As we work together on different problems in class, I hear about their industries and how business problems are approached at their company.
From those conversations, I can bring back new strategies and ways of thinking to my team and look at our strategies from another angle. Business collaboration is so important and working with my classmates and enhanced my diversity of thought and allowed me to communicate more effectively.
The most impactful part of the program?
Without hesitation, the faculty have been the most impactful part of the program. The amount of effort and care they put into classes to make the best of the situation is incredible. They've shown adaptability to cater to what's best for students while online. The faculty bring their creative practices, industry expertise, and empathy to their classes and are making it the best experience possible given the circumstances.
I will also add that my colleagues in my cohort have been amazing. Although virtual and all over the country in some cases, I truly feel that I have made some great connections and friendships thus far in my MBA journey.
Any advice for prospective students?
If you're thinking about an MBA but don't know when to start, don't feel forced to wait for the perfect time. The perfect time for you to start is exactly when you feel it's right. Focus on proactive learning – you'll know the moment when you decide it's time to go back to school for your MBA.
Everyone in the MBA program is there to go from good to great, and it's critical to learn things that excite you and will take your career to the next level.
Learn more