Nine Loyola students selected as CME Group Foundation Scholars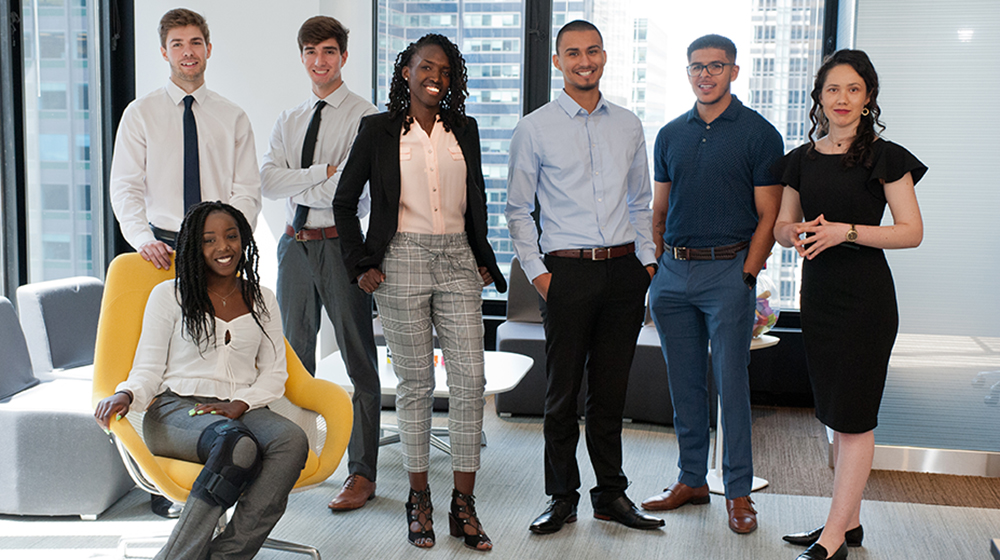 When CME Group Foundation announced its inaugural class of scholars, the largest number came from Loyola University Chicago.
Of the 25 high-performing students selected by the foundation, nine — or nearly 40% — are Loyola students. The Loyola students range from sophomores to seniors and are majoring in finance, computer science, and information systems.
Each were selected because of their achievements and the impact the scholarship would have on their education.
"CME Group Foundation is dedicated to investing in students because they are crucial to our success and future economic well-being as a state, as a nation, and as a community," says Kassie Davis, executive director of CME Group Foundation. "We have a long history of support for Loyola University Chicago and hope that by offering scholarships to Loyola students majoring in finance and computer science, they'll be prepared for great careers in our industry."
Loyola's 2019 Scholars
The nine CME Group Foundation Scholars from Loyola are:
Jada Aduda (Finance)
George Campau (Finance and Information Systems)
Tania Guzman (Finance)
Jose Hernandez (Computer Science)
Scholastique Iradukunda (Finance)
Patrick Mullen (Finance)
Uriel Reyes Vazquez (Finance)
Tyson Thomas (Finance)
Daniel Velarde (Finance)
Students from six other universities in the Chicago-area and in New Jersey were also named CME Group Foundation Scholars.
About the CME Group Foundation Scholars
The Foundation Scholars program is open to underrepresented students with a variety of majors in finance and technology. The program awards the students with a scholarship of up to $20,000 per year, renewable for up to three years.
Foundation Scholars were also invited to CME Group's Chicago headquarters to attend career panels, network with CME Group employees, and learn about internship opportunities. See Market Education Day photos →
Learn more about the Foundation Scholars program:
Loyola and CME Group Foundation
Loyola is grateful for the CME Group Foundation's longtime support of the University and its students, including its support of the CME Group Foundation Business Analytics Lab in the Quinlan School of Business.
Learn more