Professionals talk COVID-19 at Q Talks: Live! Spring 2020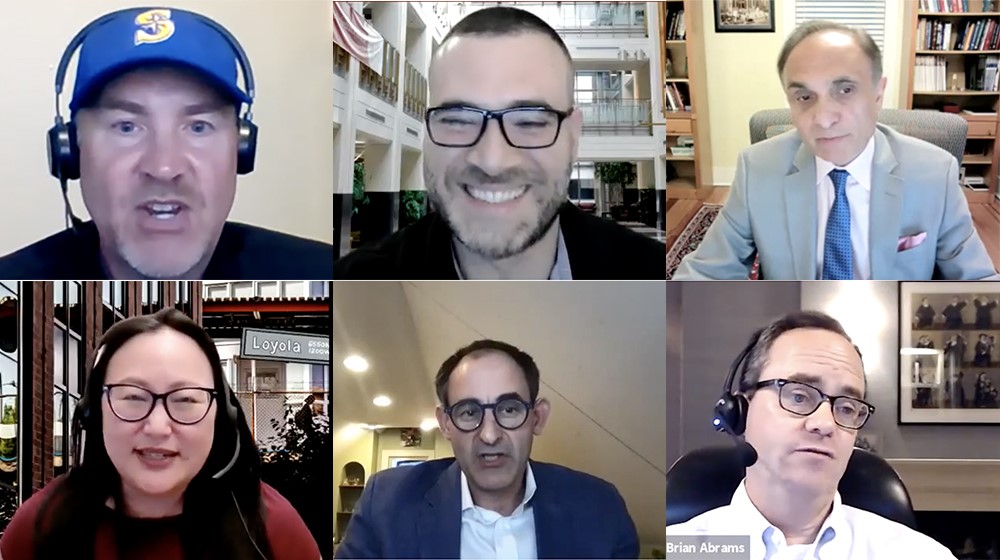 Quinlan faculty and staff experts came together for conversation for the spring 2020 installment of Q Talks: Live!
Quinlan alumni and friends logged onto Zoom to join the virtual conversation. Rick Sindt, associate director of alumni relations and special events, moderated the event.
Conversation 1:
Fanatics and the Ever-Changing Sports World: How One Company Thrives through Online Affiliate Marketing
Featuring: Senior Lecturer Carolyn Tang Kmet, Quinlan School of Business and Wade Tonkin, Fanatics, Inc.
Senior Lecturer Carolyn Tang Kmet interviewed Fanatics' Director of Global Affiliate Marketing Wade Tonkin to discuss how Fanatics has grown from working with smaller businesses to working with large corporations.
Key takeaways:
Invest in source partnerships
Fanatics drives multi-channel commerce for some of the biggest sports brands. The company conducts sales through mobile, in-stadium, and on-site events. Their commerce portfolio includes more than 300 online and offline stores, including e-commerce business for all major sports leagues.
"Collecting reports and analytics helps the team find out how a particular shopper is interacting with different partners," Tonkin says.
Tonkin expresses how it is important to invest in source partnerships—for Fanatics, having a good CRM and good discovery tools are useful for partners. Fanatics uses these tools to keep track of social media conversations and hashtags to see who they can potentially form a partnership with.
Identifying sales attribution
Professor Kmet compared identifying sales attribution to 10 years ago. She said that whichever channel was the last touch for a customer before the sale was completed is where the attribution went. Tonkin explains that identifying attribution can be tricky nowadays.
Tonkin says that "attribution is something that we are constantly evolving in. We are doing a lot more internal work where we stitch everything together from our logs, put together the full picture, and figure out where credit should be assigned.
"This is tricky because it depends on the type of partner that you're working with. There might be four or five different channels interacting with a shopper before the sale is completed. It's trying to decide where value is actually being delivered," he adds.
An intentional market
In November 2020, Fanatics saw its best cyber week in the company's history, which they attributed in part to a spike in sales of women's merchandise.
In the past, Fanatics noticed that their women's sales were low. They realized it was because they did not have the product that women wanted.
Tonkin says that Fanatics analyzed their female customers and noticed that women did not want the traditional pink colors and smaller sizes. Fanatics discovered that women wanted products with team colors but in a more flattering cut.
"Women make a little bit over half of the purchases on the site, whether it is for themselves or someone else," Tonkin says. "We decided that appealing to women made sense from a business perspective."
Conversation 2:
From Vaccines to Medical Supplies: Fixing Healthcare Supply Chain
Featuring: Professor and Faculty Director of Supply Chain and Sustainability Center Michael Hewitt and Manger of Supply Chain Systems at University Chicago Medicine Hussam Bachour (MBA '16, MSSCM' 16)
Professor Mike Hewitt interviewed Hussam Bachor (MBA '16, MSSCM `16) to talk about how COVID-19 impacted the healthcare supply chain.
Key takeaways:
Supply chain in healthcare
Bachour explains how the healthcare supply chain is different from other industries. For example, other industries may accept a 95% supply chain service level. In healthcare, a 95% service chain level is unacceptable because there are patients who are not being cared for, and there is a risk of death.
Bachour shares that supply chains need to be designed to meet all of the healthcare objectives.
"For example, the University of Chicago Medicine has their own objectives," Bachour says. "We have the caring of the patient, the medical research advancement, and the medical education. These objectives will impact sourcing practices of supply chain."
Healthcare transformation before COVID-19
Ten years ago, the supply chain design was too high in inventory. This shifted to a specialized supply chain that included a "just-in-time" inventory and supply chain model during the healthcare transformation. Instead of having as much inventory a healthcare provider can carry, the provider only carries as much as they need.
Bachour also explains that there was a change in sourcing inventory. Sourcing became more strategic during the transformation.
"In the organization, I have worked with a long-tail strategy that focuses on suppliers that are strategic partners," Bachour says. "We work with many suppliers who achieve the variability in the products to enhance the research and medical education."
Managing demand during COVID-19
Bachour says that the demand for supplies like PPE doubled during the pandemic, and demand in healthcare is tough to manage. Healthcare switched to demand management during COVID-19 because they focused on urgent cases like COVID patients. Bachour and his team had to set up external and internal inventory locations on the supply side.
Bachour says that the "just-in-time" model does not work when there is a spike in demand or a huge disruption in supply.
"However, the built-in agility and the resilience of the team helped reintroduce some of the measures that we eliminated during the healthcare transformation to design a post-COVID-19 model that makes sure that our clinical team and patient is protected," Bachour says.
Bachour believes that the COVID-19 supply chain model will not be sustainable for a long time because it is not financially sustainable. A model should be developed where healthcare providers can react if a similar event happens again.
Conversation 3:
Aligning Wall Street and Main Street: Policy, Economics, and the K-Shaped Recovery
Featuring: Executive Director of Loyola Business Leadership Hub Abol Jalilvand and Professor Brian Abrams, Quinlan School of Business
Professor Abol Jalilvand and Adjunct Instructor Brian Abrams discuss how Wall Street impacts income equality and possible solutions to the income inequality gap.
Key takeaways:
The reality of minority-owned businesses
"Industries have increased employment by roughly 50 percent, yet in the United States, we are experiencing somewhere between 8 to 10 million unemployed," Jalilvand says.
According to Brookings, in 2016, the net worth of the median white household was $171,000 compared to a household income for a Black household with $17,600 and a Latinx household net worth of $20,700.
"Without access to capital, minority populations were struggling to start businesses and create generational wealth," Abrams said. "How can Black and Latinx businesses begin to build wealth after the pandemic? We entered the pandemic with inequality and presume that we will end the pandemic with even greater inequality."
Abrams continues, "We expect the markets to find great ideas and invest in letting the best ideas in business emerge, but the reality was different."
Jalilvand says that he thinks the numbers that Abrams are measuring are part of the story, but it's not the whole story.
"The story between market volatility and what is going on in the main street is consistent with that the market and the main street are working, but the relationship between the main street and the indices, I think that is explaining part of the story," Jalilvand says.
"I think we should look at growth in the market industries but look at the market volatility," Jalilvand continues. "I think the market volatility has remained extremely high, which is essentially telling us whether this growth that we are observing is going to be stable over the next couple of years."
Impact of COVID-19 on inequality
Jalilvand says that people have talked about the democratization of investing so that individual investors can easily gain capital market and build wealth. Jalilvand asked, "Is there a role for capital markets to reduce income inequality?"
"Government policy creates the rules of the game," Abrams says. "I think we have to reorder the rules. So, yes, I think it's the capital markets. I am a big fan of capitalism, but I am not a fan of maximizing shareholder wealth."
Another solution Abrams believes that can reduce income inequality is if shareholders define what their values are.
"Let the companies find what they are going to be and let the investors and consumers vote with their wallets," Abrams says.
Abrams ends the conversation by saying that he thinks it's all about "rethinking the rules of the game."
"How do we move from where we are with lots of people like me being at the top and symbols of success to something else which allows lots of people to have the opportunity to succeed too," Abrams says.
Learn more