Professor Danielle Booker joins Accounting faculty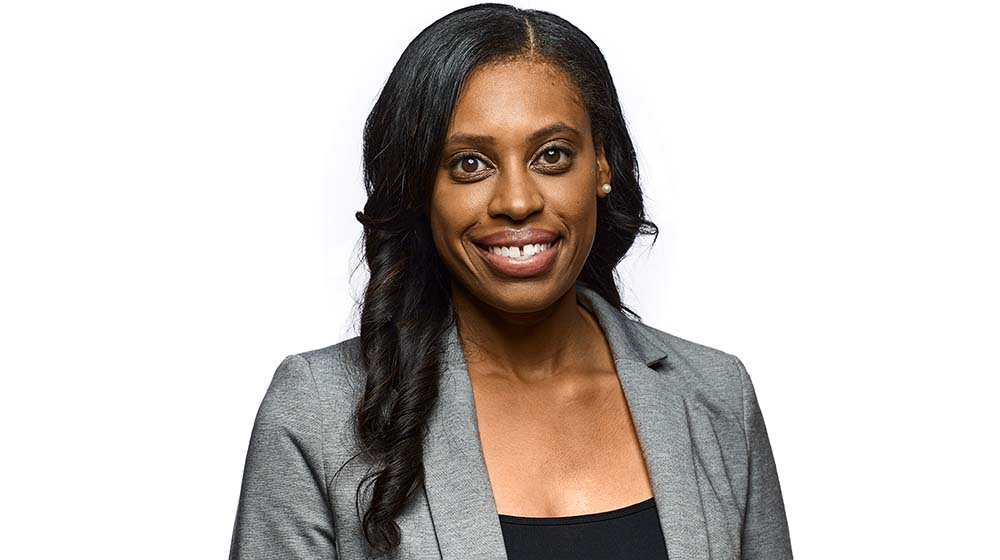 Assistant Professor Danielle Booker joined the accounting faculty at the Quinlan School of Business in August 2020, bringing a wealth of auditing knowledge and professional experience to share with her students.
Below, she shares her journey to teaching and how her professional experience translates to the classroom. Plus, she shares a favorite memory of competing on a national game show.
Why accounting?
It really goes all the way back to eighth grade. We were tasked with choosing a "major" for high school and I loved math. My dad worked with our church finances and I used to help him, so I had already been exposed to accounting and it felt like the right fit.
In high school, I was in Business Professionals of America (BPA), and I won a few accounting competitions that gave me the opportunity to travel. I always credit accounting for my first-ever flight, because my first plane ride was a trip for BPA. In college, I was the president of the student chapter of the National Association of Black Accountants (NABA). I had the opportunity to meet other students from similar backgrounds, network with professionals, receive scholarships, and attend the NABA Central Region Student Conference. My involvement in NABA reinforced my interest in accounting and helped prepare me for the start of my career.
What drew you to teaching?
When I was working on my master's, I had a graduate assistantship in managerial accounting, which gave me my first glimpse at teaching. I enjoyed meeting with students and building a connection with them. The best part was getting to experience those "lightbulb moments" when I would explain a concept to a student and they finally understood it. It's almost like it gives you chills to have those moments and it brings me joy to help others learn.
After completing my master's, I worked at Deloitte in Chicago, one of the Big Four accounting firms, as a Certified Public Accountant (CPA) before transitioning to the industry sector to work for a health insurance company. After five years, I decided to go back to school to do something I was passionate about, so I thought back to my grad assistantship and knew I wanted to go for my PhD to become a full-time professor.
How does your experience inform your teaching?
I was an auditor while at Deloitte so I bring in real-world experience to my audit class to help students get a better idea of what auditing is, the ethical implications of this field, and what the day-to-day looks like for an auditor. Understanding the audit process is beneficial to students even if they do not become auditors as they will likely be in contact with auditors at some point during their accounting career. So, I also share my industry experiences from the audit client perspective to give students an idea about the types of interactions they can expect to have with auditors.
What will students learn from you?
Students will learn the principles of auditing, the important role auditors have in ensuring that companies' financial statements are presented fairly to the public, and how auditors are using advanced technology such as data analytics in the audit. Auditing involves critical thinking, applying professional skepticism, and using the tools you're given to investigate the evidence provided. They will also learn to develop necessary analytical, logical, and communication skills to support their professional judgments.
Although my course is not a CPA exam prep course, I hope to provide my students with the foundational skills necessary to be better prepared for the Audit section of the CPA exam if and when they do take the exam.
What is the focus of your research?
My focus is auditor judgment and decision-making. Essentially, I use psychology theory to help understand, evaluate, and improve auditor judgments. Everyone is subject to some level of cognitive bias and auditing involves a considerable amount of professional judgment so I examine how we can mitigate certain biases and improve the decision-making skills of auditors.
How is it to be back in Chicago?
I grew up on the Southwest side of Chicago and I'm excited to get back home. We're in the heart of Chicago at Quinlan, and close to great business resources. I spent my professional career in Chicago, so I'm excited to reconnect with old colleagues and introduce my students to them. I wasn't expecting to have the opportunity to return to Chicago so quickly after earning my PhD, so I'm ecstatic to be back already.
What's a fun fact about you?
My family and I were on Family Feud in 2018! We played five games, which is the maximum one family can play. We didn't win the car, but overall it was a great experience. My family is very competitive, and we watched Family Feud together growing up (and still watch every day) so it was incredible to be on the show. Steve Harvey was hilarious and having the opportunity to film a game show with my family was one of the best experiences of my life.
Learn more