Award-winning business case to be used nationwide in marketing classes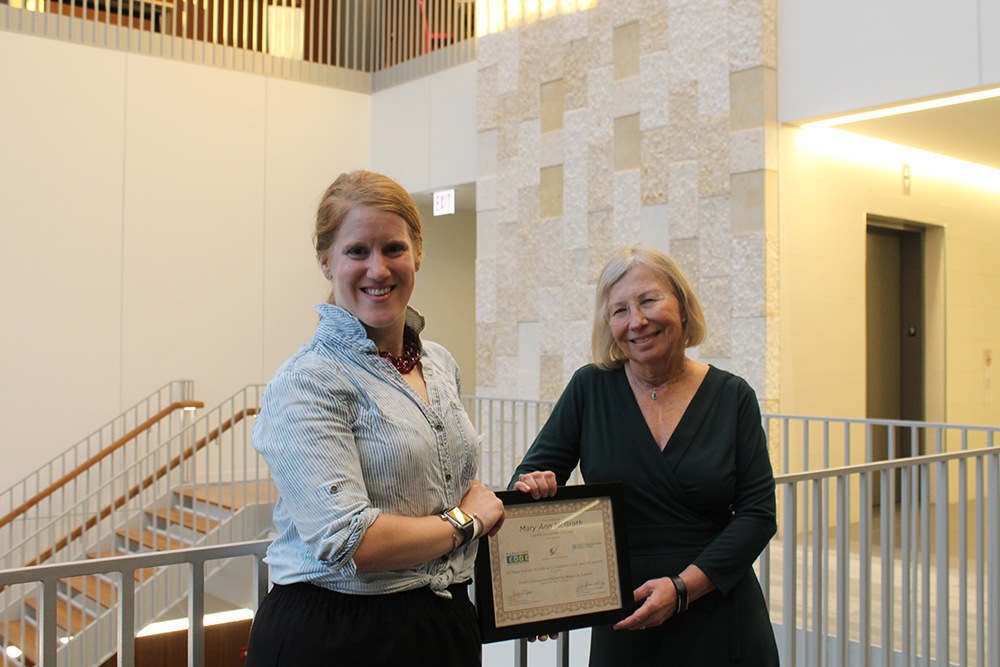 By Adriana Geday | Student reporter
A business case study authored by two Quinlan marketing professors—and featuring a social enterprise with a unique connection to four Quinlan alumni—recently received the bronze medal at a national competition.
Professors Stacy Neier and Mary Ann McGrath presented their case study at the annual Jacob's & Clevenger Case Writer's Workshop, a selective competition sponsored by Marketing EDGE to strengthen marketing education.
The award-winning case will soon be published in the IMC Handbook and used nationwide by educators in integrated marketing communications classes.
"It is a great honor to be counted among the top marketing cases in the country," says Neier. "Even more special was that three Quinlan marketing classes had hands-on roles in strengthening the case and helping develop marketing strategies for a social enterprise."
From Class Assignment to Award Winning
The case asks students to develop a marketing plan for BowTie Cause, an organization that raises awareness and funds for worthy causes by selling bowties.
According to Neier, she found the inspiration for the case in 2012 when Quinlan presented its Emerging Leader award to four alumni who helped BowTie Cause expand in Chicago.
The next year, Neier reached out to the Amanda Williams, BowTie Cause's CEO.
"BowTie Cause sounded like an amazing organization, and their team was excited to collaborate with Quinlan on class projects and brainstorming different ways of increasing awareness and community partnership," says Neier.
With the help of Williams, Neier outlined a marketing plan for BowTie Cause. This plan was then assigned to a Quinlan marketing class to assist in building a retail audit. Later, this audit was given to a marketing research class where students were tasked to collect and analyze data about the successes of some of these strategies. Based on the results of these class projects, Neier created the first draft of the case study.
Neier then asked McGrath to join her in revising the case statement for the writer's workshop competition. The pair assigned the revised case to a graduate marketing course to develop additional marketing strategies for BowTie Cause and strengthen the case study.
"Because of the students' work, we had all of these insights into BowTie Cause, and we worked hard to honor the students' contributions in our writing and our recommendations to the organization," says Neier.
A Case for a Good Cause
Quinlan's partnership with Bowtie Cause fits well with Quinlan's mission to educate students to do well—and good—in business.
Neier explains that marketing social enterprises has its unique challenges, which Quinlan students experienced in the hands-on class projects. Additionally, by featuring Bowtie Cause in the case, students nationwide will be encouraged to engage with an organization and a sector that might not otherwise be part of their experience.
For her part, CEO Amanda Williams has seen great value in partnering with the Quinlan School of Business.
"The impact students at Quinlan have had on our organization is huge," says Williams. "The students and the professors really took our project and ran with it. Especially valuable has been the marketing analytics that Loyola provided, as we as a nonprofit don't have the resources to invest in that critical data."
Neier adds, "There's a very concrete and explicit impact that our students make by engaging with an organization in a real-world setting."