Q Mentorship program builds critical professional skills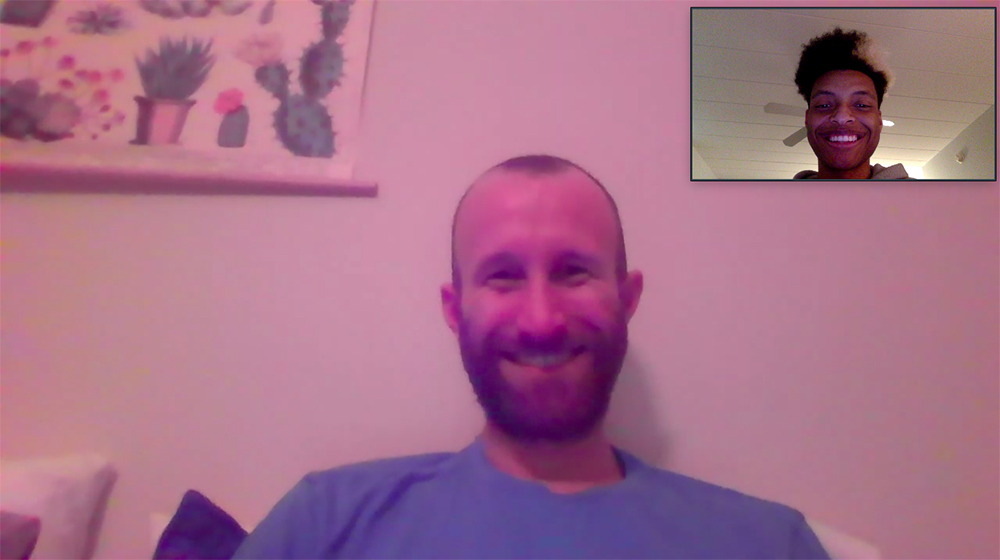 Kyle Sigmund (MSF '10) felt called to share his time and perspective with Quinlan students and found the right conduit in the Q Mentorship program.
"Thinking back to my undergraduate days, I struggled during the 2008 recession and had a hard time trying to find a job," says Sigmund. "It would have been so helpful to have someone to ask questions and bounce ideas off, and it's rewarding to be able to be that person for someone else."
The program connected Sigmund with Frayne Lewis (BBA '22), who secured a paid summer internship thanks to the skills and work ethic cultivated through their mentorship.
Connecting students with business professionals
A supplement to the BSAD 220 Career Preparation course, the Q Mentorship program seeks to pair students with a business professional who complements students' career goals and aspirations. Initially, Lewis was skeptical of how much he would get out of the experience.
"I was worried it would be awkward, especially since it would all be over Zoom," he says. "As soon as I connected with Kyle, I was excited about the program! It's great to hear from someone outside of the classroom who has business experience and can give that other perspective."
Sigmund and Lewis met monthly via Zoom to set goals and plans to grow over the next month. For Lewis, this created an opportunity to ask questions and learn from real-world experiences.
"It's a huge relief to have someone I can talk to other than my professors to get a real-world perspective," says Lewis. "I had all of these questions I wanted to ask and didn't always feel confident asking them in class. Now I have someone who is always there to help and give me advice and answer all of the questions that I didn't necessarily have to a chance to ask in my classes."
Starting from the basics
Before the Career Preparation course and the Q Mentorship program, Lewis didn't have a strong resume or career plan. Sigmund spent time helping Lewis build a strong foundation for an internship search.
"Kyle had me put together an Excel internship log and kept me accountable for applying to 10 internships per week," says Lewis. "It felt like a lot, but it all paid off. Opening the email and reading 'Congratulations, you've been accepted!' was a huge weight off my shoulders. I texted Kyle as soon as I found out. I couldn't wait to tell him."
With help and guidance from Sigmund and the tools he learned in class, Lewis had secured a paid internship in summer 2021 with Ariel Investments, a Chicago-based investment firm.
Hard work paid off
Sigmund is thrilled that Lewis met his goal for a summer internship and has grown professionally.
"It's been very rewarding to see Frayne's progress since we first started meeting," says Sigmund. "It's exciting and rewarding to not just volunteer my time to make a little step in the right direction, but to dive deep and build a lasting connection to make an impact on someone."
For Lewis, the Q Mentorship program has given him a path forward.
"I finally feel like I have a strong understanding of business and what I want to do," says Lewis. "I feel confident speaking professionally, writing business emails, and I have a good resume and cover letter."
Learn more