Moving online, but still one Quinlan community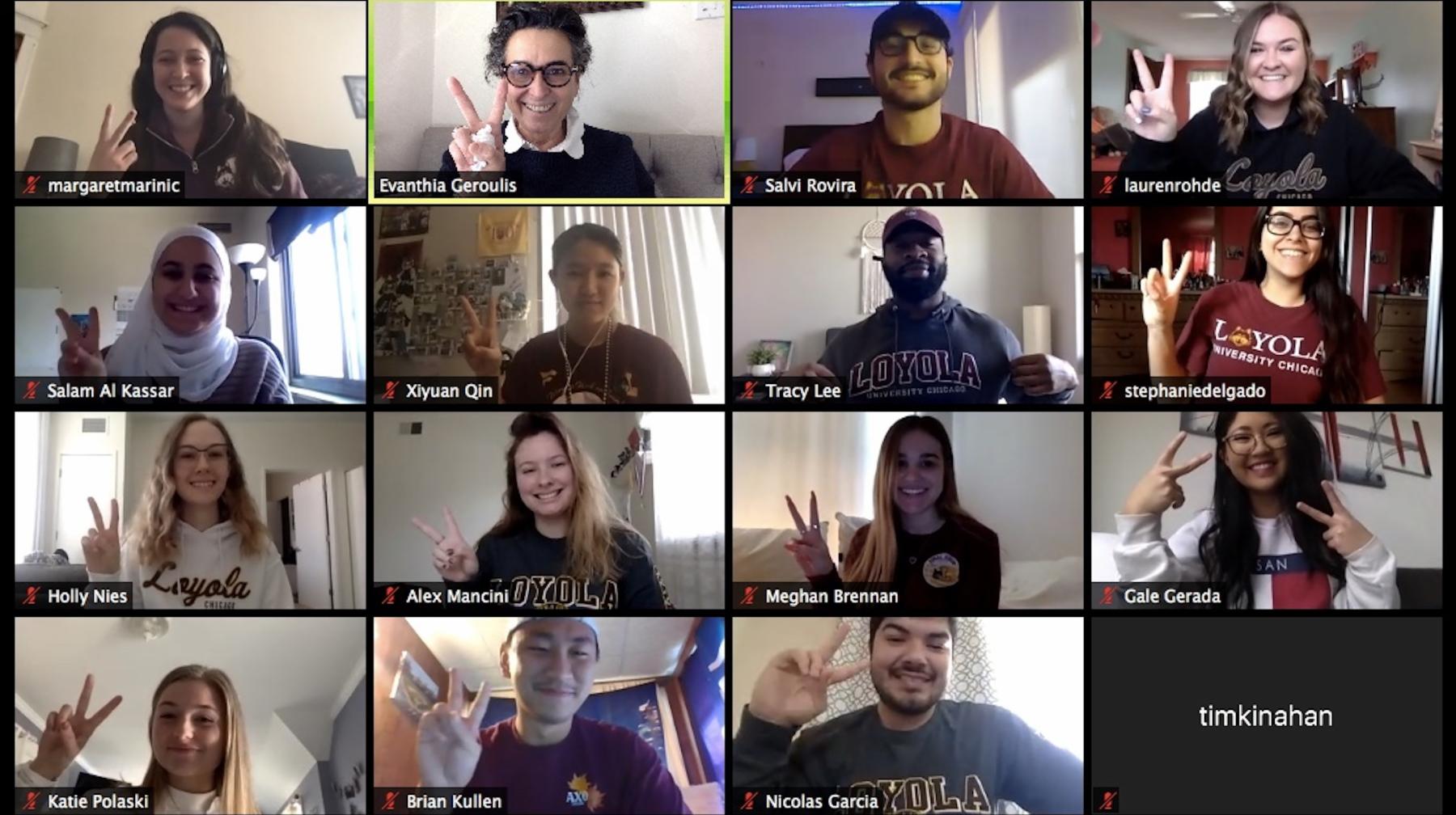 To help slow the spread of the coronavirus (COVID-19), Loyola went completely online in mid-March. The Quinlan School of Business quickly turned 300 spring courses into online courses and welcomed 2,600 business students back to class after they returned to their homes around the world.
While our students, faculty, and staff are no longer on campus, we are still connected. Below, students in Senior Ignatian Lecturer Stacy Neier Beran's class reflect on some positives stemming from the online transition. Also below, see some hightlights from the transition as reflected on social media.
Student reflections
Finding resiliency
"In just a few days, our professors had made our classes completely virtual, companies have changed their strategies and are making equipment to combat this pandemic, and many more changes. Each one of us is making many sacrifices by missing important events and any part of life that can take places through a computer screen. Overall, I am amazed at how resilient we have all been and how much technology has aided us on our path to a completely different way of life during an emergency. I am excited to see how far we come during these times of crisis."
– Lauren Cuevas (BBA '21)
Learning to embrace change
"Thanks to my online classes, I have learned how to be organized and learn new things quickly and effectively because of having to adjust to a new system of studying. I have learned to make decisions in stressful and fast situations, when you don't have time for a reaction, but only to make a decision and act. These changes have taught me to become more confident in making those decisions."
– Anna Pitran (BBA '21)
Remembering self-care
"The blessing of being able to stay home and have classes online is that I am able to focus more on myself and other activities I have neglected due to school, work, and internships. I was able to go back to working on my art such as my YouTube channel and painting. I had time to reorganize my room and closet, which I have been avoiding since winter break. During my downtime, I am able to really reflect on myself and what I hope I can achieve in the upcoming future even though everything is very uncertain at this moment."
– Semaj Nitta (BBA '21)
Remaining positive
"After the suspension of graduation and my internship, I realized how much the Loyola community had become like my family these past four years. While the negative impacts seem to have a greater effect on people's moods and psyche, this virus has taught me to look for the positives that stem from every unfortunate event. This positive mentality has allowed me to appreciate all of the things that still make my life so great.
"Although I wanted to end my college career in a classroom, I am thankful for modern technology that still allows me to communicate with professors and receive an education. I often notice myself having the 'grass is greener on the other side' mentality; however, this virus has shown me that I am always on the 'greener' side if I look at my life from the right point of view."
– Danny Hawkins (BBA '20)
Looking forward
"While I wish I could still be on campus soaking in the last two months of memories and experiences, I sadly can't due to no fault of anyone, and like all of the times I've done this previously, I just need to make the most of the change and see what I can learn from this. I look forward to finishing up my classes, doing my market research, and taking all of the knowledge I've gained from the past four years and going out and seeing what I can do in the world."
– Peter McCague (BBA '20)
What we posted
See our faculty and students making the transition as reflected through social media.
For the latest information from Loyola regarding the University's response to the coronavirus, visit LUC.edu/coronavirus.