Quinlan Honors and Awards, 2022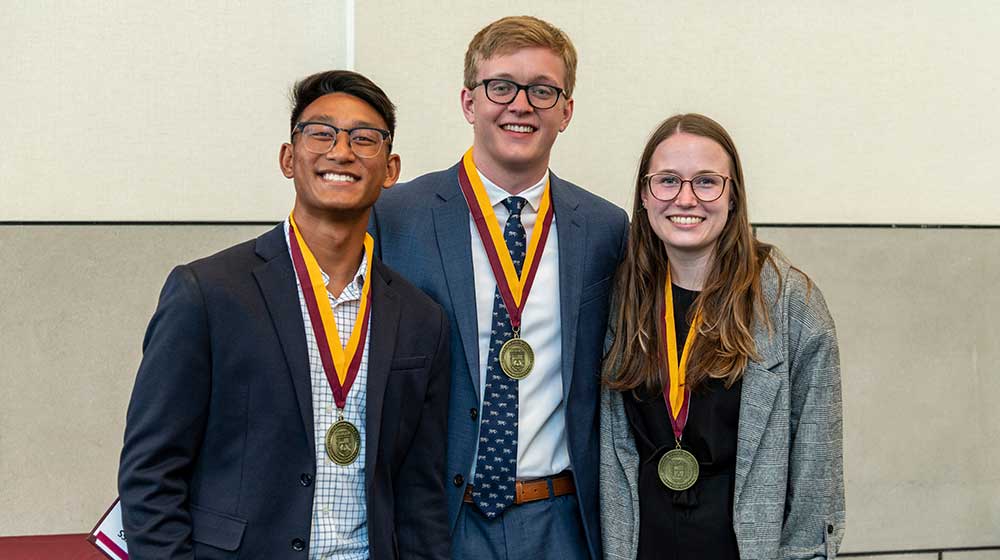 The Quinlan School of Business honors our top undergraduate students through our annual Honors and Awards Ceremony. See the photos below or on Flickr, and scroll down for a list of the honorees.
Honorees
Candidates for BBA, Honors
The Quinlan Honors program is a transformational experience designed to provide highly qualified students who care about making the world a better place an opportunity to deepen their mastery of business and learn from each other in a stimulating environment.
Grant Bardelli, Joseph Braby, Anthony Campana, Mackenzie Cronin, Matthew Driscoll, Michael Esson, Nathan Geiser, Beck Hansman, Cooper Hawley, Cassi Heintz, Grace Higbie, John Hugdahl, Jack Hutchinson, Cole Janssen, Nathan Langhauser, John Leininger, Arielle McKeever, Patrick Monnin, Brian Nguyen, Luca Pascale, Bryn Reimer, Kira Schoof, Trevor Tormoen, Michael Willner
Quinlan Honors
This key is given to the Honors program graduate who has the highest capacity and commitment to contribute to society through ethical and socially responsible conduct, and who has demonstrated sound decision-making and problem-solving skills.
Grace Higbie
Presented by Amy Kyhos
Geraldine Rosa Henderson Social Change Award
This award is named after the late Dr. Geraldine "Gerri" Henderson. Professor Henderson was a dedicated educator in the Department of Marketing at the Quinlan School of Business and trailblazing researcher driven by a deep commitment to social justice. This is one the highest honors given by the Department of Marketing and is awarded to a graduating undergraduate marketing student who has demonstrated a commitment to social justice and change.
Beck Hansman
Presented by Jenna Drenten
Delta Sigma Key
The key is awarded each spring to the graduating Quinlan students with the highest cumulative grade point average, regardless of fraternal affiliation.
Olivia Cortes, Grace Higbie, Cole Janssen, Simon Jillson, Uma Shivde, Jonathan Yacoubian
Presented by Sarah Hoffman
Major Keys
Each academic major in the Quinlan School of Business awards a silver honor key annually to the graduating senior who has demonstrated outstanding academic ability in that major field of concentration.
Accounting
Bryn Reimer
Presented by John Janiga
Economics
Poorvi Modi
Presented by Anastasios Malliaris
Entrepreneurship
Megan Yamauchi
Presented by April Lane Schuster
Finance
Andi Lutolli
Presented by Abol Jalilvand
Human Resources
Uma Shivde
Presented by Peter Norlander
Information Systems
John Leininger
Presented by Nenad Jukic
International Business
Caro Bush
Presented by Suk Hun Lee
Marketing
Beck Hansman
Presented by Jenna Drenten
Management
Bridgette Watkins
Presented by Yoo Na Youm
Supply Chain Management
Jonathan Yacoubian
Presented by Pettis Kent
Sport Management
Cole Janssen
Presented by Keith Lambrecht
U.S./Europe Double Degree
Francisco Javier Chaves Rodero
Presented by Susan Ries
Dean's Key
Given to the Quinlan senior who, in the estimation of the dean, has made the most outstanding contributions in both leadership and scholarship to the reputation of the school.
Shonniece Jeanpaul
Presented by Nenad Jukic
Learn more