Quinlan student wins regional Collegian of the Year award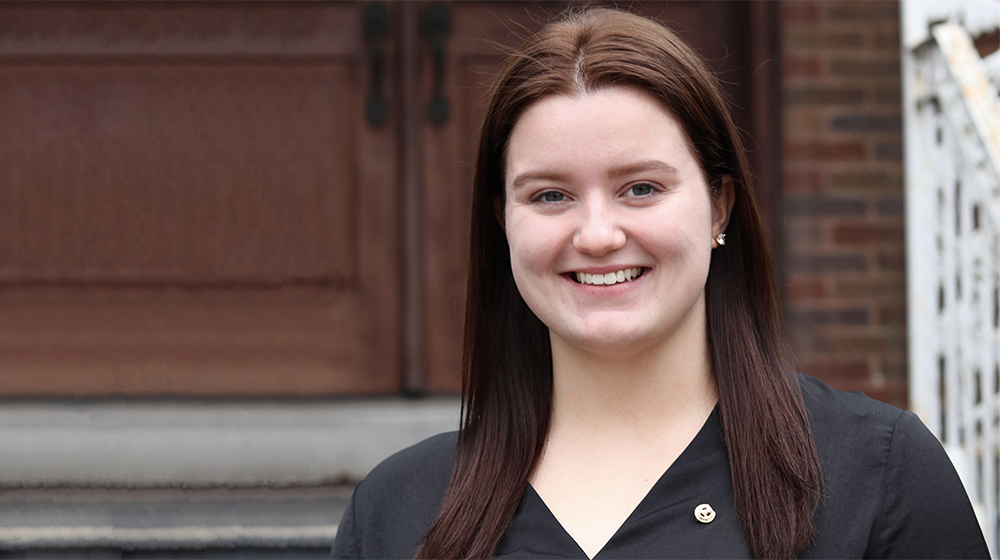 "This doesn't happen without help," says Sarah Hoffman (BBA '22). "I could not have earned this award without my brothers in Delta Sigma Pi."
Hoffman was recognized as the 2021 Great Lakes Regional Collegian of the Year, the highest fraternity honor bestowed upon a collegiate member of Delta Sigma Pi Professional Business Fraternity.
Below, Hoffman reflects on her fraternity experience and what this award means to her.
Why Quinlan?
I started my undergraduate experience at the University of Illinois on the pre-med track but realized during my freshman year that science just wasn't for me. I wanted to help people and after talking to some human resources professionals, I decided that a degree in human resources was the right path for me to help others on the business side.
I had toured Loyola back in high school and I vividly remembered my tour and the whole experience as I started to look for schools offering a human resources degree. I knew that was a sign, so I reapplied to Quinlan and decided to major in human resources and information systems.
What drew you to Delta Sigma Pi?
My brother was in a business fraternity in college, and I knew I wanted to have that experience and gain the professional network they connect to. Right after I came to Quinlan, I attended the organization fair and literally ran up to Delta Sigma Pi (DSP) table to learn more and find out how I could join. I went through the recruitment process and immediately accepted the bid.
How are you involved?
I've been really involved since the beginning. As a pledge, served as the vice president of community service for the pledge class. Then in Spring 2020, my first semester as a full-fledged member, I served as the vice president of community service for the entire chapter.
Unfortunately, because of COVID, I was only able to host one event before we moved online. However, I had planned several events throughout the semester prior to the transition, and our chapter won the provincial service award for our commitment to service.
This school year (fall 2020 and spring 2021), I served as the senior vice president, which is also the recruitment chair. In that role, I changed up our recruitment process to better get to know potential new members and create a smoother recruitment process. I increased our potential brotherhood (what we call all members) by 50% which was great to see while our recruiting was fully online.
How did you react to being named Collegian of the Year?
It was a great feeling. I was nominated by the chapter, which was an honor. The idea behind the award is for each chapter to nominate a brother who best represents the principles of Delta Sigma Pi in our chapter, so it was wonderful to be voted as our nominee.
On the day of the awards, I couldn't get the Zoom link to work to watch live. I was so nervous and had to find the link to watch on my own. When I finally was able to watch the award video, I realized I won the Great Lakes region and I was so excited! I ran out of my room to tell my mom.
I am so grateful to all of my amazing DSP brothers. I was voted as our nominee for my recruitment efforts, but I couldn't have done it without my brothers. The best-laid plans don't mean anything if there aren't people to help and support throughout the process. So, this award is really for our entire chapter and their efforts.
Learn more