Professor Drenten's Integrated Marketing Communications pitches final projects to Vivid Seats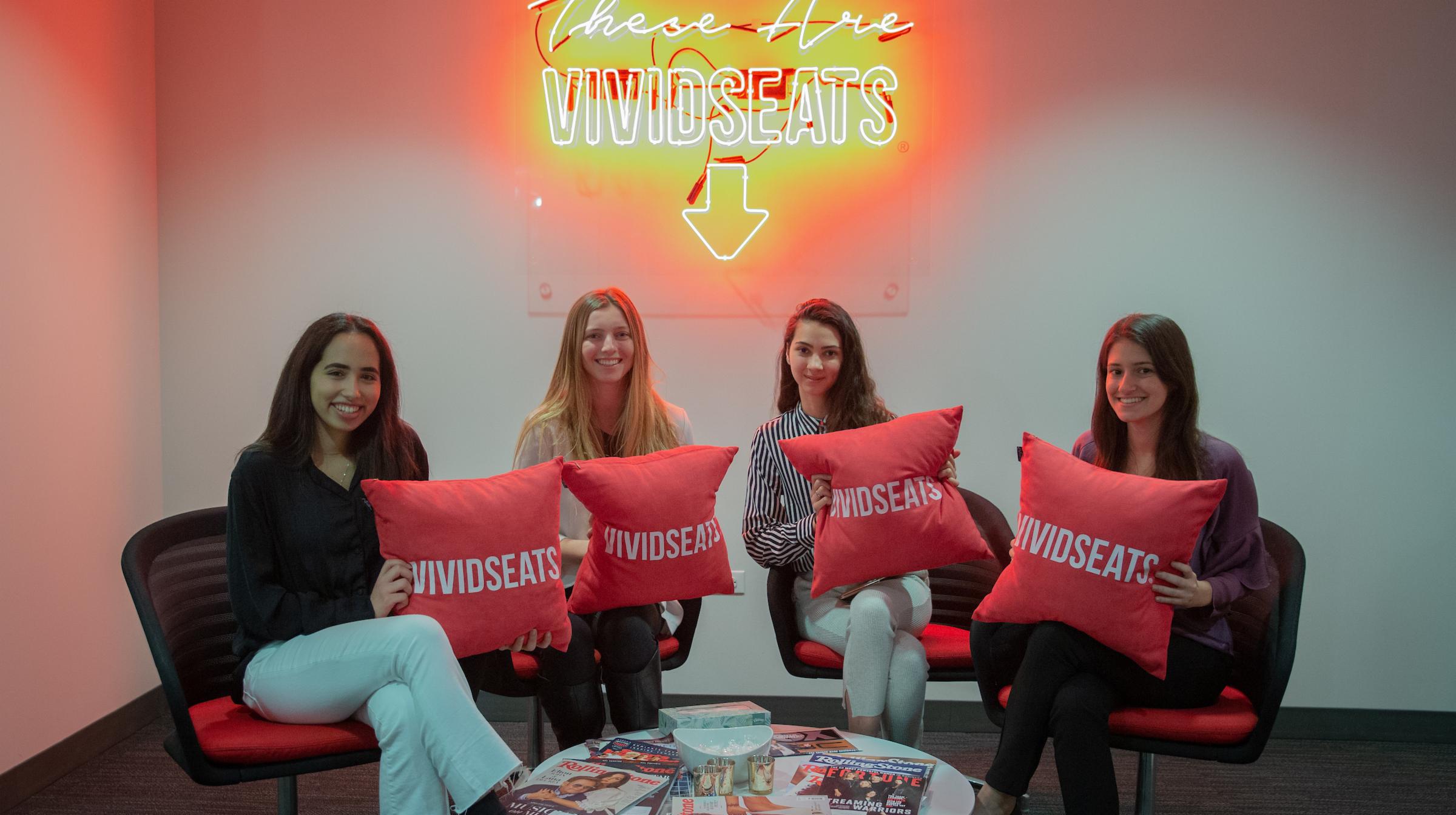 Most often, final presentations take place in a classroom and don't extend past the final day of class. However, Professor Jenna Drenten's Integrated Marketing Communications class takes their ideas right to a client.
Each time this class is taught, students work with and present their ideas to a new company client. In fall 2019, the class presented their ideas to Vivid Seats.
Teams were tasked with expanding the Vivid Seats market, and had the freedom to choose any market they saw fit. At the end of the presentations, judges from Vivid Seats chose those best pitch and awarded the winning team gift certificates.
On the Vivid Seats side, Quinlan alumnus Stephen Spiewak led the project. For him, it was a natural connection to work with Quinlan. "At Vivid Seats, we're proud of our Chicago roots—just like I'm personally proud of my Loyola roots. It was a perfect fit."
Photo gallery
See students pitching their final projects to Vivid Seats.
A range of pitch ideas
Students worked on their pitches for the duration of the semester. Sophie Tangel (BBA '21) says her team created an integrated marketing campaign from the ground up through strategies including but not limited to: market data research and analysis, face-face client meetings, design through Adobe Creative Suite, media buys, and media production.
Her team conducted 28 virtual interviews with individuals from major cities around the United States, each having diverse backgrounds. By the end, she was given the opportunity to pitch her campaign and let it be heard by more than her professor. Everyone in the class pitched their ideas at Vivid Seat's headquarters in front of the company's employees, executives, and even the Dean.
"This class brought me fulfillment," says Tangel, "I really felt like I was doing meaningful work, it wasn't just for the grade, it was for an established company."
Students presented on an array of subjects. Some pitches included a raffle at Lollapalooza for a personal photographer to encourage attendees to purchase their tickets from Vivid Seats, teaming up with up-and-coming artists to advertise concert tickets on Spotify and Apple Music apps, promoting live podcast recordings open to audiences, and integrating e-sports into the Vivid Seats market.
However, the winning pitch was "Discover Experiences for All," a campaign to promote inclusive experiences for those with disabilities. Ideas for this campaign include featuring filters for colorblind and sight-impaired individuals on the Vivid Seats app and website, adding ADA seat sections for those with disabilities, and partnering with Lollapalooza to get Enchroma glasses for those who are colorblind. According to the winning team, this could help target a new market and it reflects Jesuit education focused on ethics and social responsibility.
For pitches that were not selected, students nonetheless viewed this experience as a success. Tangel says "although my team didn't win for the best campaign idea, each group gained such great experience with a well-known company, and in my eyes, that's a huge win for everyone who participated."
Lessons beyond the classroom
"Vivid Seats benefitted greatly from the Loyola students' hard work, research, and insight," says Spiewak.
But Vivid Seats was certainly not the only one who benefitted. Students greatly enjoyed this process, too. Tangel says this project was meaningful for her in multiple ways.
Tangel especially enjoyed the opportunity to implement new skills and strategies as she learned them.
"Usually when you go to school, you learn about your field, and then years later you implement that work when you get a job. But because we were tasked with doing those lessons right away, we won't forget them."
Students also made connections with Chicago professionals. Tangel says, "I'm connected with the company now! I have 10 new LinkedIn connections. You take MARK 373 and you're matched with a company. Anyone who takes this class gets connections, valuable experience. and effective advice from business professionals who just want to see you succeed."
Learn more