Quinlan teams bring home top honors from Teradata Universe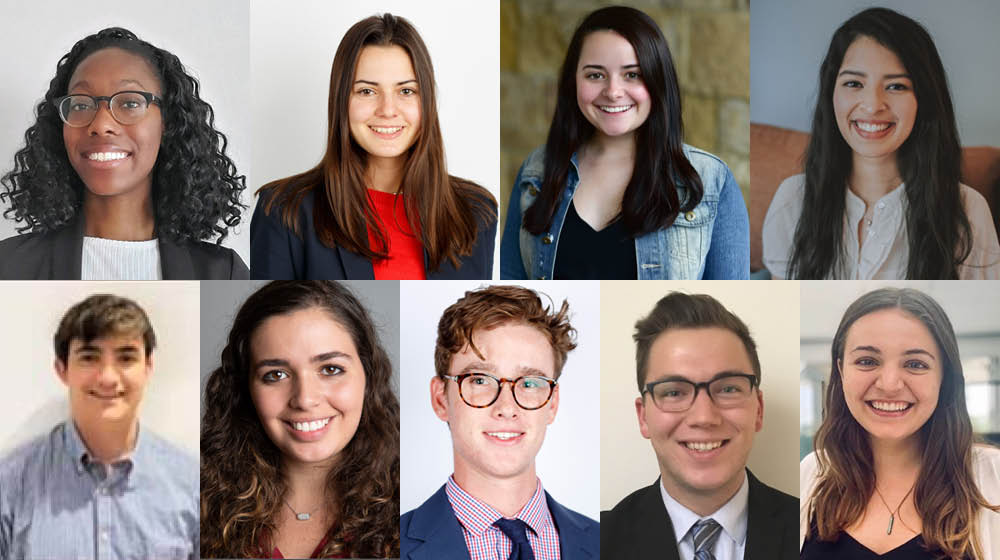 For six years in a row, Quinlan student teams have brought home top honors from Teradata Universe, a global data analytics conference. This year, Quinlan teams won in both student challenges.
The 2020 Student Data Challenge team took home the top award, Most Value to the Client. Team members were Tamera Cawelle, Molly Herdlick, Ines Gonzalez Di Martino, and Shona Sunil.
The 2020 Student Analytics Challenge team won the People's Choice award. The team members were Zachary Clark, Laura Cuevas, Michael Esson, Aidan Gregory, and Hannah Niehoff. Both teams were advised by professors Svetlozar Nestorov, Dinko Bačić, and Nenad Jukić.
Bačić is proud of the students' hard work, saying, "We are all excited for the opportunity to represent Quinlan and Loyola at this international event."
Working remotely to victory
This year posed the additional challenge of working together in the midst of a global pandemic. At the outset, the Data Challenge team had members across the world – from Chicago to Rome. When campuses closed and students were sent home in March 2020, members disbursed to Paraguay, Indonesia, St. Louis, and Chicago, creating the additional challenge of juggling time differences.
"It was crucial for us to come together and find time that worked for everyone to collaborate to analyze the data and create our presentation," says Molly Herdlick. "We all put in the time and worked together to make it happen."
Tapping into key data insights
This year's Data Challenge asked the competing teams to analyze data from the Taproot Foundation, which connects skilled volunteers with nonprofits and NGOs worldwide. Quinlan's Data Challenge team was the only undergraduate student team, and the only team from the U.S., to advance to the finals.
"Our task was to use Tableau to create data visualizations and find insights to further Taproot's business," says Ines Gonzalez Di Martino.
The team soon uncovered a key insight.
"We noticed that some project categories had fewer completed projects than others," says Tamera Cawelle. The team's recommendation: focus on recruiting additional skilled volunteers for these weaker project categories. "For example, we recommended Taproot focus on mobile development projects because that category had a low completion rate."
Kristi Teti, vice president of program operations at Taproot Foundation, was impressed by the team's findings. During the awards presentation, she said, "The takeaways were so valuable. You brought the most out of  data that we can take the action on immediately. Based on this  data, you are telling us that we could exponentially increase the impact we are having with this platform."
The win reinforced the team's confidence in their future careers in data science.
"The data industry overall is still very male-dominated," says Cawelle. "Winning the top award as an all-female, all-undergraduate team showed that we were able to rise above and excel."
Patterns emerged in popular songs
The Data Analytics Challenge team were tasked with finding their own data set to analyze and find key trends and patterns. This year's team used data from Spotify, analyzing and data mining over 3 billion Spotify streams.
When the team looked at three top albums and their two most popular songs, they found something interesting. "The most popular was the most clicked by users which made sense as people search it out," says Michael Esson. "The second most popular, though, was largely due to Spotify curated playlists. This means that the playlists created by Spotify and other collaborative playlists directly affects the popular and streams of songs."
The analytics team won the People's Choice award, which was voted by hundreds of viewers worldwide during the virtual event.
"We were excited to be going into the finals following the footsteps of Quinlan's teams in past years," said Esson. "Winning the People's Choice was a great confidence boost."
Learn more