Quinlan teams impress global data conference attendees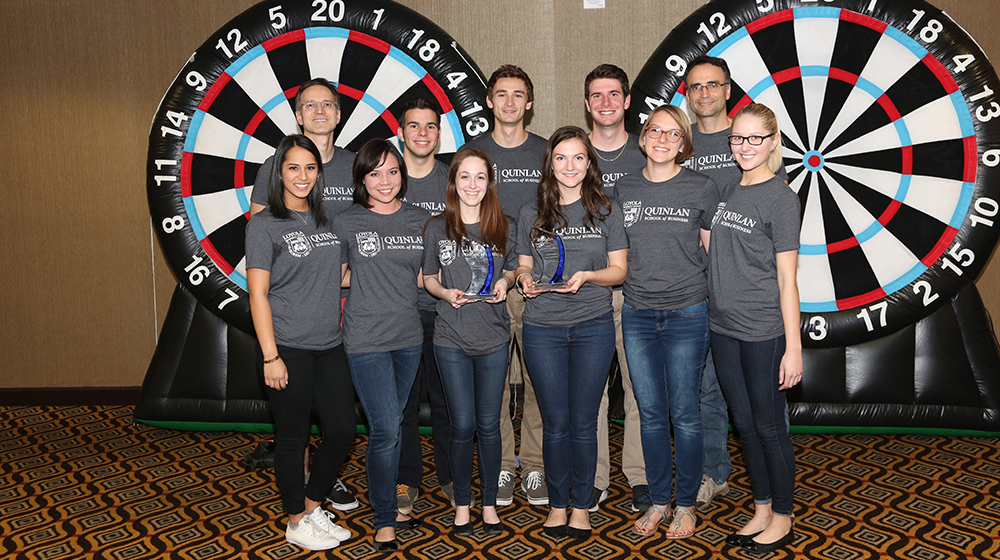 Two teams of Quinlan undergraduates were recognized for their presentation work during the 2015 Teradata Partners World Conference, an international gathering on how companies use data.
Quinlan went head-to-head with schools from around the world in two contests sponsored by the Teradata University Network: the Business Analytics Competition and the Data Challenge Competition. At the end, Quinlan was the only school to be honored in the final round of both competitions. And both teams were the only undergraduate teams to make it to the final round.
Business Analytics Competition

Overall Winner

Oklahoma State University

Best Use of Analytics and Visualization Tools

California State University, Fullerton

People's Choice—Best Presentation

"Visualization as a Tool in Analysis of Employment-Status Data"

Loyola University Chicago

Colleen Ahern, Ashley Pradhan, Cierra Kwan, Rachel Preikschat and Hannah Toohey
TUN Data Challenge

Overall Winner

National Institute of Development Administration (Bangkok)

Most Value to Cultural Data Project

Carnegie Mellon University

People's Choice—Best Presentation

Loyola University Chicago

April Skillings, John Dwyer, Rachel Babbits, Jordan Goodmanson and Demetri Vlahakis
Quinlan received the "Best Presentation" awards, which were determined by a vote from conference attendees—a "People's Choice" award. Teams were judged on their presentation and the poster boards displayed in the exhibitor's hall.
"Our students were complimented in person on their work by the representatives of dozens of corporations at the conference, and they did an amazing job at representing Quinlan and Loyola," said Professor Nenad Jukić. He and Professor Svetlozar Nestorov worked with the students and traveled with them to Anaheim, California, for the final round of the competition.
Business Analytics Competition
According to its website, the Teradata University Network "gives students a taste of corporate reality through hands-on software experiences and case studies on some of the world's largest companies." The competition began in March 2015, and six finalist teams were chosen in July.
For the Business Analytics competition, teams were tasked with finding a dataset and presenting analytical insights on their topic. Quinlan's team focused on employment data from the Census Population Survey.
"To begin, we submitted a proposal and a poster," team member Colleen Ahern said. The group chose "Visualization as a Tool in Analysis of Employment-Status Data" as their topic. "This summer we learned that we were accepted, and that's when we really started kicking it into high gear."
Ahern said once the team was back on campus, they began a series of late nights and long weekends at Loyola's Lake Shore Campus to strategize on how to best visualize the economic data. To accommodate the roughly 19 million data points they were working with, the team decided on a motion chart.
"Since we were dealing with so much dynamic information, the only way we could adequately represent that was with a dynamic visualization," Ahern said. "The motion chart was our biggest benefit, while also being our biggest challenge. It definitely set us apart from the competition"
But for Ashley Pradhan, the poster board aspect of the competition was the most exciting part. She said only two team members were allowed to give the main presentation, but the whole team could take part in presenting their poster board to visitors in the exhibitor's hall.
"A lot of people said it was the most interesting thing they've ever seen," Pradhan said. "One of them said he was going to go back to his company to show his employees what the level of work students are doing these days."
The presentation even led to direct job offers for several team members—no interview necessary.
Data Challenge
The Data Challenge followed a similar format to the Business Analytics Competition, but all the teams had to work from the same data from the Cultural Data Project, which deals with arts and nonprofits in the U.S.
The Quinlan team examined nonprofit financials for the past 15 years to see how they were affected by the recession.
"I think ours was really good about being clear about our findings," April Skillings said. "We had a really good presentation, so that helped. But it was also just about people skills at the end of the day. We had a lot of chances to talk to everyone about what our presentation was about, and everyone was really intrigued by it."
Now in her junior year, Skillings said the competition helped move her toward a future career as a data scientist. With data becoming more accessible now than ever before, she said it's a rapidly changing and growing industry she hopes to join.