Rambling toward entrepreneurship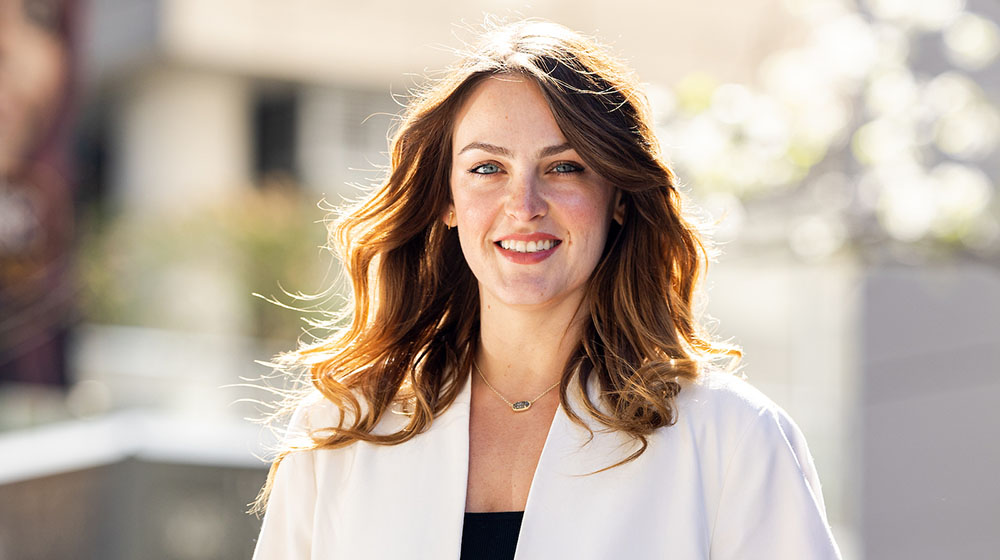 From North Asia to North America, Irina Voloshina's journey led her to the Quinlan School of Business. She graduates this spring with her MBA and plans for launching her own business.
Rambling with Loyola
Voloshina is no stranger to travel. She was born in Siberia and spent early childhood there before moving to Florida with her family. After college, Voloshina decided to pursue an MBA for the love of education and as a way to find a place she could call home. Quinlan's location in the heart of Chicago made Loyola University Chicago the perfect fit.
"I wanted to be somewhere I could gain real-life experiences," Voloshina said.
Her travels didn't stop once she arrived, however. Voloshina took the opportunity to study abroad in Southeast Asia in a course with professor and Charles H. Kellstadt Chair of Marketing Cliff Shultz.
"Growing up in South Florida, I was used to a lot of South American cultures, but to be surrounded by a new area and culture was so invigorating and exciting," Voloshina said.
Her trip provided experiences impossible to get any other way. The class learned from leading professionals in the region, attended lectures, and visited cultural and heritage sites.
"It's important to learn the history of where you are and how people are affected. To be thrown into a completely different culture... I recommend it to anyone," Voloshina said.
Taking the reins
While pursuing her MBA, Voloshina was honing in on ideas for her own business. A lifelong animal lover, she plans to start a company related to pets. This focus came to her after exercises in entrepreneurial classes with Ugur Uygur, associate professor and director of Ignite Lab.
Uygur challenged her perspectives throughout her studies, pushing her to think how she could solve unique problems.
"I came up with many different ideas, but he said I should create a solution for something you experience day to day," Voloshina said.
From there, she pushed further.
"I started working backwards and thought of every little inconvenience that I had and thought, 'How could I fix this'," Voloshina said.
"My roommate has a dog, my friends have a dog, I have rabbit, and during those times I thought of problems that could be solved. I brought those back to class and that's when it started getting exciting."
Her initial plan is to start a retail venture centered around pet supplies. She is also considering advancing to a doggy-daycare, which she says could be a more complex ambition. As she reaches the end of her MBA program, Voloshina advises others to take their time when coming up with ideas of their own.
"Don't rush into things. Don't think your first idea is going to be perfect," Voloshina said. "Keep going and keep building. It doesn't have to be perfect. Just do a little bit day by day and eventually it will come together."
Learn more