Rogers Park and Edgewater businesses becoming more sustainable with Loyola's help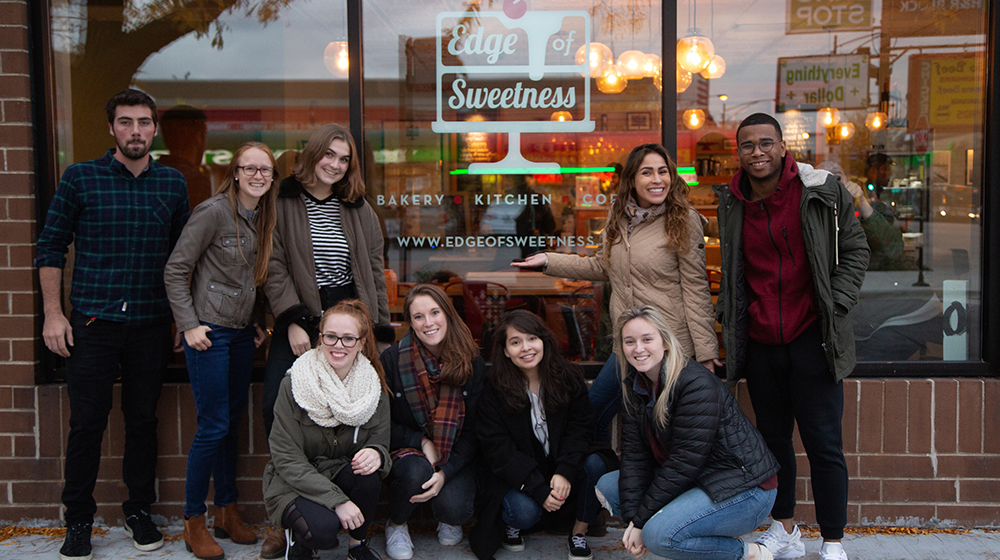 By Mikal Muhammad | Student Reporter
This fall, Quinlan and Environmental Sustainability students partnered with two local businesses to identify ways to improve their sustainability – and then helped them raise funds for these efforts.
The project was a central part of Professor Nancy Landrum's Sustainable Business Management class. Students were split into two teams, with one group working with Smack Dab Chicago and the other supporting Edge of Sweetness Bakery.
From green audits to cash mobs
For the businesses, the teams performed waste, water, and simple energy audits and completed greenhouse gas inventories. These were complimented by professional energy audits from ComEd.
The teams then organized a "cash mob" – which is an event to bring customers to the business. The businesses agreed to use a portion of the extra proceeds to fund some of the improvements recommended by the ComEd and student audits.
The cash mob results were remarkable: Edge of Sweetness saw a 216% increase in sales during the cash mob, and Smack Dab Chicago saw a 51% increase.
A community partnership
Axel Erkenswick, co-founder of Smack Dab Chicago, enjoyed the partnership.
"I was interested to see how in-depth the students went into their audits, including going through our waste," he says. "Energy conservation is important to me, because it shows customers that we are more than a McDonald's. We are community driven and put our efforts into helping the environment."
Kate Merrill (BSN '96), co-owner of Edge of Sweetness and a Loyola alumna, was impressed by the students.
"I was delighted and surprised by how thorough they were during the initial evaluation," she says. "They were also very proactive about what they wanted to do with the projects, which was very nice to see."
For their part, the students were grateful for the opportunity to gain hands-on experience, while also supporting local businesses.
"Loyola has taught me about the importance of supporting our surrounding community. This project was a great opportunity to give back and be directly involved in making positive impact on a local business," says student Ansley Ostiguy.
Student Andrea Wong says, "In the end, it turned out very well, because the owners trusted us and had good intentions. When you have good intentions, it leads to great results."
This project was supported by Loyola's Center for Experiential Learning's Communities in Solidarity program.
Learn more