Setting goals, not expectations, leads to success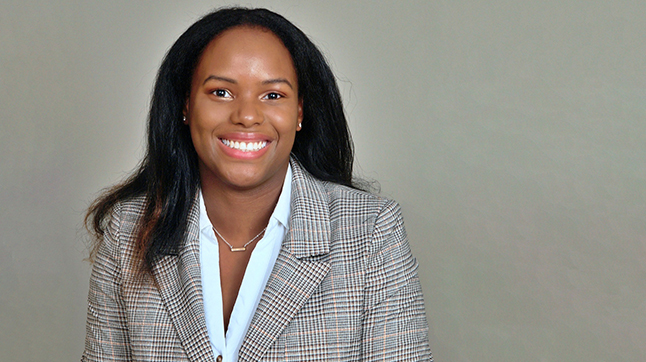 "If you have any interest at all, say yes. It could either go great, or it can be a learning experience and help you figure out what you want," says Jennile O'Connor (BBA '21).
O'Connor's "say yes" mindset has helped her explore her passions and lean into leadership and social justice opportunities on campus and beyond. Now with two Deloitte internships under her belt and a third coming this summer, she's ready to launch her career.
As she gets ready to graduate with a bachelor's in accounting, Jennile reflects on her Quinlan experience and how she made the most of it.
How are you involved on campus?
I have been a peer advisor for three years now. When I was a freshman, my peer advisor helped me a lot and I wanted to turn around and be a good influence and help mentor freshmen as they come into their own. It has been a transformative experience, especially now as I am able to see some of my students as juniors who have really found themselves and knowing I had an ounce of influence as they got their footing.
My junior year I participated in the Quinlan Ramble and travelled to Los Angeles over spring break. It was a great bonding experience with all of the people on the trip and I was surprised at how many mentors I gained through it, like Quinlan's Allison Davis, Ashley Ritter, and Aminatu Rubango. It was my last big experience before we transitioned online due to COVID, and while I didn't know it at the time, I think it was the perfect way to end my in-person experience.
How are you making change?
I'm passionate about DEI initiatives and social justice. Because of the Ramble, I got connected with Aminatu Rubango in Business Career Services and had the opportunity to work with her on an episode of the Q Talks Podcast, discussing the events of 2020 and how organizations should respond.
After that experience, I was invited to get involved with A Voice at the Table, an event designed to create space for students to engage with their peers and other professionals of color. I worked on the team to put together the virtual event this year, and it was a great success. We were able to create a space for others to share their experiences and build community so people knew they weren't alone.
What are your career goals?
I've recently made the switch from a traditional accounting path to wanting to pursue a career in the risk advisory industry. Risk advisory sparked my interest because every day is a new challenge, and I'm passionate about making an impact by helping clients navigate their business challenges.
I'm excited to transition to that side of business, and after graduation I'll be going to the University of Illinois for a Master of Accounting Science with a data analytics concentration. This summer, I'll be a client services intern with Deloitte in their Risk and Financial Advisory practice.
Everything has really come together. I've always had the mentality of "No one owes me anything," which helps remind me to work hard for what I want.
Do you have any advice for your fellow students?
Be open to taking the initiative. Your college experience can really be what you want if you're willing to ask for it. Don't wait for things to fall into your lap. Go out and go for what you want.
Set goals, not expectations. This is my mantra I use for everything. Set goals for what you want, but don't create expectations of exactly what that might look like. Be open to however it comes about. The most meaningful experiences I've had and the relationships I've built at Loyola have been the ones that have just come up naturally.
Learn more