Seven job market and human resources trends during COVID-19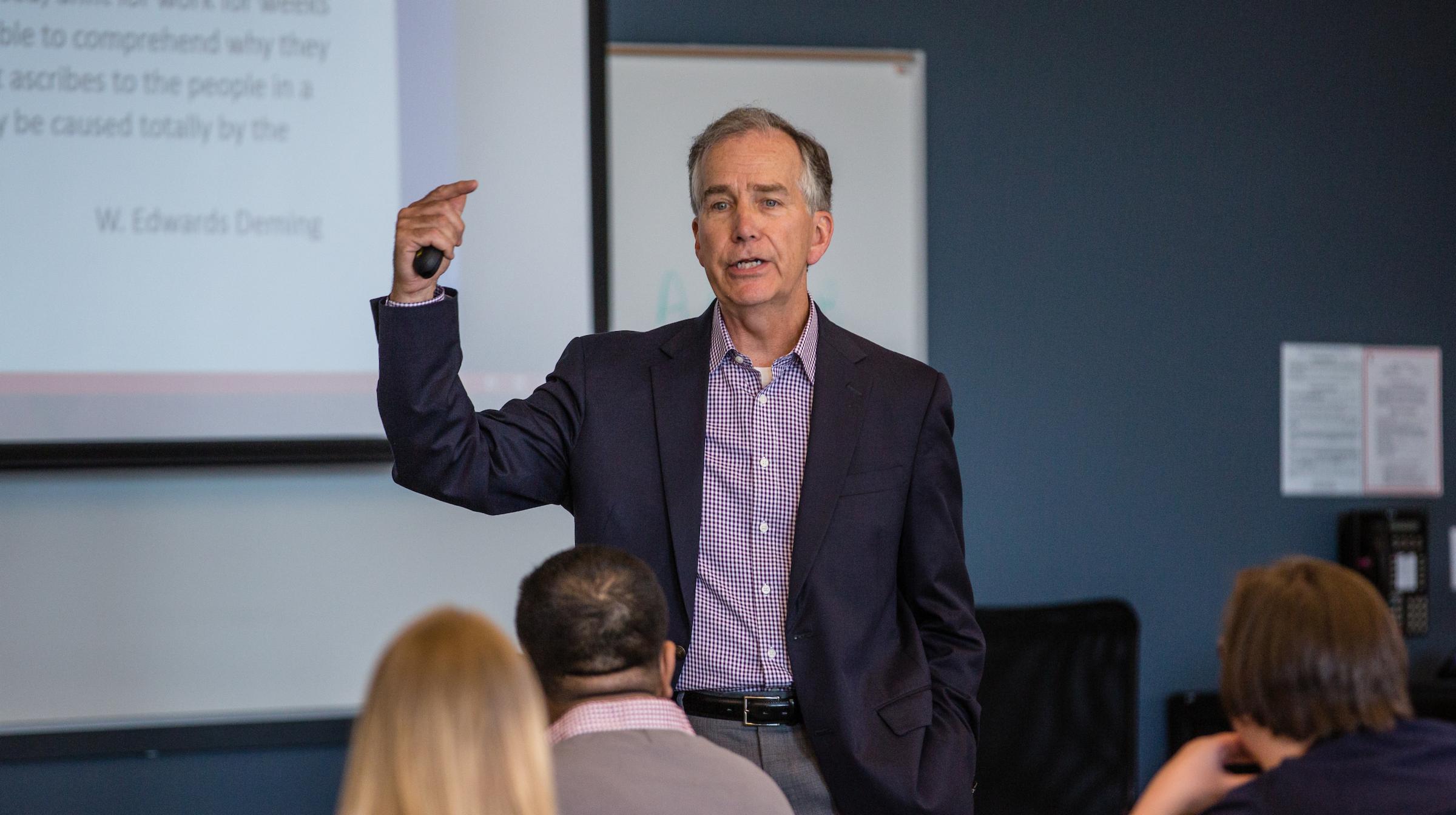 Among its many impacts, the COVID-19 pandemic has drastically changed the job market and the human resource issues that are top-of-mind for businesses. The timing could not be worse for the Class of 2020 as many new graduates are looking for jobs or experiencing delayed or rescinded job offers.
Below, Quinlan human resources professors Dow Scott, Arup Varma, Dennis Nirtaut, and Peter Norlander share their insights on the current state of the job market, and touch on issues including compensation, education, and unemployment stigma.
Seven market trends
1. Job markets may shift indefinitely
"There are a lot of uncertainties as we deal with the pandemic, but what we do know is that things will not be the same again," says Professor Arup Varma. He is currently studying the COVID-19 pandemic's effects on the market.
"The job market is going to shrink. Bars, hotels, restaurants, air travel, cruises, they're gone for now. People are going to be scared to be in confined spaces, with lots of people around. For students, this is a very difficult time. Internships will largely vanish for the foreseeable future. A lot of regular jobs will not survive, and people will have to be self-driven."
Contract work may also become less desirable, says Executive Lecturer Dennis Nirtaut. "Contract workers have found themselves out of work with no safety net, and now they know they don't like this type of employment," he says. "However, as the economy comes back, employers may attempt to hire more contract workers because of the uncertainty of the future. It'll be interesting to see what happens."
Fortunately, the pandemic will strengthen some sectors. "Technology will play much bigger role than it did in the past," says Varma. "AI and robotics may emerge in larger roles in restaurants, classrooms, and other settings. So, people with training in AI or robotics will have a much bigger market."
Additionally, Nirtaut believes that remote work may become more normalized because of the pandemic. "Remote work has been growing for a long time, and suddenly everybody's been cast into working remotely," he says. "People may want to do this all the time, and jobs will need to shift to meet this desire."
2. Unemployment rates will rise
Quinlan professors anticipate further increases in the unemployment rate as long as the recession caused by COVID-19 continues.
"If companies have open positions, those positions will likely stay open to save money. Depending on how long the situation lasts, many companies will eventually have to lay people off and reduce workforce," says Professor Dow Scott.
Nirtaut adds that "an unemployment rate of 8-15% for the remainder of the year likely. In 2021, we can start to go back to where we were before assuming we can beat this virus."
3. Job seekers are at a disadvantage
For graduating students, their job search may be especially stressful. "I'm expecting that some employers will cancel or defer job offers," says Nirtaut. "And for graduating students who don't have an offer in hand, the job market won't be very good in the short term."
Perhaps most concerning for Assistant Professor Peter Norlander are the unemployment stigmas for those attempting to re-enter the market. "People who are unemployed or have gaps in their resumes are penalized by hiring managers. These job seekers are seen not just as incompetent but also as insincere, unlikable people."
Norlander advises to trying fill any gaps caused by unemployment by attending continuing education classes, volunteering with nonprofits, or taking on an activity that can go on their resume. "Job seekers can demonstrate that they've continued to gain knowledge, learn, and grow during this time."
4. Professionals should retrain to be essential
Even in the crisis, opportunities will emerge. "We have to retrain to be essential," says Varma. "Even in human resources, people will increasingly shift to essential fields like healthcare. All career advisors should be asking students to think about where the job market is going and earn the relevant skills to be hired."
Graduate school may be a natural next step for young professionals and more experienced professionals who want to advance. "People may attend graduate school to help them stand out more in the market," says Nirtaut. "We might see an uptick in graduate students that matches the 2008 recession when people went to back to school."
5. Compensation in taking various forms
Scott, who is studying compensation during the pandemic, is finding that companies are providing benefits and rewards for employees in many different ways.
"Generally, businesses are trying to both stay in business and fulfill a social responsibility to support their employees during this crisis," he says. "They want to be able to jump back into business quickly once the virus has run its course."
Some businesses are encouraging employees to use their paid sick leave to ensure continued income or laying off employees but maintaining their healthcare. "There are real extremes with this," says Scott.
6. Equitable compensation is gaining attention
According to Norlander, this pandemic is an opportunity to shine a light on how the U.S. does not adequately support domestic labor, the caring professions, or stay-at-home parents.
Before the pandemic, much of this work was done by women and people of color without compensation or with low compensation. Now that everyone is being encouraged to stay home, people are seeing which professions are really the backbones of society – starting with essential workers, healthcare workers, teachers, and childcare workers.
"We don't have systems and compensation that we need for true equity, but now people are more aware of the need," says Norlander.
7. Remote work is changing the workplace
A remote workforce is changing human resources and how employees interact with each other.
"Staff management has changed, and human resources can help with this," says Varma. "Staff members need more than the presence of a manager to encourage productivity now. Both managers and staff also have to be very intentional about building relationships and seeking out mentors –it's harder when we're not in the office."
Learn more