Skydiving to unique solutions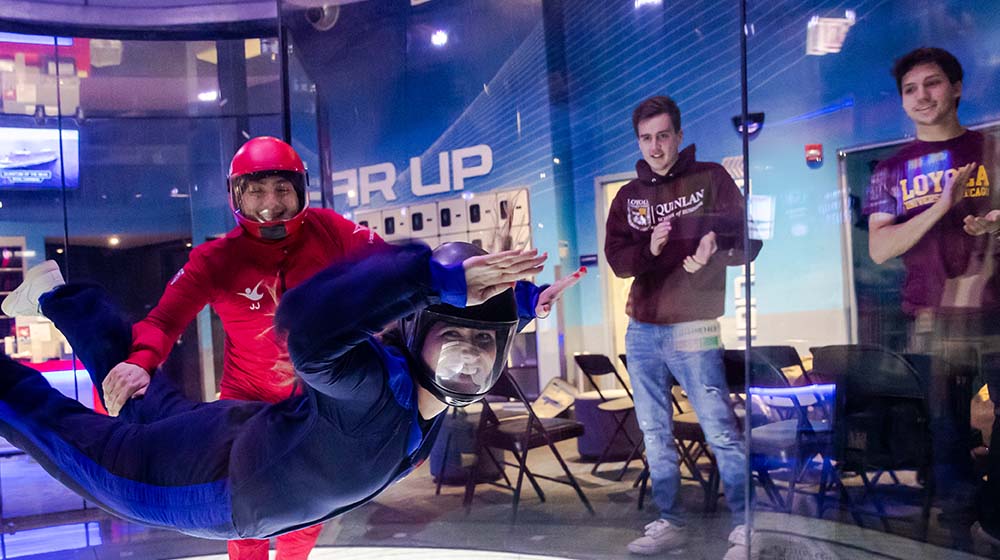 "I just could not believe that it was a real possibility we would go skydiving for a field trip," said graduating senior Maria Marcus (BBA '22).

Marcus and others in the Design Thinking class taught by Senior Ignatian Lecturer Stacy Neier Beran visited iFLY, an indoor skydiving facility. The trip helped spark inspiration in design thinking for a real-world class client who wants to build a STEAM (Science, Technology, Engineering, Arts, Mathematics)-focused urban waterpark for Chicago.

"Design thinking is a practice for intentional innovation that centers around a user's needs," said Neier Beran. "More often we see the world's greatest challenges really need to look at consumers' needs with new approaches, new tools, new mindsets, and that's where design thinking comes into play."

Solving tangible problems in class
Neier Beran and real-estate developer Zev Salomon challenged the class to conceptualize what the waterpark should look like. Students worked in small groups and created their own avenues for solving the complex problem.

"I didn't know what to expect," said Salomon. "I've never approached a school to help develop a problem. To get into a room with young people and see a lightbulb go off… it's fun."

Marcus feels working with a real-world client is preparing her for life after Quinlan.

"I do think that set me up very well to be able to take those experiences working with a client in the classroom to real career experience," Marcus said. "It's extremely valuable."

Discovering your "cannonball moment"
Finding how the waterpark could function as a STEAM workshop and still be successful led the class to multiple unique solutions. Neier Beran's Ignatian approach to design thinking encouraged those results.

"This idea of divergent and convergent thinking has an intersection, and that intersection truly is the moment when perspectives start to change, when we see something in a new light… that pinch between divergent thinking and convergent thinking is what we call the cannonball moment," said Neier Beran.

The "cannonball moment" is inspired from the experiences of St. Ignatius of Loyola, when he was struck by a cannonball mid-battle, and his perspective on life changed forever.

Junior Alley Neary says that "cannonball moment" came with the trip to iFLY.

"iFLY gave us a tangible product of what fun and education integrated together looks like," Neary said. "The excitement and generosity of our client providing us the opportunity to do something like this propelled our project further."

Finding individual solutions
At the semester's end, Salomon critiqued presentations of each group's design concept. Every group arrived at their own conclusions, including one that thought the project simply could not be done. However, those varying solutions are what Neier Beran believes give her students the best advantage for tackling real-world problems.

"When we look at the world's, Chicago's, society's heart-wrenching challenges, we need multiple perspectives from diverse backgrounds to be a part of the process," Neier Beran said. "In this design thinking class, we've been able to integrate knowledge that will help a client move forward in a more just, intentional way."

Neier Beran's course received input from Slalom, Abbvie Health, dscout, PinPoint Collective, Doblin, Helix Chicago, Beverly Castle, New Trier's Department of Applied Arts, Loyola's Center for Engaged Learning, Teaching, and Scholarship (CELTS), and Duo Development.
Learn more