Starting with students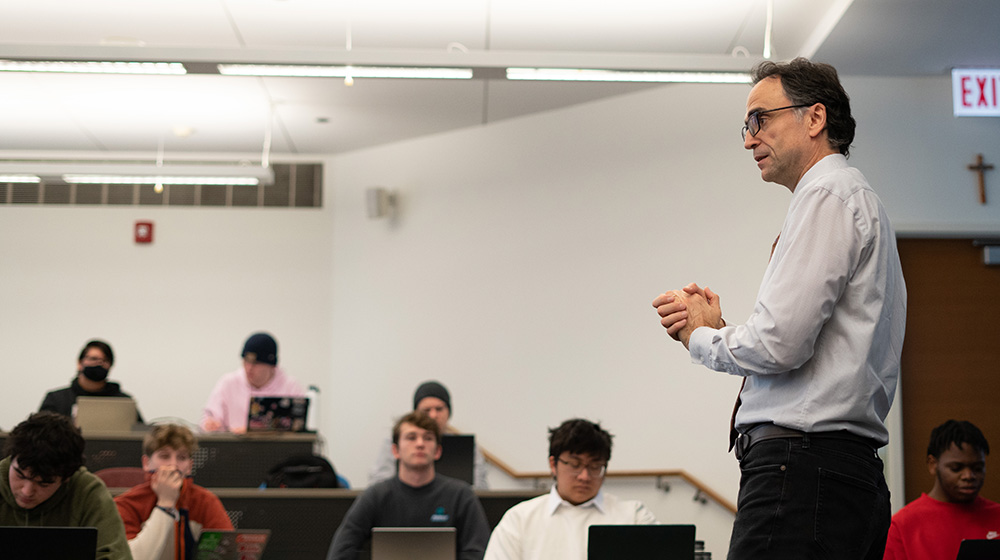 "We are difference makers" is how the Quinlan School of Business vision statement begins. Being and empowering difference makers are at the heart of everything Quinlan does.
For Professor Nenad Jukic, it means making a difference by delivering for every student that comes into his classroom.
Creating impact in the classroom
Delivering for his students starts in the classroom and with working with his colleagues to ensure that every information systems and analytics class at Quinlan contains meaningful knowledge and skills taught by an expert who cares for the wellbeing of students.
"This is our most important guiding principle," Jukic said.
When a student struggles or needs additional guidance, Jukic sees an opportunity.
"I look at every student and think how can I help them?" Jukic said. "Serving students doesn't mean just giving instructions and handing out A's. Serving students is understanding individuals and creating strategies to help them succeed."
Developing teamwork
Beyond teaching information systems skills, Jukic also teaches teamwork. He believes that the students who will become difference makers in their organizations and communities are the ones who know how to work productively with others.
"We want to produce people who are looking at the corporate world in a collaborative, civic manner," Jukic said.
When students pass through his program, Jukic wants them to be transformed into team players who look out for their colleagues. He argues it's a key component to success.
"You're never going to be successful if you're in it just for yourself," Jukic said. "I'm most impressed with a student who is helping others."
Creating connections
Jukic also helps students build their professional network as they prepare to graduate and launch their careers.
"We've been fortunate as our alumni and other industry contacts constantly reach out to Quinlan for interns and new full-time hires," he said. "I get to watch our students grow from eager 18-year-olds into highly in-demand professionals who are weighing salaries and benefits."
Nenad's industry experience combined with Quinlan's network has enabled him to help students make connections with professionals. Together with his information systems and analytics faculty colleagues, he works to ensure students who have put in the effort build relationships with both alums and experts outside Quinlan's network.
"This is our greatest achievement," Jukic adds. "Students who choose our program and put in the work will embark on a successful career in the field of information systems and analytics. They will also be ready to position themselves as forward-looking leaders ready to make an impact."
Learn more