Stock trading during COVID-19 inspires student to find a new career path in business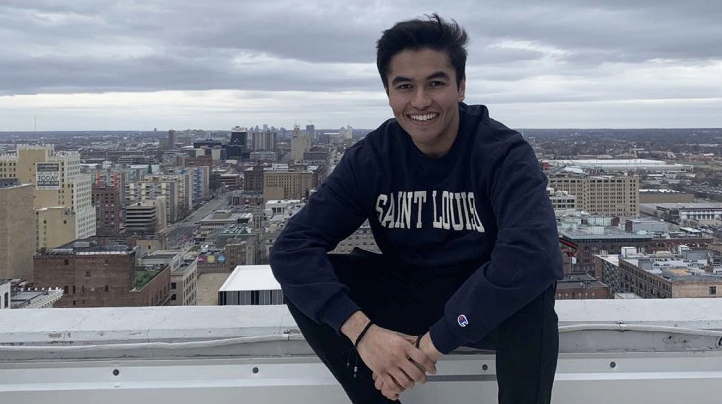 Sa'ad Khan (BBA '23) came into Loyola as a chemistry major on the pre-med track, but during downtime during the COVID-19 pandemic he began to learn about the stock market on his own time. This led to a complete change in career goals and a switch to a major in finance in Fall 2020.
A surprise career change
The switch from chemistry to finance came as a surprise even to Khan.
"Ever since high school, I had this mindset of going into the medical field. I was intrigued by subjects like chemistry, biology, and physics, and I thought it was fascinating learning about the world around us," says Khan. "I thought that was going to be my career path, so realizing I wanted to switch to finance was scary. Eventually, however, my new passion for financial markets trumped my interest in medicine and I ultimately changed the career path."
Khan worried that his parents, who had always wanted him to work in the medical field, would not support his new career goals.
"My parents don't really know anyone who works in business or the financial industry, so I was worried they wouldn't agree with my choice to switch," says Khan. "But when I explained what I wanted to do and showed them all of the research I had done about careers in the industry, they were very supportive. They wanted me to be happy in my career."
Making a home at Quinlan
Already in his first semester as a Quinlan student, Khan is connecting with Quinlan resources and student groups to further his education.
"I worked with Business Career Services to help identify my career goals, improve my resume, and write cover letters," says Khan. "The Accounting and Finance Career Fair helped me to find opportunities for internships and to connect with people in the field."
Khan also joined Rambler Investment Fund (RIF), a student organization managing over $1 million in assets.
"I'm learning more about financial analytics and I want to eventually become a senior analyst at RIF. Over winter break this year, I plan to keep learning and working on my skills to pitch next semester to add to the RIF portfolio."
Planning for his future
Khan is already making connections in the industry to learn more and narrow in on his career path to portfolio management or investment banking.
"I've been using networking tricks I learned in my BSAD course to meet people and learn about their careers. Everyone I've spoken to so far has confirmed the research I did over the summer and reaffirmed that this is the major and career path I want to take," says Khan.
Based on his own experience, Khan encourages other students to continue to learn about their individual interests and find their passions.
"Try not to focus so much on one thing that is blocks out other interests," he says. "Keep learning to open the door to other interests and opportunities to do what you're passionate about and find what makes you happy."
Learn more