Students skill up with Salesforce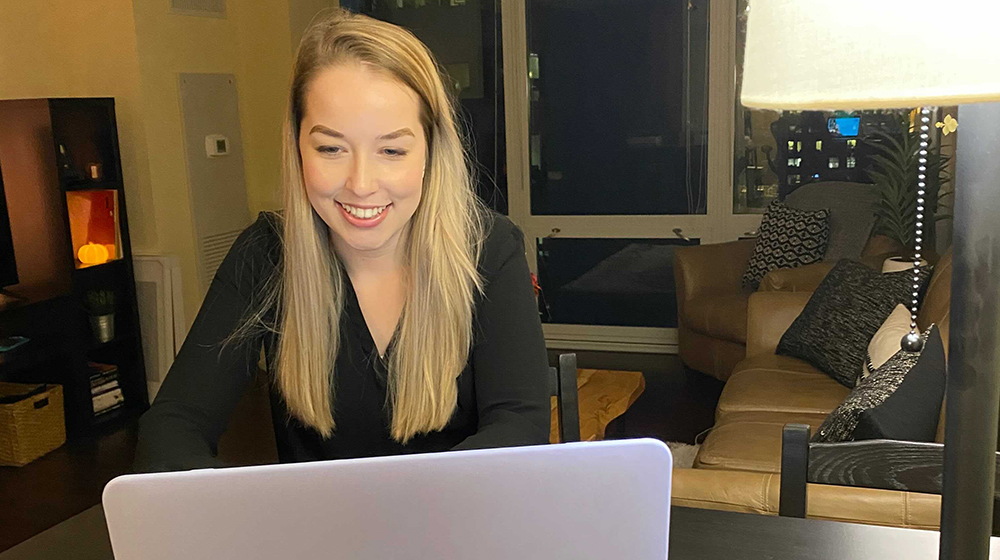 Since Spring 2020, Loyola alumni from Salesforce, a cloud-based software company focused on bringing companies and customers together, have connected with current students to share learning and career opportunities.
Stacy Neier Beran, Senior Ignatian Lecturer, helped kick-start the group by connecting Kamille von der Linden (BBA '20) to alumni and Salesforce employees, Jess Ciesielski (BBA '18) and Tony Vaughn (JFRC '12, BSEd '14, MA '16).
"I feel there's no better way to give back than by opening the door for students to the world of tech. Salesforce has endless career opportunities and we are dedicated to sharing our expertise and learnings," says Jess Cielsielski.
While balancing studying for finals in her last year at Quinlan, von der Linden partnered with the two alums to launch a Salesforce Student Group, providing current students with events, mentorship, networking and career resources at a technology company, just steps from Loyola's Water Tower Campus.
Launching just months before the COVID-19 pandemic, the group hosted their first event at Salesforce's downtown office. Over 100 students attended a panel of Loyola alumni working diverse roles at Salesforce, all sharing how students could pursue a top career in tech. These alumni found students ready to skill up for the job market and gain experience with real business tools. During the COVID-19 pandemic, the group has been meeting virtually via Zoom.
"What started as an in-person group very quickly pivoted to a way to foster a community online as campus closed back in March," says Neier Beran. "The community is not only classmates working together. It allows new ways to collaborate and learn with each other and business professionals in our city and to break through the default settings we sometimes find ourselves in."
Setting up career success
By utilizing Salesforce Trailhead, a free online learning platform to hone business- and Salesforce-platform related skills, students and alumni are setting themselves up for success.
"It shows that students truly have an appetite for meaningful experiences that build on their coursework," she says. "They're looking for tangible, concrete experiences that translate to their resume. Through Trailhead, they are able to dig deeper into what they learn in class and earn certifications to back up their learning."
Brenden Oeth (BBA '21) connected with the student group and participated in the Salesforce Career Journey Case Competition with Deloitte Digital in fall 2020 to put his Salesforce learning to use.
"It was the first time I was able to take my knowledge of the Salesforce platform and all of its products and apply it in a real-world context with a team of other dedicated Trailblazers," says Oeth. "It was incredible to see my knowledge and insights from Quinlan classes, Trailhead, and the student group all come together for one project."
Bringing the experience full-circle, Oeth received an internship offer with Salesforce for the Summer 2021.
For Neier Beran, the creation of the group is a fulfilling moment as an educator. "It's a special moment to see students take ownership of their education and really get the most out of their experience here. And it reminds me that co-curricular experiences truly matter."
Alumni-led passion project
"The group is really alumni-led," says Neier Beran. "They wanted to come back and co-educate in the Salesforce ecosystem and it turned into this passion project for everyone involved."
Rather than an official club or organization, the group functions as an informal way to connect with like-minded students and alumni to more intentionally explore the Salesforce ecosystem.
"We find ways to connect Quinlan classes to Salesforce and to put business acumen into practice," says Neier Beran. "Through programs like Trailhead, and it's up to individuals to take advantage of their offerings and skill up."
The key to the group: the generosity of the alumni and students involved, says Neier Beran. "They all come together to help each other learn and prepare for their careers and create a lasting impact on each other."
Learn more