Students win big at the Teradata Analytics Universe competition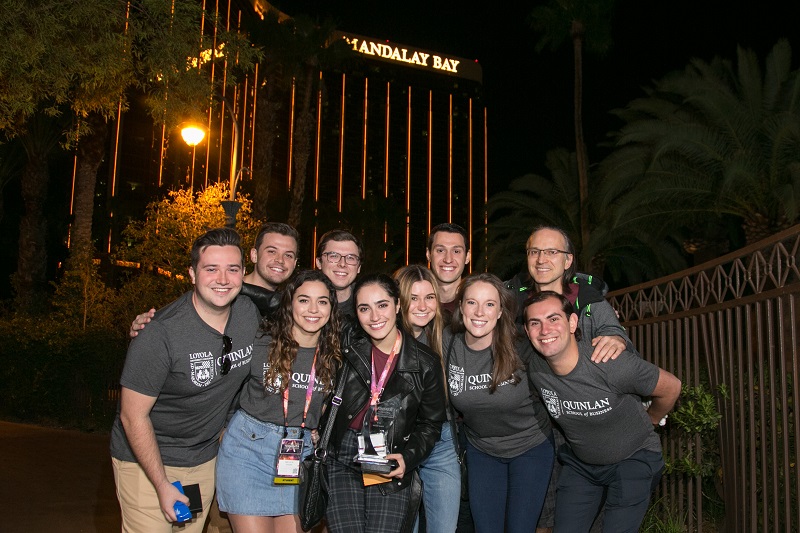 Two teams of Quinlan students received very high marks in the 2018 Teradata Analytics Universe student competitions.
One team won the international Analytics Challenge, and the second team was among the top 5 finalists in the Data Challenge, which drew 45 submissions from around the world.
The victory continues Quinlan's winning streak: Quinlan teams have taken home top honors at every Teradata conference since 2014.
Professors Svetlozar Nestorov, Nenad Jukić, and Abhishek Sharma advised the two teams.
Telling a story through data
Student David Faust was very excited to be a part of the Analytics Challenge winning team.
He says, "We were basically told to find a dataset and then find a story. Our team decided to analyze the taxi industry in Chicago using a publicly available dataset that contains over 150 million taxi trips from 2013-17, representing more than 60 gigabytes of data."
They dug through the data and found "sustainable niches" – that is, a specific type of trip that allows taxi drivers to make an income. They found a niche of drivers who specifically targeted trips lasting between 20 and 40 minutes and who were engaging more with O'Hare International Airport.
The team hopes their findings can help metropolitan cities better plan for the taxi industry's role in urban transportation.
A positive experience
"I would absolutely recommend this experience to other students!" Faust says. "This allowed all of us to think creatively about how to solve a large problem in the transportation industry of many urban cities."
He also appreciated being able to grow his professional network at the international conference.
"The Teradata Analytics Universe conference is a great networking opportunity, filled with industry-leading professionals and educational seminars that cover all of the emerging topics in the data analytics field," he says.
Professor Nestorov says, "Both teams did exceedingly well, and it was a privilege to even be chosen to compete at the conference."
Learn more
Read about Quinlan's success at the:
2017 Teradata Partners Conference →
2016 Teradata Partners Conference →
2015 Teradata Partners Conference →
2014 Teradata Partners Conference →