Supply Chain Summit explores future of industry and honors leaders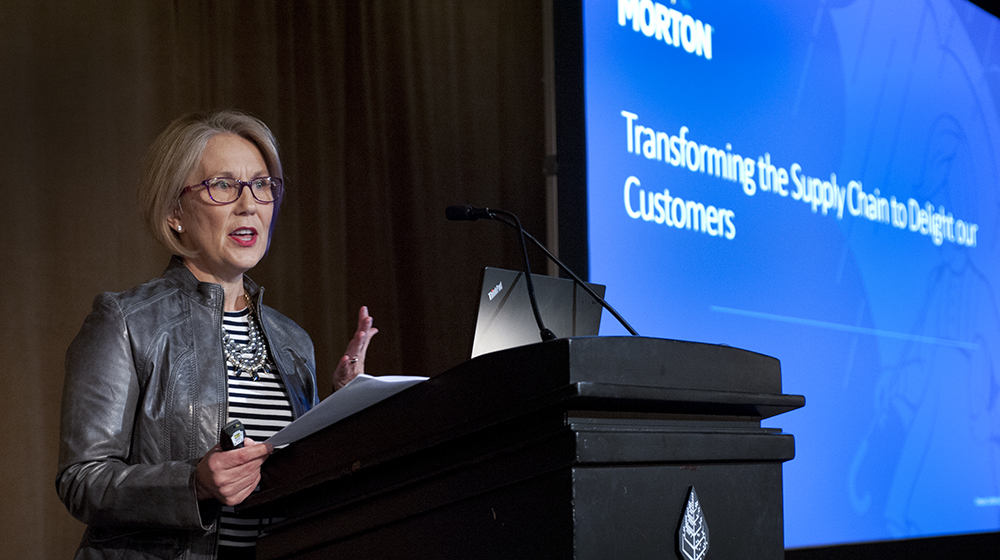 Supply chain professionals from 70 Chicagoland organizations attended the 6th annual Chicago Supply Chain and Sustainability Summit on October 16, 2017.
Held at the Four Seasons Hotel in Chicago, the summit featured industry leaders from organizations including McDonald's, Morton Salt, the U.S. Department of State, and Massachusetts Institute of Technology discussing supply chain operations, sustainability, social enterprise, economic development, and other critical issues in supply chain management.
In addition to the presentations and panels, supply chain professionals and Loyola students were recognized during the summit.
The annual Supply and Value Chain Center Awards recognized one individual and two teams for excellence in supply chain. Read more →
The Supply and Value Chain Center recognized the summit's three featured speakers by creating $1,500 student scholarships in each of their names.
The Loyola Business Leadership Hub awarded $2,000 scholarships to two Loyola University Chicago students thanks to the generosity of Dan Brutto. Read more →
Following the formal presentations, attendees enjoyed a reception in Wintrust Hall in the Schreiber Center, the new home of the Quinlan School of Business in downtown Chicago.
The summit is hosted by Quinlan's Supply and Value Chain Center, a member of the Loyola Business Leadership Hub.
Event Photos
View summit photos in the gallery below or on Quinlan's Flickr page.
Presentation Highlights
Highlights from the summit presentations included:
Morning Keynote Speaker
Kevin M. O'Reilly, Director, Office of Brazilian and Southern Cone Affairs, U.S. Department of State
Kevin got our day started with a terrific overview of the opportunities and challenges that the United States faces with Brazil and the "Southern Cone," which encompasses Argentina, Chile, Paraguay, and Uruguay. Kevin deftly put these into context, noting the potential impact on global supply chains.
Luncheon Speaker
James B. Rice Jr., Deputy Director, MIT Center for Transportation and Logistics
Jim presented a particularly engaging discussion about supply chain innovation — what it is, what it isn't, and the keys to successfully initiating and implementing innovation. Among the key takeaways were that successful supply chain innovators experiment a lot ("fail fast") and collaborate up and downstream.
Afternoon Keynote Speaker
Betsey Nohe, Vice President, Supply Chain, Morton Salt
Betsey wrapped up the presentations with a very candid and informative session on the transformation of Supply Chain at Morton Salt. She took us through their journey, from creation of the supply chain function to network restructuring, and technology implementation. She also discussed Morton's efforts to help people through the transition, illustrating how training and encouragement enabled people to assume new roles in the organization.
Supply and Value Chain Center Awards
During the summit, the Supply and Value Chain Center recognized the outstanding performance of individuals and teams in the supply chain industry.
The 2017 Supply and Value Chain Center Award winners are:
Leadership Award
Gary Rabine, CEO, Rabine Group
Supply Chain Excellence Award
GEA Farm Technologies, Inc., accepted by Darrell Vander Bloomen, Vice President and Head of Supply Chain NAM and LAM
Supply Chain Sustainability Award
Beef Supply Chain Team, McDonald's Corporation
Student Scholarships
The Loyola Business Leadership Hub awarded $2,000 scholarships to two Loyola University Chicago students who plan to contribute to sustainability and supply chain improvements through their career. The scholarships are supported by the Dan Brutto Scholarship Fund.
The 2017 recipients are:
Susana Dittmar Fernandez, MSSCM '19
Susana is in the master of science supply chain management program. She is a board member of the Quinlan Graduate International Club, as well as a member of the Quinlan Business Graduate Association and APICS Loyola Chapter.
Tessa Boukal, BBA '18
Tessa is an undergraduate business student majoring in information systems and sports management and minoring in marketing. She is particularly interested in the use of data analytics to make better business decisions. In addition, she has an interest in using the ethical and social justice perspectives that she has gained at Loyola in her future career.
Learn More