UN food program thrives with help of Quinlan alum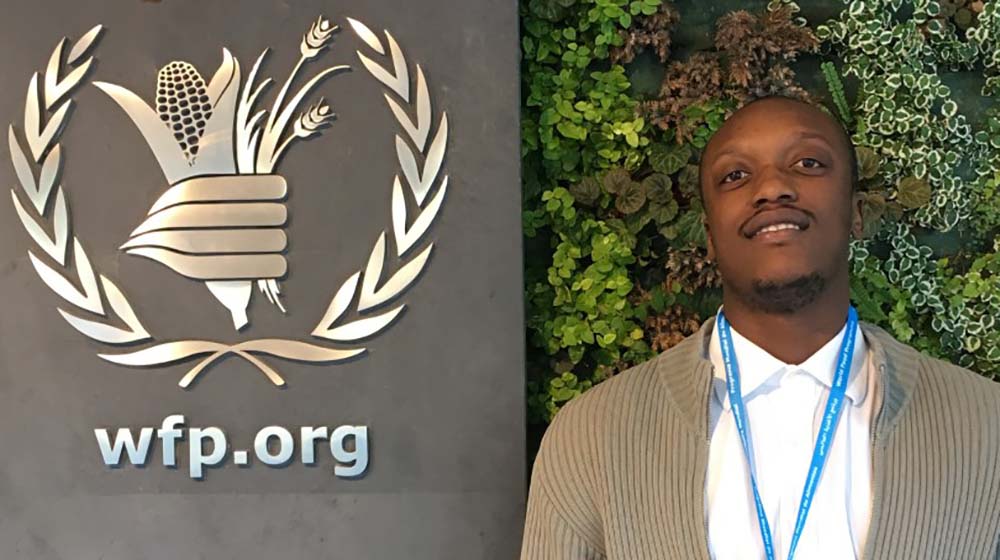 "We see that when people are hungry that creates and exacerbates conflict," says Saidi Mwanundu (MS '15), a financial consultant for the United Nations World Food Programme (WFP). "If we can feed people and uproot the systems that create hunger, then there will be more peace."
Mwanundu came to Quinlan School of Business to earn his master's in finance, looking to improve his skillset in Chicago's large financial market. Now working with WFP, he uses his degree to improve efficiency in their financial processes. The position has been a perfect fit for his skills and his commitment to social justice. In 2020, the organization received the Nobel Peace Prize for its work to deliver food assistance to a record 97 million people in 88 countries.
Below, Mwanundu reflects on his career and how finance is critical for WFP's success.
Finance keeps the machine running
Growing up in Rome with a Kenyan background, Mwanundu recognized how fortunate he was to not have to deal with war, famine, and other challenges.
"I have always felt a civic duty to give back," he says, but "when you think of careers in finance, you don't think of them as being ways to give back." At WFP, Mwanundu found a way to combine the two.
The organization requires a strong supply chain and financial backing to get food and assistance to the people who need it most.
"Last year, WFP took in nearly $7 billion in donations. Accounting for those donations and reporting back to our donors are critical and overlooked steps," says Mwanundu. "We must ensure that our donors have the security they need to continue to give and that keeps our entire machine running."
Field support provides understanding
Mwanundu is based at WFP's headquarters in Rome. During 2019, he was assigned to Cairo to provide in-the-field financial support to the organization's outreach there.
"In the field, the financial side looks completely different," says Mwanundu. "Finance is in charge of everything in the operation from partnering with local banks to connecting with food markets and ensuring vouchers are distributed."
The field experience helped Mwanundu understand the challenges WFP workers face in the distribution of aid.
"It's important to not lose sight of the field work while I'm at headquarters," says Mwanundu. "It can be easy to wonder why someone isn't responding to my email in the time I would have liked, but they might not have access to Internet and are keeping track of everything on paper."
Connecting with Jesuit values
Jesuit values and the values of WFP strongly overlap.
"Our beneficiaries have been dealt a bad hand," says Mwanundu. "We are working to even the score by enriching their lives and pursuing justice."
But WFP's work is far from done.
"Even with $7 billion in donations last year, we need more. There's a means and a way to feed every person and we need more to do it," says Mwanundu.
Learn more