Writing the business stories others read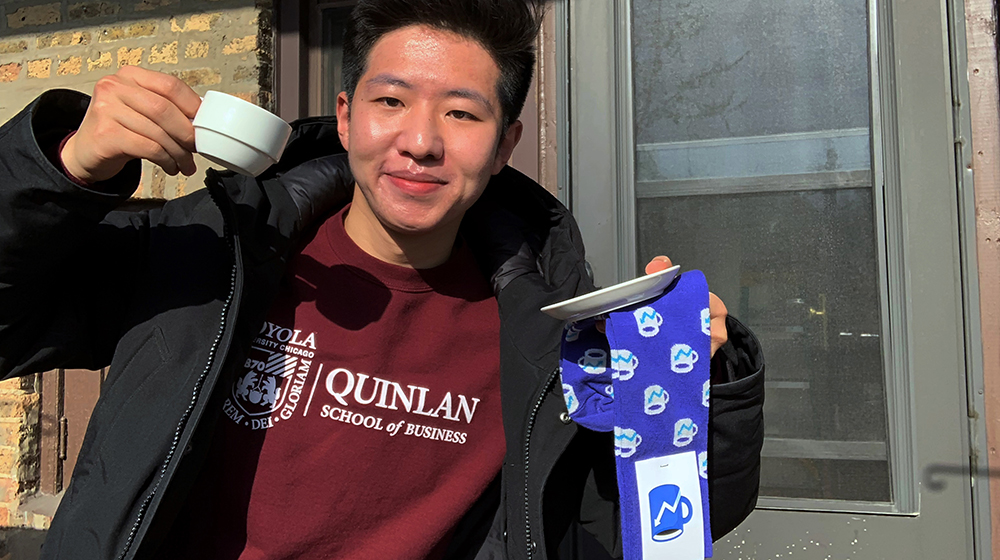 Jie Zheng (BBA '21) came to Quinlan to take advantage of Chicago's thriving business community.
While here, he honed his marketing skills and became a top campus ambassador for Morning Brew, a national daily business newsletter. He also landed a post-graduation job at a mission-focused media startup.
Below, Zheng shares his Quinlan experience and what he loves about grocery stores.
Why combine marketing and information systems?
I love grocery stores! I enjoy checking out everything in the stores such as packaging design, store aesthetic, and pricing strategies, etc. I have always been interested in human psychology and how we make decisions.
In addition, I love market research. In a data-driven world, it's hard to ignore qualitative research and analysis skills in the marketing industry. Marketing and information systems are a great combination for me to strengthen my interests and knowledge in both areas.
How have you leaned into marketing?
I am a Morning Brew/Brew U campus ambassador. Morning Brew is a free, quick, and quality daily email newsletter. The newsletter gives you a conversational round up of all things happening in the business world. I first heard about the Morning Brew newsletter from Dr. Stacy Neier during my MARK 310 Consumer Behavior class last year. It sparked my interest, and I joined the program.
As a campus ambassador, I create unique marketing strategies to increase Brew readership across our campus. The program provides all campus ambassadors around the country with networking opportunities, weekly marketing lessons, and a unique Spring 2021 online experience. After months of promoting the brand around campus through emails and word of mouth, Loyola is one of the Top 10 most new sign-up colleges in the country this year!
What's next after graduation?
I recently joined Topic Insights, an alumni-founded media startup. I focus on writing insightful articles and helping with the brand's marketing strategies. Our mission is to share stories and insights that inspire people, communities, and organizations around the world to make a positive impact.
We share stories and insights to nurture the next generation of leaders to use the power of business as a force for good. We mostly focus on leadership, different business fields, sustainability, and so on.
How has Loyola helped you grow?
Loyola provided me the opportunities to explore and experience different areas of my interests over the past years. I am grateful and fortunate to meet all those wonderful people who helped me grow as a person and open my worldview.
I am definitely in a transitional period of my life, especially after COVID hit last year. A lot of my goals are changing after I learned more about myself and what I truly want. I am still on the path of growing and searching.
Learn more