Clifford J. Shultz II, Ph.D.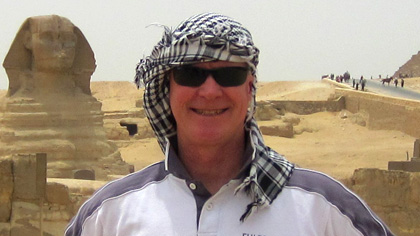 Cliff Shultz is Professor and Kellstadt Chair of Marketing in the Quinlan School of Business at Loyola University Chicago and an International Fellow of the Harvard-Fulbright Economics Teaching Program / Fulbright University Vietnam. He received his PhD, MPhil, and MA from Columbia University in the City of New York, and his BA from DePauw University. Dr. Shultz joined Loyola from Arizona State University, where he held an appointment as Professor and Marley Foundation Chair in the W. P. Carey School of Business and Morrison School of Agribusiness. He also has taught at the Columbia University Graduate Business School, University of Zagreb, University of Rijeka, Ho Chi Minh City Economics University and College of Marketing, Swedish School of Economics, University of Western Australia, University of Munich, etc.; he has served as a Fulbright Scholar (Croatia and Vietnam) and an Invited Scholar at the Indochina Program of the Harvard Institute for International Development.

Dr. Shultz has expertise on marketing, policy, and sustainable development in transforming economies, particularly the transitioning/recovering economies of Southeast Asia, the Balkans, Latin America and the Middle East. He has worked, for example, to improve coffee-production, branding, place-marketing and sustainability in Vietnam, to reclaim mine-laden fields in Bosnia and Cambodia, to initiate sustainable tourism and food marketing in Croatia, and to facilitate judicial reforms in Bangladesh. He is studying the global refugee crisis; sustainable food, water and energy in the Mekong River Basin; peace-marketing initiatives in Afghanistan, Lebanon, Syria, Colombia, Myanmar, Nicaragua, Iraq, and Ukraine; the socioeconomic impact of the FIFA World Cup; and export marketing, government reconstruction and institution building, brand development and translations, enterprise development, intellectual property rights, etc. On this journey, he has worked with consumer groups, research institutes, universities, NGOs, governments and businesses to study and to improve marketing and administrative systems, research methodology, and ultimately consumer and societal welfare, with intentions to affect policies and best practices for win-win socioeconomic development and sustainable peace.

Dr. Shultz served two terms as Editor of the Journal of Macromarketing. He also served as President of the International Society of Markets and Development, and as President of the Macromarketing Society; he currently serves on several editorial and policy boards, including Journal of Public Policy & Marketing; Journal of Economics and Development; Applied Research in Quality of Life; Consumption, Markets and Culture; Journal of Macromarketing; Journal of Consumer Affairs, and International Journal of Community Well-Being. He has over 250 publications in various scholarly outlets, including the Journal of World Business, Contemporary Southeast Asia, Business Horizons, Psychology and Marketing, Marketing Management, Research in Consumer Behavior, Journal of Applied Social Psychology, Nâng cao chất lượng đào tạo tiến sĩ kinh tế, Journal of Public Policy & Marketing, Journal of Advertising Research, Journal of Macromarketing, Zeitschrift für Anwaltspraxis, Journal of Consumer Research, European Journal of Marketing, Marketing Letters, Journal of International Marketing, Environmental Management, Journal of Business Research and others. His books and special volumes include Consumption in Marketizing Economies, published by JAI Press; Marketing Contributions to Democratization and Socioeconomic Development, published by Sveucilišna knjinica; a monograph for the United Nations on small business development in transition economies; Marketing and Consumer Behavior in East and South-East Asia, published by McGraw-Hill; Handbook of Markets and Economies: East Asia, Southeast Asia, Australia and New Zealand, published by Routledge; Community, Economy and COVID-19: Lessons from Multi-Country Analyses of a Global Pandemic, published by Springer.

Dr. Shultz has received several awards for his scholarly contributions, including Fulbright appointments, fellowships, outstanding article and best paper awards, honors for outstanding contributions to research and service to the academy, numerous grants, faculty researcher of the year, faculty teacher of the year, etc. He has been invited to lecture, to make research presentations at universities and research institutes, and to counsel governments, NGOs and businesses on six continents.
In his minimal spare time, he enjoys his family, friends, sports, languages, the arts, and travel.