A decade later, study on women in leadership still holds true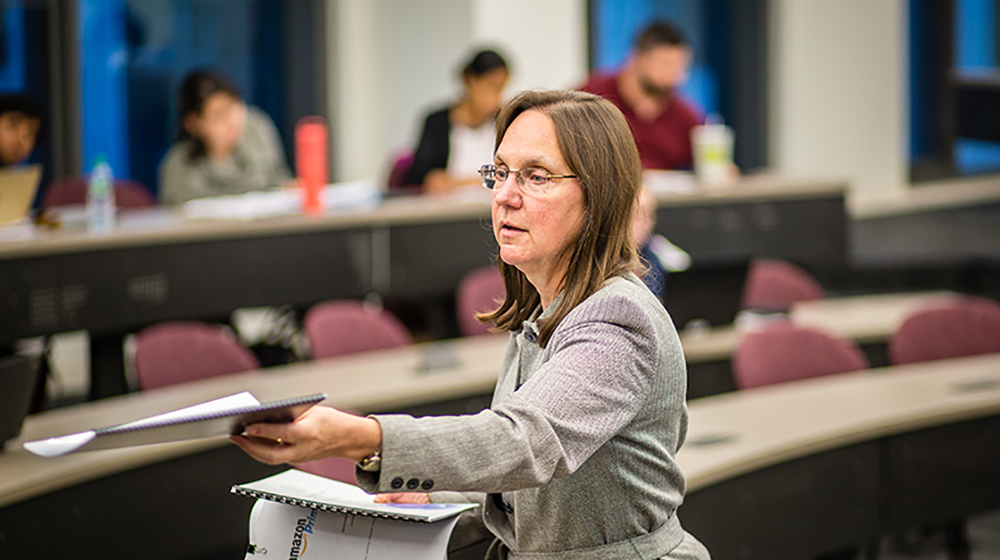 By Whitney Critten | Student reporter
Ten years ago, Professor Dawn Harris and her co-authors published a groundbreaking study that examined the pipeline of women in line for leadership positions at major Fortune 1000 firms. Even a decade later, her findings are still relevant for women seeking advancement to the C-suite.
The study, which was published in the Academy of Management Perspectives, was featured in the Harvard Business Review, The New York Times, and CNN International.
Here, Harris discusses her groundbreaking research on women and leadership, and why it's still important to Quinlan students and businesses.
What are you trying to accomplish with your research?
At Fortune 1000 firms, there is a noticeable scarcity of women in executive positions of leadership; these companies say that more women CEOs are "in the pipeline." I was not convinced of this argument, so I wanted to get accurate data through a comprehensive research study to determine the amount of female representation in the pipeline to the C-suite.
"The Pipeline to the Top" provided numerical estimates of the percentage of CEOs that were likely to be women in 2010 and 2016. Estimates suggested that if current trends at the time, 2000-2006, continued, perhaps six percent of CEOs from Fortune 1000 companies would be women by 2016.
According to the 2016 Fortune 500 data, four percent of CEOs in the Fortune 500 are women. I suspect our prediction of six percent for the Fortune 1000 is not too far off. The study also found that nearly half of the Fortune 1000 firms still had no women executives in the pipeline, while the other half of the firms were actively recruiting and promoting women to the top executive ranks.
Why is this topic of interest to businesses?
Innovative businesses want to attract diverse, top-tier talent. Businesses should have women and minorities in executive positions of leadership to effectively attract and retain a diverse workforce. Businesses should know that although progress has been made, it's still not enough for adequate representation of women in executive positions of leadership.
To fix this, businesses can provide sponsorship and mentorship programs, as well as address work-life balance concerns.
What makes your research relevant to Quinlan students?
At least half of my students are women, and I'm looking to help create opportunities for both men and women to succeed, now and in the future. I use the findings from this study, along with current events, to advise my students on what to look out for when they're interviewing for jobs. I tell them to do research and see how many women in the company are in top positions of executive leadership. This will most likely indicate how open a company is to having a more diverse workforce.
What are you currently working on?
I am currently writing an article that looks at the "best practice" firms with respect to having women in the pipeline. The 2006 article, "The Pipeline to the Top: Women and Men in the Top Executive Ranks of U.S. Companies," uses data from 2000. The new article that I am working on uses data from 2010 to make a comparison with the best practice firms.