Alumna speaks at Obama Summit about financial literacy for women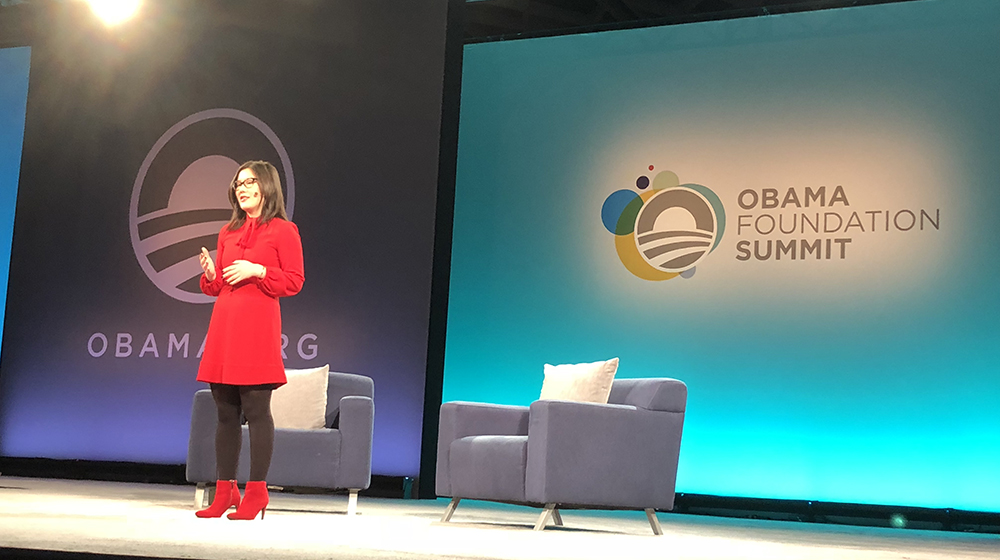 Emily Nordquist (BBA '16, MBA '18) spoke on the necessity of financial literacy among Chicago's women at the 2018 Obama Summit organized by the Obama Foundation.
Nordquist and MBA students Jenā Thomas and Katie Levin are members of the foundation's Community Leadership Corps. For their corps project, they are working to empower Chicago's young women by first identifying the barriers they face when making financial decisions.
Watch the Obama Summit talk
Obama Presidential Museum Director Louise Bernard introduces Nordquist, calling her a "leader on the rise." Watch the talk below or on the Obama Foundation's YouTube channel.
Read the transcript of Nordquist's remarks:
"I sit before a room of 20 young women, I begin to listen as they tell me their experiences with money. I look over at my friend Jenā and she is running around taking photos and I feel so lucky to have her on my team.
"Jenā is one of those women who doesn't sleep. She works full time and she's pursuing two master's degrees at night.
"When I ask her how she possibly finds the time to also support our project in creating spaces for young women to speak candidly about money, she tells me about her 18-year-old niece, Dasia.
"Jenā was able to go to college and therefore had access to real financial literacy resources. This is what has allowed her to find the ability to live independently and to explore new careers that are in alignment with her own values.
"She tells me that it is her personal mission to see to it that her 18-year-old niece will find that same type of freedom.
"As I listen to her story, I can appreciate how both of our first understandings of money are deeply rooted in both family and identity.
"For me, I think about how important my dad and my sister were to me when we lost our family business, had to sell our home, and help each other through a remarkably tough time. This feeling of connectedness with Jenā is what allows us to talk about finance and allow other young women to do the same in a way that goes far beyond just the numbers.
"Because we have welcomed vulnerability into the conversation of money, we have been able to meet with 15 community leaders in Chicago and hear from over 30 young women. We've listened to their stories, their fears, their questions, and we've sat together and brainstormed ways in which we can help each other create tools and resources to help young people better understand and talk about money.
"Unfortunately, this kind of work is hard to find. As young women, we've been told that we don't understand how to manage or invest money and we don't deserve to make as much of it and we don't understand enough about it, so we should just step out of the conversation.
"When we collectively let go of the fear and shame around money, we step into our true power. And when we step into our true power, the world shifts.
"Thank you."