Fulbright Scholar helps Polish post office design efficient systems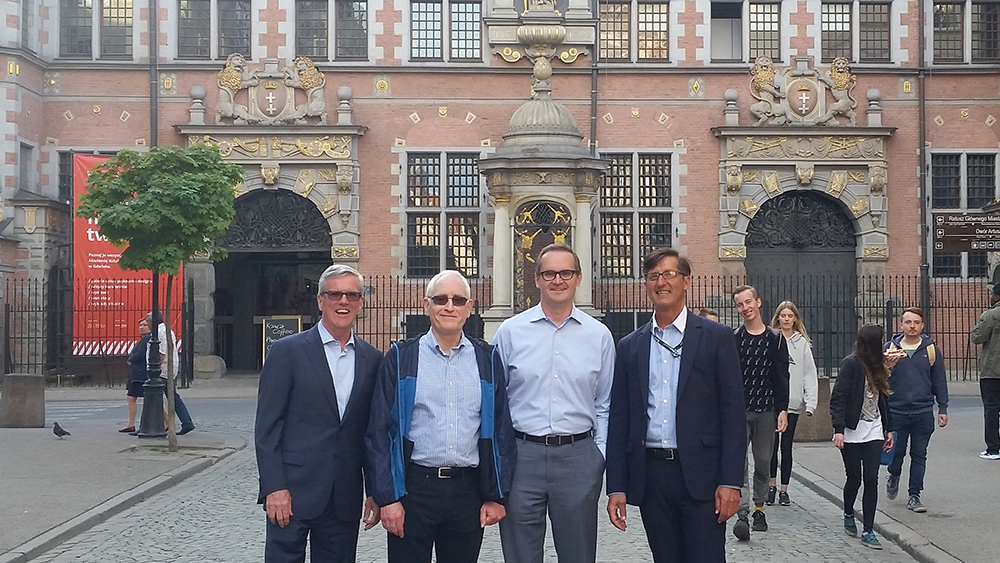 By Monica Sather | Student reporter
Fulbright Scholar and associate professor Maciek Nowak recently returned from Poland, where he spent six months working alongside faculty at the Warsaw School of Economics to improve the logistics network of the Polish Post.
While in Poland, Nowak also co-organized the Route Optimization/Vehicle Routing (ROVER) workshop, a first-of-its-kind gathering that brought together 20 of the top North Americans and Europeans in transportation science.
Here, Nowak discusses the workshop, his research with the Polish Post, and his experience abroad.
What was the ROVER workshop?
The workshop was jointly hosted by Quinlan and the Warsaw School of Economics. We focused on some of the future research directions of the transportation science community, such as real-time vehicle routing, autonomous vehicle fleet operations, and service network design. We had 15 talks over the course of the day-and-a-half workshop.
When I was applying for the Fulbright, I envisioned this workshop as a way to draw attention to Poland and the work that is being done there. In many ways, Poland has become the logistics hub of Europe. Many people don't realize that it is in the geographic center of Europe, affording easy access to most of the population on the continent. This has helped make Poland one of the strongest economies in the European Union, with sustained growth that is built on manufacturing and logistics. I also saw the workshop as a way to connect more of the international community with academics in Poland.
Tell me about your project with the Polish post office.
Since communism fell in Poland 30 years ago, the post office has made changes to its network, but it is still an enormous, slow-moving government institution and the biggest employer in Poland. In the last five to ten years, they have felt an increase in competition from foreign companies, like UPS, DHL, and so on. To remain competitive, they realized that they have to become more agile and efficient.
For this project, we are looking at their entire logistics network, focusing on where facilities, drivers, and trucks would best be located given the current demand on the system, while also considering potential future demand.
I had access to virtually any data I needed. I know how much they are transporting down to the letter, where it's going, how it was transported, how many people they are employing as drivers or in the warehouse, and how much all of this costs them.
It was really incredible, making my way through all of this data and matching it to the algorithm that we've developed to solve the problem. We're taking into consideration things like differences in driver wages between Warsaw and Krakow, and the varying costs for the different types of trucks they use, and looking at how these impact where you locate your resources.
I'm still working on this project with a colleague at the Warsaw School of Economics and my colleague here at Loyola, Mike Hewitt. We hope to have our initial recommendations in the next couple of months, and plan to continue this project as the Polish Post makes adjustments based on our results.
What were some key outcomes of your project?
Even though we don't have comprehensive results yet, we've shown the post office that there are many redundancies in their system, including instances where trucks are traveling at five percent of capacity. They need to figure out how to better utilize these capacities and resources.
How was your experience in Poland as a Fulbright?
Incredible. It was a life-changing experience, both professionally and personally. Making the professional connections and working on this project was invaluable.
I also had the opportunity to visit quite a few universities in Poland and throughout Europe, learning how each school does things differently. For example, they use different methods to foster collaborative research between faculty within the department or university. I hope to apply some of those ideas in our department here as they could provide some great opportunities for our faculty.
And then personally, I learned more about my background, as I was born in Poland but moved when I was very young. Spending six months in Poland gave me a much better sense of what daily life is like and allowed me to experience many of the traditions that I had taken part in on a much smaller scale while growing up in the U.S. It was just awesome.
I would encourage any faculty member or student to apply to the Fulbright program. Through the Fulbright, you have the opportunity to serve as an ambassador of the U.S., connecting to such a broad range of people of different backgrounds and nationalities while being a part of a group that represents some of the best our country has to offer.
Learn more