Quinlan community gives thanks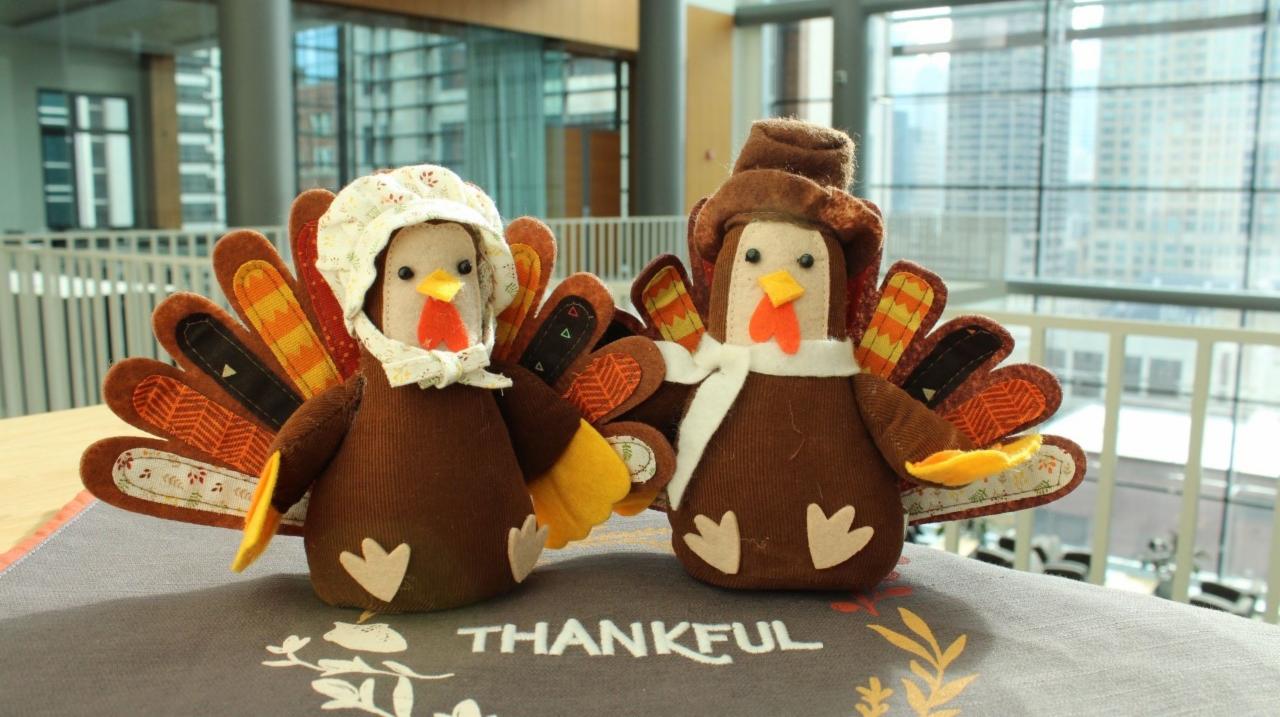 As the semester winds down and students (and faculty) feel the pressure of finals approaching, Thanksgiving steps in to give us all a moment to breath, reflect, and express our gratitude for all we've enjoyed in the past year.
Members of the Quinlan community shared why they are thankful this year. See their reflections below:
Prof. Jenna Drenten
"I'm thankful for second chances- that you can always make a mistake and find new paths, and have new doors open for you. My dad was in a major bicycle accident and fractured his skull, vertebrae, and neck, and by all accounts should be dead or paralyzed, and he's been given second chance. After my sister passed away when I was young, my parents became foster parents, and now my little sister was adopted through foster care. There was a bigger plan or second-chance opportunity, and I'm grateful that her death was not the end of the story.
"My mom has always told me you can always change your mind, and in many ways, that is so freeing and liberating. You don't need to get it right the first time. There's never this 'crossing the finish line,' it's not a to-do list. My mom would say we're never stuck."
Jackson Martin (BBA '21)
"I am grateful that Loyola is preparing to be a business leader of tomorrow by providing me opportunities to be informed about current business trends that are aligned with Jesuit values.
"Last summer, I got the chance to intern in London for a subsidiary company of Sony Music, and I felt well-prepared based on my knowledge I learned in my Quinlan experiences in and out of the classroom."
Beck Hansman (BBA '22)
"I am thankful for the professors that care about every aspect of the student. Whether I am looking for an internship, help with an assignment, or personal support, I know there are professors willing to help me. The Loyola faculty cares so much about the student body, and it does not go unnoticed."
Kristina Dominguez (BBA '20)
"This year, I am thankful for my education and all of the support I have received from the faculty and staff at Loyola and Quinlan. I am also so incredibly grateful to be graduating in May and being the first in my family to do so!"
Justin Chandy (MBA '20)
"This year, I started my journey at Quinlan and I couldn't be more thankful. All the staff and professors have been very welcoming and made my experience memorable. I am also thankful for being able to spend Thanksgiving with all my extended family this year. As my family gets bigger and bigger, it is harder for all of us to meet up, but I am glad that one priority has never changed and we will be able to be stuffed together this Thanksgiving."
Allison Davis, Student Engagement Program Manager
"This holiday season, I'm grateful to work at Loyola, and specifically at Quinlan, where I get to engage with a wonderful community of students and colleagues—and that I get to do that while bringing my full identity to the table. I'm lucky to work in a school that values my expertise and my own professional goals of creating spaces where students at all intersections of identity can participate in our community as fully as possible. Quinlan really is a place where we encourage students, faculty, and staff alike to combine intellect with the aim of creating a more inclusive and equitable society. I'm thankful I get to play a small part in our students' journeys of determining how their personal and professional goals can also make the world a better place."