Los Angeles: Capitol Records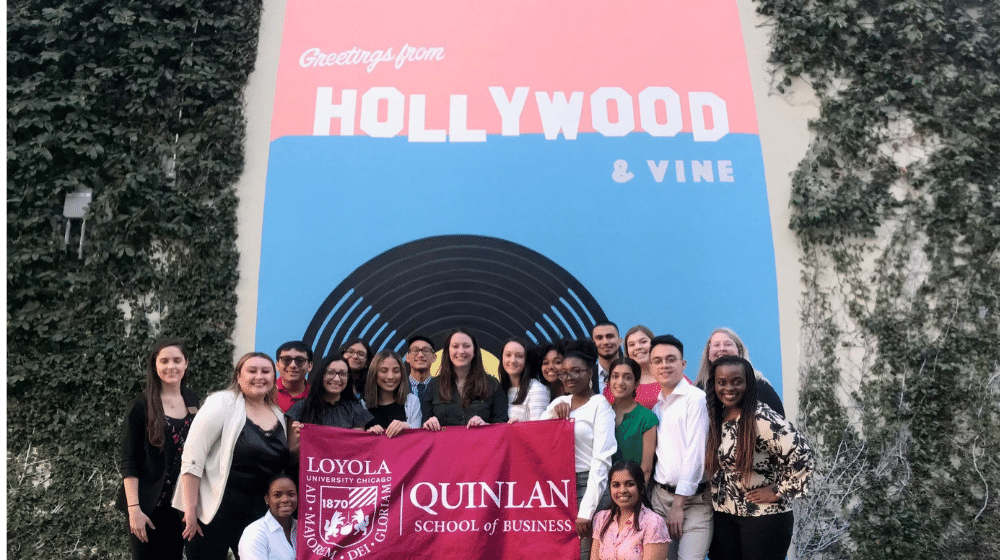 When we think of Hollywood, we often dream of celebrities, stars on a walkway, and the place where dreams come true. On Monday, we were able to see behind the scenes of the magic we listen to everyday: music. Visiting Capitol Records was an incredible experience that fascinated and inspired me to learn more about the entertainment world in a corporate setting. The music industry is one that has always intrigued me. Having been a musician in my youth, I always saw one side of that world, but being able to look past the curtain and see the amount of time and energy that goes into producing and promoting was very enlightening. The alumni were incredibly generous and showed us all around the iconic tower, and gave us a sneak peak into new technology for listening and experiencing music.
Using technology called Atmos, we were taken into a room where there were speakers surrounding us and the music was playing all around us, and different instruments and vocals were being played in different parts of the room, creating the idea that we were standing in the middle of a recording session with the actual artist. In addition, we saw the history of how music was recorded on tapes and vinyl, and learned more about the transformation of music in the digital age. Our panel with the alumni was fascinating and enlightening as we learned all about what it means to work in a high stress and fast-paced industry, including the journeys each alumni went on to arrive at where they are today.
Continuing with the Hollywood dream, after touring Capitol Records a few of us decided to walk to the Chinese Theatre, which so happened to be on the Hollywood Walk of Fame, giving us a chance to spot some of our favorite stars' names on the sidewalk! We even saw Blues Brother John Belushi's star, giving us a quick taste of Chicago Pride. We ended up going to a beautiful Japanese dinner on what felt like the top of the world. The food was incredible, as sushi is an all time favorite of mine. When we arrived home, I was utterly exhausted from such an amazing day. I cannot wait to see what the rest of the week has in store for us!
Margaret Marinic (BBA '21)
Marketing, International Business