Los Angeles: LAWA and Accenture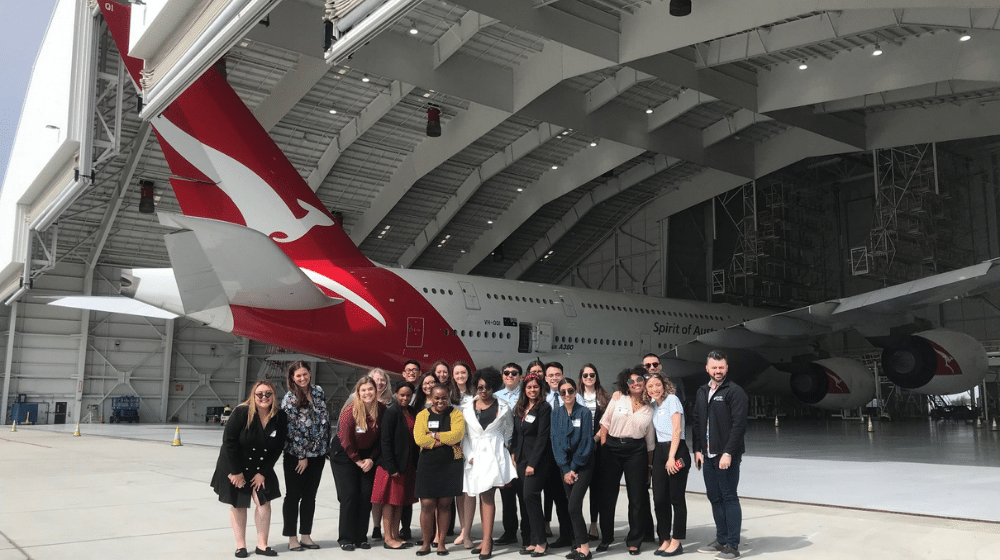 For today's site visits, we started off by heading out to Los Angeles World Airports (LAWA). We were greeted by Brandon Nunn-Zia, Stephanie Sampson, and the Interim CEO of the company, alumni Justin Erbacci. While here, we learned about the various aspects and moving parts that go into a career in the airport industry. It was very interesting to learn about all that must go into a job like this, with all the regulations and red tape that can come with government jobs. We were also informed of the large projects in the works for LAX, including an enormous renovation of the airport that included building a whole new train system to help traffic near the airport. After we learned about the logistics of the job and the organization's new project, we were taken out into the airfield and got a tour of the airfield itself. We got to get up close and personal with various airplanes taking off, and it was awesome to see the whole thing happen from a perspective of the outside.
After we finished up at LAWA, we stopped at Chipotle for a mid-day meal. We all had a feast and enjoyed our food. Unfortunately, there was no milk for me to order here. Nevertheless, we ate our food and made our way over to our final site visit of the entire trip, which was Accenture.
I would like to preface this by saying that I am a finance major, so I am very interested in the consulting field as a career. That being said, I adored Accenture. The company had a very modern and aesthetic office, as well as incredibly friendly staff who were excited to see us and talk to us. I learned a lot more about what the life of a consultant could be like, and we were even treated to a mini case study to test out our skills. It was a lot of fun, and I loved the opportunity to dive deep into a career that I very much have an interest for. Wayne (a Quinlan alum), Haley, Maurice, Dean, Lauren, Natalie, Nancy, and Xavier were very welcoming, and I was able to have some insightful conversations about how I could potentially manifest this dream of mine into a career. Accenture was a great time, and in my opinion a great culmination to wrap up the entire Quinlan Ramble experience.
After our endeavor at Accenture, some of us split up into smaller groups and went sightseeing. Some went to the Hollywood Sign, and others visited the Arts District to get the last of their tourist fun in before heading back to Chicago.
Uriel Reyes Vazquez (BBA '21)
Finance