Exhibitions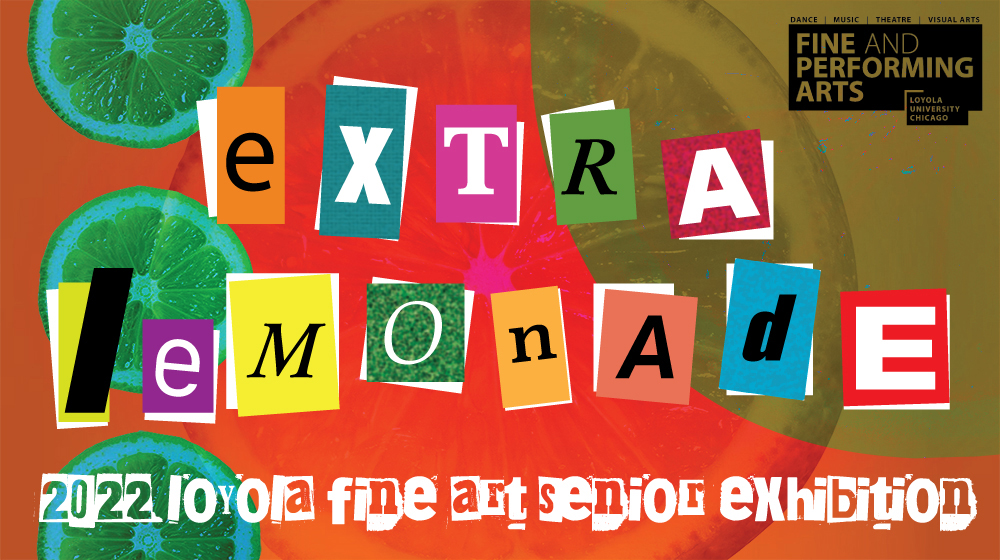 Extra Lemonade: 2022 Loyola Fine Art Senior Exhibition
April - May 2022
Reception and Awards Ceremony, 13 May 11:30 am – 1:30 pm CT
On view at the Ralph Arnold Gallery at 1131 West Sheridan Avenue and online.
Extra Lemonade is an exhibition of the work of Loyola University Chicago's most recent Fine Art graduates. With a variety of approaches to making across multiple disciplines, this exhibition represents the ambition, passion, and activism that make Loyolans stand out. The investigations and discoveries within Extra Lemonade are often poignant and surprising and have become even more complex in these unprecedented times of protest and pandemic. Like the rest of the world, these students are asking the difficult question of what comes next — not just for themselves, but for the world that their work represents.
Featuring works by: Lauren Barthel | Rayna Bartling | Callie Bergeron | Samantha Bernstein | Sof Bongarzone | Adrian Cabral | Oliver Connelly | Abby Drews | Tara Duggal | Sophie Frane | Alivia Haack | Grantland Hawkins | Lynzie Horejs | Grey Jan | Calista Jose | Anna Krzyzewska | Leo Malkin | Charlie McGroarty | Jaden Perez | Andrea Ramirez | Maia Tilly | Adam Wolf
Image: Abby Drews, Alivia Haack, Anna Krzyzewska, Leo Malkin, Maia Tilly.