Atheni Asihel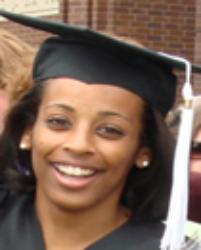 Atheni Asihel is a recent Loyola University Chicago graduate …. Born and raised in the D.C. Metro Area to Eritrean parents. She attended elementary and high school in Arlington, Va. During high school her travels to Dominican Republic as a student volunteer not only gave her the opportunity to work in an impoverished community, the experience also broadened her perspective on global issues and ignited her desire to serve.

Atheni then strengthened her global perspective with her education at Loyola, pursuing a degree in Global and International Studies. Her accomplishments and involvements at Loyola have been visible in all levels of the University. Atheni actively pursued various initiatives on behalf of the student body. Most prominently, her four years of work with the Unified Student Government, culminating in her position as Executive President, has ushered in a new era of student involvement. While on University Policy Committees and the University Coordinating Committee (UCC), she spearheaded the ultimately successful drive to restructure the student government and programming bodies on campus into one unified organization. In doing so, students receive greater representation and can become more invested at their university.

While the vice president of public relations, she co-initiated the Loyolans United for Hurricane Relief, a coalition of over 25 student organizations, a successful carnival event that raised funds and awareness for victims of Hurricane Katrina. With the Vice President of Lake Shore Campus for USG, she planned a student leadership retreat to help bring student leaders together again to increase communication, and foster more collaboration. Later, she was a central figure in organizing opposition and voicing the imprudence of using Student Funds to invite a divisive speaker on campus. Ultimately, she was able to bring attention to the necessity of reform in the student funding process from the student government, and worked to add transparency and accessibility to the funding system. Her last initiative as Vice President of Public Relations was a push for more transparent, vibrant elections resulting in a record voter turnout that year, almost tripling the previous year's number.

In the summer of 2006, she traveled to Eritrea alone to visit family and learn more about her culture. She spent the summer traveling all over Eritrea. Also while in Eritrea, she volunteered for a youth camp, caring for over 120 Eritrean American youth of Diaspora, preparing activities to aid the children in their personal growth and cultural understanding.

Other areas of involvement include work in the Loyola Literacy Center and as a Youth Mentor. Atheni also participated in the Chicago Marathon on behalf of the AIDS foundation of Chicago (AFC), which raised over $1400 to fund prevention, care and advocacy programs for the AFC and other local HIV/AIDS service providers.

This year Atheni was awarded the student Damen Award by her peers, recognizing her commitment to Jesuit ideals and leadership. She was also awarded the Distinguished Service Award by Sigma Alpha Epsilon Fraternity in recognition of her service to the student body of Loyola. She also received the first "Award of Excellence" from the Unified Student Government by unanimous consent of the Senate recognizing distinguished service to the Student Body.

In all of her activities and involvements, she has displayed a profound desire to serve others, an unrivaled compassion for those who are less fortunate and the capability to serve as a leader amongst leaders here at Loyola.