Kelsey N. Horton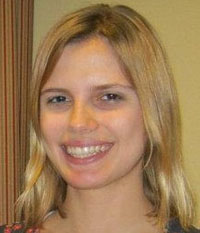 A member of Loyola's Honors Program and graduating Cum Laude, Kelsey Horton is one of the Class of 2012's most accomplished graduates and an example of Jesuit traditions and ideals. As an Environmental Studies major and Peace Studies minor, Kelsey excelled in her fields. She was a member of the first Green Learning Community at the University where she helped develop and enforce a campus recycling plan. She also helped create the University's first farmer's market. Kelsey was nominated by the University to receive the prestigious Regents Award, given annually by the Council of Regents, to that outstanding senior who demonstrates extraordinary service and leadership to the University.
Two ventures that stand out in Kelsey's Loyola experience are her semester-long work with the Refugee Resettlement service-learning group, under the guidance of associate professor of Anthropology, Dr. Daniel Amick, to help a family from Burma learn English and adapt to living and working in America. And her years-long joint effort with who she considers her mentor, Gina Lettiere, of the Center for Urban Environmental Research & Policy (CUERP), to organize a farmer's market comprised of regional produce and other goods from local farms.
These rewarding experiences influenced Kelsey's decision to take a post-graduation trip to Panama with Global Brigades, the world's largest student-led health and sustainable development organization, to build greenhouses and educate the community on climate change. While Kelsey is still exploring where she'll end up next, she hopes to take some time gaining real-life work experience before going to graduate school. At this point, she remains passionate about and interested in pursuing a job in higher-education or for a non-profit, possibly in the area of sustainability and green living.