Kevin Casey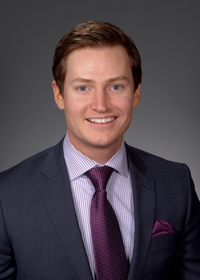 Kevin Casey will receive his MD from the Loyola University Chicago Stritch School of Medicine in June 2013, capping off a career as a medical student marked by service and leadership. During his first year of medical school, he volunteered as a laboratory assistant at a free healthcare clinic on Chicago's West Side and participated in multiple course-review committees, working as a faculty-student liaison to improve course quality.
During his second year, Kevin served on the Office of Medical Education Strategic Action Planning Committee, working to improve third-year courses and medical board preparation strategies. During his final two years of medical school, he was selected to serve as a member of Students Advising Students, a student-led peer support organization.
His leadership was recognized by his classmates, who elected him during his first year to serve as a class representative to the Student Union and the sole class representative to the Association of American Medical Colleges Organization of Student Representatives. In this role, a 4-yr term, Kevin represented Stritch on a national level at semiannual conferences.
Throughout his career at Stritch, Kevin was consistently described by his instructors as "completely trustworthy," "extremely hardworking," and as always displaying "empathy towards his patients."
That empathy was not limited to the hallways of Loyola Hospital. In February, Kevin and a group of students, ENT surgical residents, and nurses spent over a week in Santiago, Dominican Republic, providing free medical and surgical care. Together, this Loyola team saw over 450 patients and performed over 120 surgeries, more than doubling the number of ENT surgeries performed in Dominican hospitals in an entire year.
In recognition of his accomplishments, Kevin has earned membership in honor societies such as the Alpha Omega Alpha Honor Medical Society, Alpha Sigma Nu Jesuit Honor Society, and was the School of Medicine's 2013 recipient of the Loyola University Chicago President's Medallion.
In July, Kevin will start as a resident in Otolaryngology – Head and Neck Surgery at the Medical College of Wisconsin & Froedtert Hospital in Milwaukee. After his residency, he is considering pursuing a fellowship in facial plastics and reconstruction or neuro-otology.