Scott Harris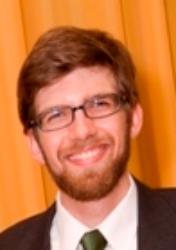 Scott Harris is a recent graduate from Loyola with a Bachelor of Arts in Theology. Originally from Macomb, Illinois, Scott began his extracurricular involvement at Loyola as a Student Ambassador with the Department of Admissions.

From there, Scott worked as a building manager in the Student Unions on both the Lake Shore and Water Tower campuses. It was working as a Summer Orientation Leader for Discover Loyola, however, that began Scott's in-depth involvement in student leadership at Loyola. Working with in-coming first-year students made a significant impact on Scott and he continued to work in this capacity for three successive summers. Over these three years, Scott has been able to impact students as they first arrive at Loyola.

Building off of this experience, Scott involved himself in campus programming. Eventually he became President of the Campus Life Union Board, the organization that provides campus-wide events for all Loyola students. During his senior year, Scott served as the Executive President of the Unified Student Government Association. As the elected representative for the entire Loyola undergraduate community, Scott served on several committees in the Shared Governance system, including the University Coordinating Committee. As an advisory member of the Student Affairs Committee of the Board of Trustees, he worked to voice student concerns to all levels of the administration. During his senior year, in recognition of his service on behalf of students, Scott was awarded a Damen Award by his fellow students.

Having completed his undergraduate career, Scott then completed his postgraduate internship at Pillsbury, Winthrop, Shaw, Pittman, LLP, a lobbying firm in Washington DC.

Scott has since returned to Loyola University Chicago to complete a Master of Arts in Biblical Languages and Literature with the ultimate goal of earning a PhD in Ancient Near Eastern Studies.