Daniel J. Ziemniak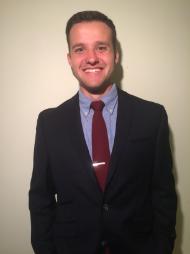 Dan Ziemniak received his Bachelors of Arts in History from Loyola University Chicago in May of 2014 and his Bachelors of Science in Secondary Education in December of 2014. He graduates with Magna Cum Laude Honors and as the Paul S. Lietz award winner for outstanding historical scholarship. Dan was drawn to Loyola initially for its urban and cosmopolitan appeal, but was quickly attracted to its liberal arts emphasis and Jesuit educational philosophy.
Dan was born in Morton Illinois, and grew up there for most of his life. At the age of eight, Dan and his family moved to Geneva Switzerland, where they lived for three years. This experience broadened his perspective and instilled in him a desire to look outside of his own experiences and perspective. Upon his return to Illinois, Dan pined after the same diverse experiences he had in Switzerland. He found this need and many more met at Loyola.
Upon enrolling at Loyola in 2010 on an Army Reserve Officer's Training Corps scholarship, Dan found himself moved to contribute to the culture at Loyola and the larger community. While studying education, Dan worked with students and adults from around the Chicago community, expanding his concern for socially just education and Jesuit pedagogy. Dan was privileged to participate in the History Departmental Honors Program where he worked under the guidance of Fr Stephen Schloesser. Under this kind-hearted mentorship, Dan was able to conduct the independent research project, "Chicago Remembers? Postmodern Memorialization and Chicago's Second Vietnam Veterans' Memorial." Dan was honored to present this paper along with his colleagues at the history honors symposium in December of 2013.
In his final semester at Loyola, Dan worked as a student teacher at Nettelhorst Elementary School in Chicago's Lakeview neighborhood. This experience confirmed the calling to teach social studies upon graduation. In January of 2015, he began work at Christ the King Jesuit College Preparatory School, a Cristo Rey model high school on Chicago's West Side. Dan looks forward to sharing his love for Jesuit pedagogy and philosophy with his students, empowering them to set the world on fire upon their own graduations. He plans to return to higher education in order to pursue a postgraduate degree in history and continue his studies in the history of memory and memorialization.