Hope Shannon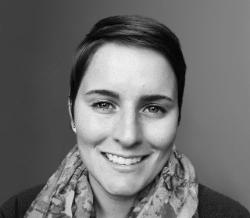 Hope Shannon is a joint doctoral student in U.S. history and public history at Loyola. She earned a BA in archaeology and history at Boston University and an MA in history from Simmons College. During that time, she participated in archaeological digs in Massachusetts, Bermuda, and Italy.
Shannon was the executive director at the South End Historical Society (SEHS) in Boston until summer 2013, when she and her husband moved to Chicago so she could begin Loyola's history doctoral program. She chose Loyola because of the history department's national reputation for a rigorous and groundbreaking public history program.
Shannon's career as a historian has been defined by leadership and service. While working in Boston's South End, she saw firsthand how people in power create and promote histories to justify actions that result in inequality. She used her position at the SEHS to draw attention to this process and to uncover some of the histories it had obscured. As part of this effort, Shannon wrote Legendary Locals of Boston's South End, a book that uses biographies of neighborhood residents to tell a more inclusive version of South End history.
At Loyola, Shannon has participated in several public history and museum projects. She was one of six history graduate students who founded Public History Lab in 2013, a Loyola student–led service initiative that facilitates history graduate student partnerships with history organizations and communities in the Chicago area. That led to her being elected to the board of directors of the Rogers Park/West Ridge Historical Society. She also worked on the Crossings and Dwellings exhibition at the Loyola University Museum of Art and wrote an article about that experience for Catholic Library World.
Shannon is chair of the American Association for State and Local History's Emerging History Professionals Committee and vice chair of the International Federation for Public History's Student and New Professional Committee. She has served the Loyola History Graduate Student Association as a cabinet member and committee chair.
Shannon was inducted into Alpha Sigma Nu and is a member of Phi Alpha Theta. She holds a graduate assistantship in the Loyola history department. She continues to study the relationship between local historical societies, neighborhood history, and inequality and is pursuing this subject in her dissertation.</p