Pedro A. Regalado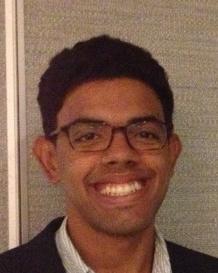 Pedro A. Regalado received his Bachelors of Arts in History from Loyola University Chicago in December 2013 and will walk at Loyola's graduation ceremony this coming May with Magna Cum Laude Honors as well as part of the History Honors Program. Transferring to Loyola from the Community College of Philadelphia after receiving his Associates degree in Secondary Education/History, Pedro felt that Loyola provided him with the best opportunity to grow into an individual that could make a difference in the outlook of others.
Born in the Dominican Republic and emigrating to New York city with his family at an early age, Pedro decided to further widen his global perspective by studying abroad at Loyola's Vietnam program in Ho Chi Minh City. There, he volunteered as an English Teacher to adult Jesuit seminarians training to be priests. It was an enriching experience for Pedro; one which instilled him with new ambition to broaden his work and goals.
Upon his return, he took upon a mentoring role at the Anixter Mentoring program-a program for at-risk youth in the Chicago area. In the summer of 2013, Pedro became a member of the Ronald E. McNair Post-Baccalaureate achievement program. It was under the guidance of this program and the generous mentorship of Dr. Michelle Nickerson that he was able to conduct an independent research project titled "End of Days: The Puerto Rican Riots of 1971," which he presented both at the McNair Scholars Conference in Milwaukee, WI in November 2013 and the Conference for Educational Opportunity in July 2013 in Chicago. He was also invited to present at the past Urban Affairs Association Conference in San Antonio Texas in 2014.
During his last semester, Pedro was inducted into the History Honors Society Phi Theta Kappa where he was given the honor of Secretary. In addition, he furthered his drive for mentoring as an After-Care worker at Northside Catholic Academy where he still works with students from kindergarten to 8th grade. In August, Pedro will begin his Doctoral studies at Yale University's American Studies program where he feels he has the best opportunity to thrive in the pursuit of his interest in 20th century urban history. More specifically, Pedro plans to study the urban issues, including poverty, drugs, and housing, that plague Latino and African American minorities in major cities.