Sr. Jean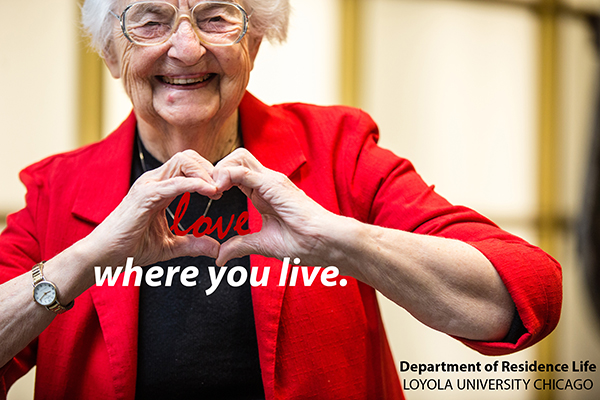 Sr. Jean Dolores Schmidt, BVM
Ask anyone and you'll get the same answer, Sr. Jean Dolores Schmidt, BVM is the most famous resident on Loyola's campus. And she isn't your average residence hall chaplain. She goes above and beyond to create relationships with residents and student staff and to support the holistic development of Loyola students.
Sr. Jean was born in San Francisco in 1919 and joined the religious order of the Sisters of Charity of the Blessed Virgin Mary in 1937, Yep, you read that right. Sr. Jean is older than the Golden Gate Bridge! After teaching for many years in elementary schools, she began her role at Mundelein College teaching in the Education Department. During her long career at Mundelein, Sr. Jean wore many hats, including Assistant Dean, Director of Coffey Hall, and Director of Academic Advising. She remained on staff after Mundelein's affiliation with Loyola in 1991.
Every day Sr. Jean gets up and works in her multiple roles on campus, her favorite no doubt being Chaplain of the Men's Basketball team. In her "spare time" Sr. Jean loves connecting with students in any way she can. From meeting with students to support them through personal challenges, to hosting her weekly prayer group at her apartment, there is no end to the care that she provides the students.
So next time you see her leaving a basketball game in her personalized Nike tennis shoes, or see her sitting in her Damen office, stop by and introduce yourself. You may learn some Loyola history, and will no doubt feel a lot of love, care, and support.