Not Your Average Fall Break
"The trip was one I would never think to take on my own, but I am infinitely glad I was able to go. Poland was absolutely beautiful, not only the sights but the strength and pride of the people. I was deeply moved by the history with the Holocaust and Auschwitz. It was something I could relate to in my own cultural experiences. I also really enjoyed the symposium. It was enlightening to hear so many opinions of people who experience the effects of genocide every day, and I appreciated that they had speakers from opposing viewpoints. It was so interesting and educational and really inspired me as many of those leading the symposium are pursing the work I want to do in the future." - Karisma Wilson (Global and International Studies & Anthropology LUC 2018), Ricci Scholar
Making it to Mount Olympus
"Friday…we visited the gods on Mount Olympus. This hike took approximately 3 and 1/2 hours with a few short stops for photos and to get water from a stream in the holy cave of St Dionysus.
It was an insanely enjoyable hike, I really loved it. It was probably my favorite moment of the entire trip!
We stopped to admire beautiful creeks and waterfalls and eventually reached our destination…the partially ruined monastery of St. Dionysus! It is from 1542, but it was bombed by the Nazis during World War II. The guards were very kind and, after walking around the monastery on our own for a while, we sat together and ate little pies traditionally found in Northern Greece!
Greece seized me and I smiled so much. I am someone who doesn't really know who I am. I have made so many beautiful friends here and I never want to forget a minute of this entire experience. Greece, Ioanna, Sander, Michael…thank you so much.
Greece…till next time. S'agapó polí polí."
Isabelle Parshall, JFRC Spring 2016
Video created by Lauren Capra, JFRC Spring 2016
It's On Us
April is Sexual Assault Awareness month. This spring two students took it upon themselves to create a video to show that students, faculty and staff at the JFRC pledge to stop sexual assault. This video shows that it is truly on us to end the epidemic of sexual assault, no matter where we are in the world. It's On Us is a global campaign to raise awareness, and promote sexual assault prevention.
To learn more and take the pledge please visit itsonus.org.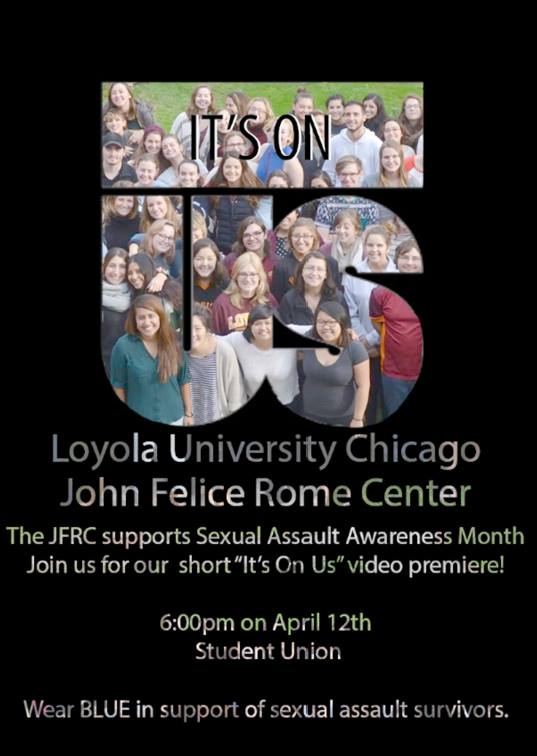 Video credit: Ola Wysocki & Mariel Temesi
Your home says a lot about you, but your neighborhood even more.
JFRC Poland Study Trip
A compilation of videos from the JFRC Poland Fall Break Study Trip, October 9-16, 2015.
Students were immersed into Polish history and culture, as well as learning issues surrounding human rights through the past to present day. One of the main events students were involved with was attending the annual Human Rights Symposium hosted by, JFRC almunus, John Kurowski.
JFRC Greece Trip
From October 9-18, 2015 fifty-three students traveled with SLA Ryan and Associate Dean Sander Evers to Greece for ten days for fall break. Students experienced traditional Greek culture throughout southern Greece in Athens, Delphi, Mykonos, Nafplio, and several other locations. Greek tour guide Ioanna Kopsiafti took students to her family's town of 300 residents in the mountains for fresh food and interaction with locals. The students enjoyed an in-depth look at the country's rich history and vibrant culture.
2015 JFRC Cusano Mutri Study Trip
JFRC took a study trip to Cusano Mutri (BN), in the region of Campania. JFRC students and staff went for the Sagra dei Funghi, hiked through glorious mountains, danced with locals, learned about the region's history, learned how to make gnocchi and tagliatelle, and of course ate mushrooms for every meal.
JFRC student, David Lee writes in detail about the trip:
"When we arrived, first, we visited our hosts at the Villaggio Turistico, a small resort run by an elderly couple and a child named, Giovanni. Our hosts were beyond generous: they provided us with bread, meat, cheese, and some of the finest baked goods I have ever tasted in my years.
After our greeting, we headed toward Cusano Mutri. This small town is very homey, and it seems like everyone knew each other. We had our meals at the Sagra dei Funghi, or festival of mushrooms. They were absolutely delicious and every course was mushroom themed. Even the wine. Ok not the wine.
All in all, the trip to Cusano Mutri, a small village hidden in a valley surrounded by mountains, was undoubtedly beautiful, and one of the best immersion trips so far!"
JFRC Fall 2015 Student Vlogger
Student Vlog
JFRC student, Angelo X. Canta, is vlogging in Rome!
Check out the rest of Angelo's vlogs in Rome
Benvenuto a Roma!
Welcome to the John Felice Rome Center Website. By watching this video, you have just taken the first step toward a life-changing experience--one of discovery, scholarship, and exploration.
Go Global at the John Felice Rome Center
Check out the winning fall 2014 video submission by Kellen Fisher (Loyola University Chicago), Caroline Heckler (Marquette University), and Joseph Vanderbosch (Michigan State University) and see why you should Go Global at the John Felice Rome Center.
JFRC Video Contest Winner!
What is your major?
Biology — You really can spend a semester abroad regardless of your major!
What was your favorite class during your semester at the JFRC?
Italian 101 with Prof Cristiani was easily my favorite class! While learning useful conversational Italian and singing along to classic Italian songs, our class really became a family.
What is your favorite gelateria?
With so many great contenders like Fior di Luna, Gelateria del Teatro, and Frigidarum, it's hard to choose a favorite Roman gelateria. But, the rich flavors of gelato combined with the old ice cream parlor feel of Giolitti made it the one I went out of my way to get.
Why did you choose the John Felice Rome Center?
After taking a summer class in Rome during high school, I knew I wanted to come back to the Eternal City for a whole semester. The JFRC's involved student body and long-standing reputation within the city are only a couple of the many reasons I chose Loyola's program.
What would you say to someone thinking about studying at the John Felice Rome Center?
Studying abroad is easily the best decision I have ever made. When I first read the quote by Saint Augustine, "The world is a book and those who do not travel read only one page," I never imagined it would apply to my life. Living abroad will open your mind to other cultures and ways of life. You'll come to call Rome, a new city filled with new friends, home. Studying at the John Felice Rome Center allowed me to grow not only in my knowledge of the Italian culture, but also as a person in all facets of my life.
Did you play calcio? If so, how did you do?
I'll always be a proud member of team blu navy. While we may not have made it into the playoffs, we definitely had a blast at every game. Forza blu navy!
What was it like being one of the only people from Creighton studying at the JFRC?
The fact that, as a Creighton student, I wouldn't know a single person at JFRC hadn't crossed my mind until I was sitting in seat 41A on my flight to Rome. It was hard seeing unfamiliar faces and feeling like a freshman again when I arrived on campus. But after four other girls sat with me in mensa on our second day in Rome, the five of us became inseparable and were known by our Italian class as the "cinque ragazze." After a few weeks at JFRC, every face on campus became familiar. Turns out there are plenty of students who come not knowing anyone else, so don't let that stop you from studying abroad!
Congratulations Gina!
Fall 2014 Study Trip: Poland
During this year's fall break, 14 students, 2 staff members, and 2 faculty members joined a group of passionate JFRC Alumni in Poland. There, they immersed themselves in the beautiful culture, and met many wonderful people. The group began in Warsaw, going on a Jewish Ghetto tour. From Warsaw, they travelled to Torun, for the 9th Annual Symposium on Human Rights and a Just Society, entitled "Speaking with the Devil: the Rwandan Genocide and the Modern World - Lessons Learned," in commemoration of the 20th anniversary of the Rwandan Genocides. From Torun, they travelled to Krakow, where they toured Schindler's factor, Auschwitz and Birkenau, and the Wieliczka Salt Mines.
Benvenuti!
Begin your journey
See how you can make Rome a reality.
A Complete Experience
Rome as a Classroom
Don't Come Unless You Want to Challenge Yourself
Campus Life at the John Felice Rome Center
Check out the winning spring 2015 video submission by Maureen Baynes of Loyola University Chicago and see what campus life is like at the John Felice Rome Center!