Identifying Campus Safety
Identifying Campus Safety
Loyola University Chicago's Department of Campus Safety understands that it is more important than ever to maintain and strengthen relationships to increase trust across our community.
Campus Safety has been meeting recently with members of the Black Cultural Center (BCC) and other student organization leaders. We value the continued dialogue and their feedback on ways we can best serve all of our students, faculty, and staff. In response to some of their suggestions and recommendations, we want to share a new initiative we launched yesterday to address identification of Campus Safety staff, as well as the implementation of a new follow-up process.
Integrity Card Process
We recognize that some students when approached by Campus Safety may not recall who they interacted with, which might hinder any future follow-up they wish to have.

Campus Safety will now carry Integrity Cards that may be requested by any student, faculty, or staff member when an officer concludes an interaction.
The purpose of this process and card is to further ensure that key information is readily accessible for follow-up. When the officer concludes an interaction and a card is requested, the Campus Safety staff member will write down their name, star number (if the employee is a police officer), and the computer-assigned number associated with the assignment on an Integrity Card so that Loyolans know who exactly they spoke with. The department will also know when the event took place. This ensures that any member of the community has the necessary information they would need to discuss the event further.
Below is a visual representation of the Integrity Cards, which are in use now.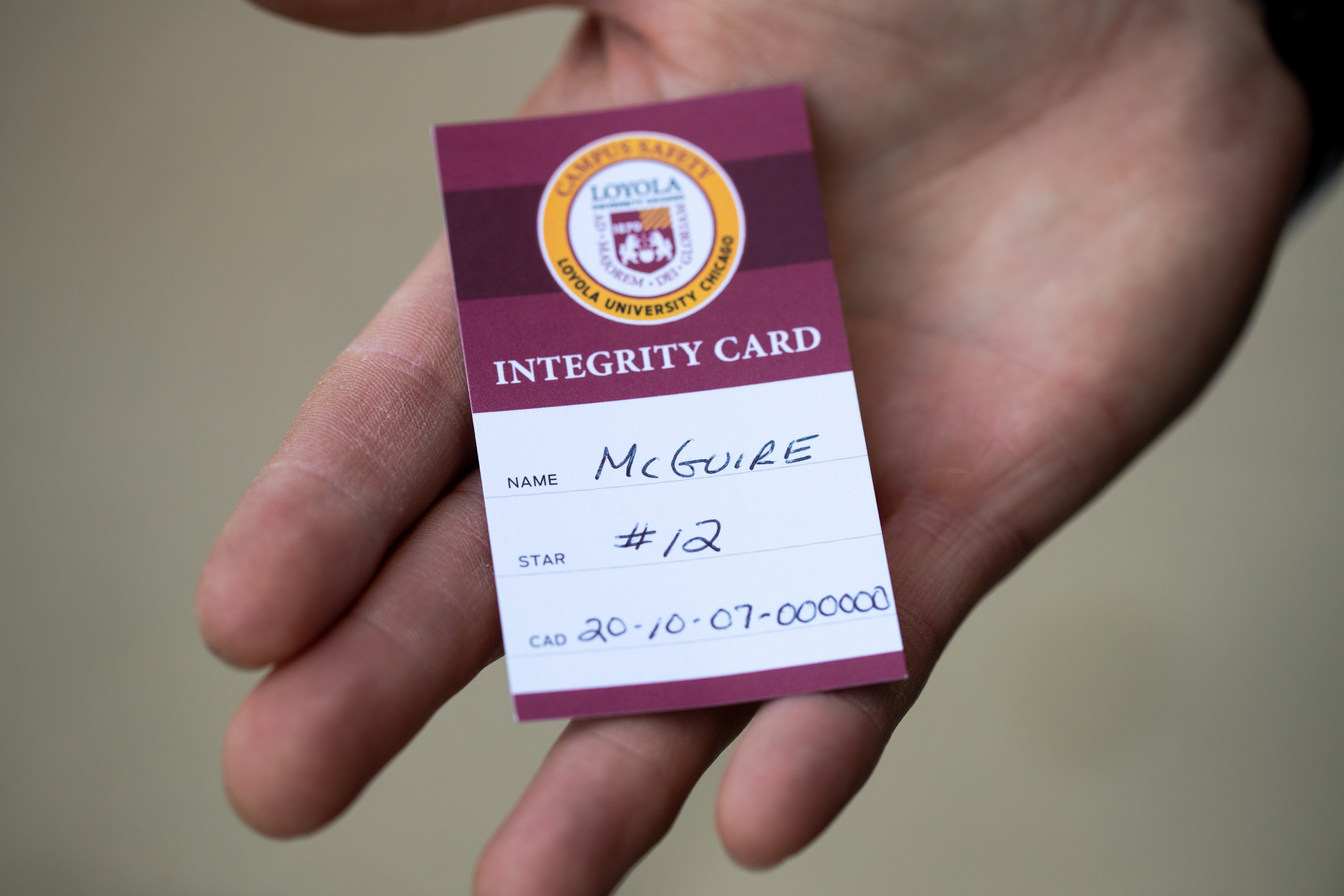 Name Badges and Uniforms
We also want to provide our community with clarity on Campus Safety name badges. Campus Safety's departmental policy has always required all sworn police officers to have their names visible on their uniforms. Names are either embroidered on their black body armor vest carriers or displayed on a name badge affixed to their outer garment.

In addition, we also want to remind you of the recent change to our security officers' uniforms. Loyola's Department of Campus Safety has two uniformed patrol groups. One group is comprised of sworn police officers, and another smaller group is made up of non-sworn security personnel. In addition, Campus Safety has personnel that serve as locksmiths, access control at entryways for campus buildings, and in the department's dispatch center.
Security patrol staff recently changed uniforms in late September to help students better differentiate them from campus police officers. Shown below is the new navy blue uniform shirt that replaces the grey-collared shirts with bulletproof vest carriers our security staff previously wore. They will also now only carry a few pieces of equipment and keys.


For more detailed information on Campus Safety uniforms, please visit our Officer Descriptions page.

We are hopeful that sharing this information will help our community more easily identify the distinction among members of Campus Safety, and gain a better understanding of the department and our many different roles. We are continuing to work in collaboration with the University's Anti-Racism Initiative, as well as directly with members of the BCC and other student organizations. The department values and continues to seek additional ways we can foster stronger relationships with students, faculty, and staff.