Staff: Megan Barry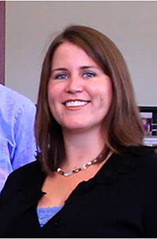 Name: Megan Barry
Position in CSA: Director
Past Education: MA, Pastoral Ministry - Boston College; MSW, Community Organizing, Policy, Planning, and Administration - Boston College; BA, Program of Liberal Studies - University of Notre Dame
Past Work/Service Experience: After completing my BA studies, I served two terms of full-time service in Wilkes-Barre, PA, one with Holy Cross Associates at a legal aid clinic and one with VISTA as community outreach coordinator at King's College. I worked at King's for a third year, organizing their immersion trips. Grad school came next, with internships at Allston-Brighton Healthy Boston and the Massachusetts Coalition for the Homeless. I've been at Loyola since 2005, working first with faculty/staff mission programs. I was asked to create the CSA in 2010.
Where are you from?
I was born and raised in South Carolina, but I've called many places "home" over the years. I have family along the east coast, in Michigan, and California; I was fortunate to study abroad in Ireland for 4 months; I lived in Wilkes-Barre, PA, for three years; and I studied in both South Bend, IN, and Boston, MA. I've now lived in Chicago for over a decade!
What do you like to do?
Outside of work, I spend a lot of time keeping up with family and friends across the country. I still write letters and send cards!! I also enjoy gardening, reading, and traveling.
How would you describe your role at Community Service & Action?
I see my role in the CSA as supporting the great work done by many other people. Whether my staff, student leaders, student participants, faculty/staff connections, or our community partners, I try to set them up for success in the great work that they do. What does that look like? Strategic planning, staff development, best-practices research, trouble-shooting, and being a sounding board.
Why do you engage in service and action?
I come from a family that is highly engaged in the local community. In my small hometown, good things come when people join together to celebrate the gifts of our community and when we combine resources to address challenges we face. From early on, I saw the impact of this work. Combine that with a faith rooted in justice, and I'm compelled to be part of creating the common good in our world.
What is one of your favorite stories from your experiences with CSA?
When we were first created as an office, our offices were in Mundelein. It's a great building, but students think of it as a classroom space, not a place to connect with service work, necessarily! We had a lot of fun creating community and energy in our space, regardless. For example, we used to create an annual office Christmas card that highlighted something about Mundelein. You know, like dragging a Christmas tree into the elevator!
What is your favorite thing about the work you do?
I love the mix of campus and larger community. It's wonderful to see the world open up to students when they are willing to engage in it in new ways. So much good can come from us working with one another to make the world a better place.
How are you involved at Loyola outside of CSA?
I've been a member of the Loyola community for a while now, so I enjoy being connected across our campuses. I enjoy sitting on advisory boards, supporting projects such as the Excellence Awards, and being a resource to colleagues and students.
What is your favorite place on campus?
Like so many of us, I really enjoy the stretch of the lakefront on campus. My job tends to keep me at my desk a lot, so I enjoy having such a beautiful place to head when I need a walk to clear my head or to energize myself.
What advice would you give to an in-coming student at Loyola?
Ask questions! There are so many great opportunities at Loyola, so many interesting places to see on campus and off, so many wonderful people to meet! Ask questions about things you don't know, talk to people who are different than you are, and stay curious throughout your time here!