Student: Amy Paul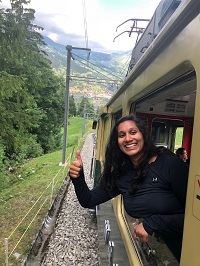 Name: Amy Paul
Year in School: Senior
Major: Biology
Minor: History
ABOUT YOU
Where are you from?
I am from Carol Stream, Illinois.
What do you like to do?
I enjoy reading, cooking, and spending time with my family and friends!
MY COMMUNITY SERVICE & ACTION EXPERIENCE
How are you involved in Community Service & Action?
I have been a part of Loyola4Chicago since my freshman year. For the past two years, I have been leading groups at Sarah's Circle.
What is one of your favorite stories from your experiences of involvement with service and action? My favorite experiences with service have always been getting to know different people. During my first year leading a group to Sarah's Circle, I met a women named Helen*. Over the weeks, Helen and I grew close. Every time my group walked through the door her face would brighten and she would exclaim "Oh! It's Friday already!" I remember one Friday night Helen ran over to my group right as we entered and showed us the painting she had made of the village she had grown up in. She then spent the next hour telling us all about her life growing up there. Seeing Helen's excitement and openness as she shared with us truly was a heart-warming moment.
*Name has been changed.
How do you envision living out our mission of building the greater good past your time at Loyola?
I'm hoping to become a physician who uses my medical knowledge as well as my understanding of the injustices communities face to provide holistic care for my patients.
BEING A RAMBLER
How are you involved at Loyola outside of CSA?
I am an on-campus EMT with LUCEMS and have participated on service learning trips with the ABI program.
What advice would you give to an in-coming student at Loyola?
Go to the student org fair and get on the email list for any club that interests you. You never know what new passion you're going to discover!