Student: Jacob Vodick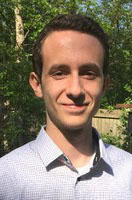 Name: Jacob Vodick
Year in School: Senior
Major: Information Systems
ABOUT YOU
Where are you from?
I'm from Woodridge, IL, which is in the western suburbs.
What do you like to do?
I like to cook and play my bass. I also like to explore the city and the local music scene.
MY COMMUNITY SERVICE & ACTION EXPERIENCE

Why do you engage in the Community?
I do it because I think it's important for one to spend time helping the community they live in. To give one's own time to others in service is something that I feel goes a long way in creating and maintaining a healthy community. It also builds relationships with great people and brings us all together with a common goal. Something that I think we're losing sight of now more than ever.
What is one of your favorite stories from you experiences of involvements with service and action?
If there is one story that sticks out it would have to be helping kids write a play. Last semester when I tutored at Centro Romero (a family services and community outreach program), the students I was with were in a program where they would put on a play for their friends, family, and other Centro Romero students. It was a semester long program and the students, under supervision, would create a setting for a play, learn to act it out, and perform it. Overall, from beginning to end, the process of working with the kids was a fun experience.
BEING A RAMBLER
What advice would you give to an in-coming student at Loyola?
For incoming students, I would suggest getting out and exploring the city as much as possible. Go to city events, find somewhere to volunteer, explore the many diverse neighborhoods, and generally find time to get off of the campus.