Dean's Welcome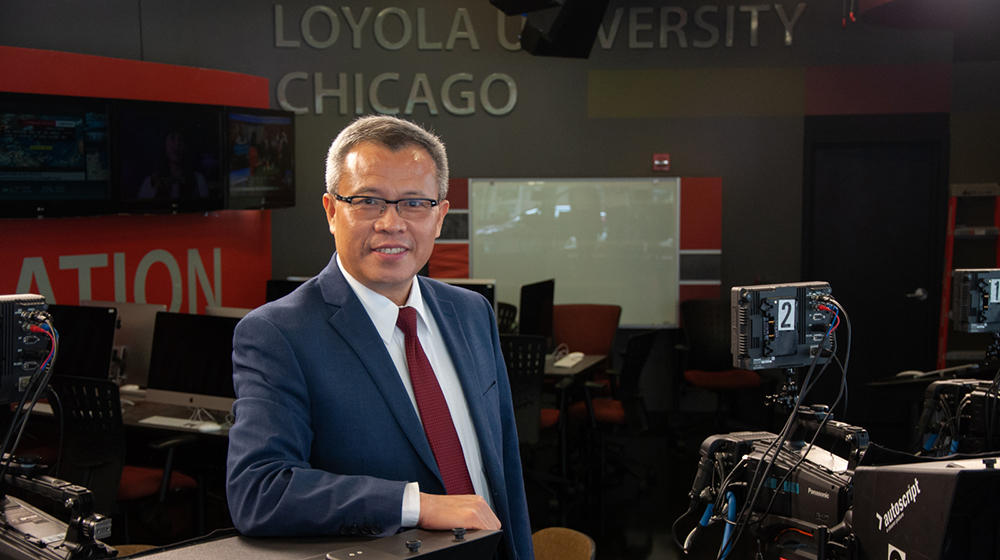 Welcome to the website of the School of Communication at Loyola University Chicago. You must be curious about the SOC if you are not familiar with it yet; you must be proud of it if you are already familiar with it. As SOC's new dean, I am both very curious about and so proud of the School. I am curious because I am new to the School, the University and the City (although I have been to Chicago many times before). I am proud because I know the SOC is a remarkable School, which achieved many great things in the first 10 years of its history. I am also extremely excited about the School because of its enormous potentials and tremendous opportunities.
In my warm and sincere welcome to you as a new dean, please allow me to take the risk of possible misreading or missing important attributes of the SOC, which, if any, I promise to correct in the near future when I become more familiar with the School. Now, let me compare notes about the SOC with you by sharing here five strengths of the School that I have found special and appealing.
First, the SOC offers comprehensive, current and innovative programs and curricula that cover all the major areas in communication and features state-of-the-art facilities and labs. In our School, you may find a communication program that meets your personal interest and career goals, and you have the space and equipment to exert your talent and creativity.
More importantly, the SOC boasts an excellent mixture of nationally and internationally-recognized communication scholars and professionals, as well as a diverse, dedicated and caring staff. With this strength, the School has proudly educated, trained and inspired its students. The SOC is not short of proud alumni highly successful in organizations like The New York Times, Leo Burnett, ABC News, Edelman, PBS and Golin.
The SOC is also home to a variety of dynamic and award-winning student media and student organizations, including the Ad Club, Beta Rho Honors Society, Loyola University Chicago Debate Team, The Gull (LUC's satirical newspaper), Inigo, Kettle Camp Studios, Loyola Mosaic Magazine, The Loyola Phoenix, Loyola University Chapter of PRSSA, Rambler Productions, Rambler Sports Locker, Loyola University Chapter of SPJ, SOC Ambassadors and WLUW 88.7 FM. Through these media outlets and organizations, students can gain extensive hands-on learning experiences and hone their communication and leadership skills right on campus.
Located in one of the world's top communication centers, the SOC has especially strong ties with the communication organizations in Chicago and beyond. The abundant communication talents and resources in the city have provided ample and unique learning and research opportunities for SOC students and faculty.
Meanwhile, the SOC strongly emphasizes teaching its students to be critical thinkers and ethical human beings, as well as challenging them to explore their faith, to think about social justice and to be engaged in their communities while preparing them for professional and research careers. A driving force in this important aspect of communication is the School's Center for Digital Ethics and Policy.
I envision the SOC at Loyola Chicago becoming a "glocal" hub and powerhouse of transformative education and impactful scholarship in communication that fosters media-savvy, culturally competent and socially responsible communication professionals, scholars and leaders, who will survive, and thrive, in the 21st-century global market. As we all know, it is an exciting time to study communication, a noble and engaging career. If you are already a member of the SOC family, I look forward to working with you to achieve our common goals for the School; if you are considering joining the SOC, I look forward to welcoming you to the School.
I hope you are enjoying our website. Thank you for your interest in our School and our field, and for being, or considering becoming, part of the SOC family.
Hong Cheng, Ph.D.
Professor and Dean
School of Communication
Loyola University Chicago