archive
New dean; new era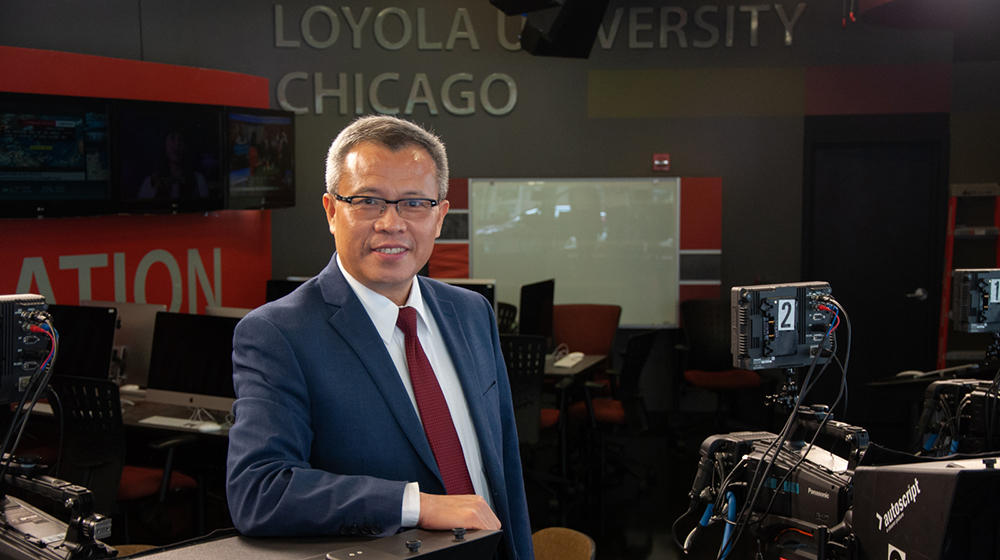 By Tim Edmonds
Loyola's School of Communication is embarking on a new era of leadership in welcoming Dr. Hong Cheng as its new dean.
Cheng comes to Loyola from Virginia Commonwealth University, where he was the director and a professor of the Richard T. Robertson School of Media and Culture in the College of Humanities and Sciences.
Cheng, a native of China, joins Loyola after a 25-year career in the United States. He said he would build upon the School of Communication's excellence and enhance its reputation nationally and internationally.
"I'm very happy and very honored to be part of the SOC family," Cheng said. "I look forward to working with everyone, and by that I mean faculty, staff, students, alumni and anybody who's related to the school and supports the school."
Before joining VCU in 2013, Cheng was a tenured professor in the E. W. Scripps School of Journalism at Ohio University. Before going to Ohio in 2004, Cheng was a tenured associate professor of the Slane College of Communications and Fine Arts at Bradley University. He holds a Ph.D. degree in mass communications from Pennsylvania State University and a master's degree in international journalism from Shanghai International Studies University.
Cheng's research interests center on international communication, cross-cultural advertising and global social marketing. His work has been constantly presented at national and international conferences since the early 1990s and appeared in dozens of journal articles. He also authored or edited four books. Currently he serves as an associate editor for Journalism & Mass Communication Quarterly and the Journal of Advertising.
To pair with his academic experience, Cheng also brings a substantial professional resume to Loyola's SOC. Beginning with his time as a reporter and editor for the Shanghai Students' Post, a student-run English language newspaper in China, Cheng then collected experience with a number of U.S. media outlets — including WMAQ-TV in Chicago, WMBD-TV in Peoria and San Jose Mercury News.
Along with research and journalism experience, Cheng also has a background in another major pillar of the SOC: advertising. His doctoral dissertation focused on advertising and media in China. He spent time with Saatchi & Saatchi New York. He has previously taught advertising courses and advised students at Ohio University to integrate them and work with several advertising companies here in Chicago.
"I've had broad experiences in our field and plenty of exposure to Chinese and U.S. media," Cheng said. "I'm excited to bring my experiences and knowledge to Loyola and our school; it's sort of a homecoming for me to move to Chicago, a global city I really enjoyed being in."
As Cheng begins his first year as the SOC dean, he outlined a number of goals and ideas he'd like to accomplish in the coming years. This includes further modernizing the school with the latest technology and forward-thinking programs and curricula, continuing to use the resources the city of Chicago has to offer and making the school a thought leader and power house in communication education and research.
While he has many goals and ideas, as he begins his role as dean, Cheng said his first priority now is to learn about the school, the university and the city as much and as quickly as possible.
"My goal from day one is to meet as many colleagues, students and alumni as I can," Cheng said. "I'm so excited to get started. With the school year beginning I will have the opportunity to really introduce myself to the students of our remarkable school. I think that's really the first step towards building off the success of the past. I'm really honored to have an opportunity to build on it."