archive
Loyola students volunteer at Lights Festival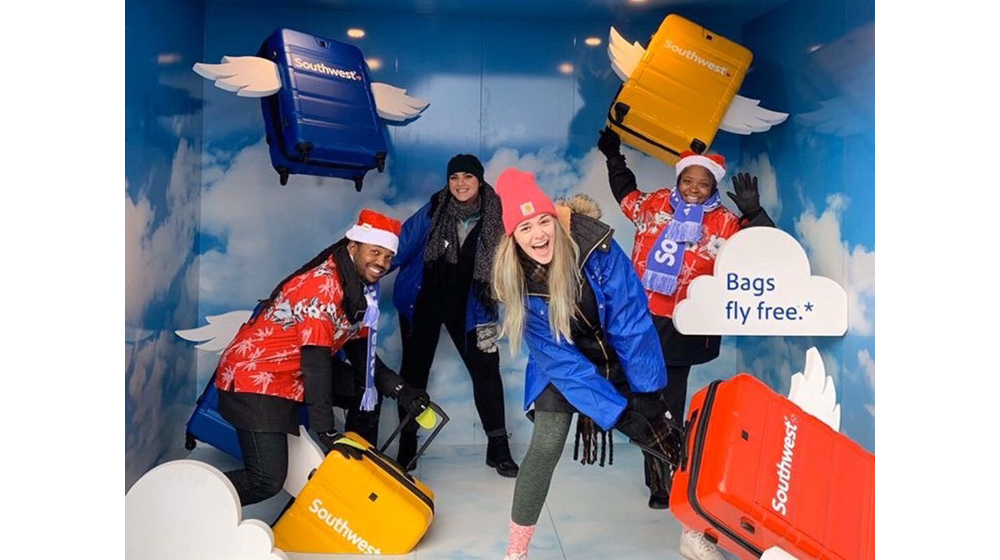 Students from Loyola University Chicago recently volunteered for Chicago's annual Magnificent Mile Lights Festival as part of their coursework in the School of Communication.
Students in instructor Andrew Ettenhofer's Special Events Planning class volunteered for a variety of duties in the festival including assisting with sponsor tents, answering questions for visitors, distributing information and giveaways, walking along floats to maintain their spacing, and even handling giant balloons! Organized by the Magnificent Mile Association, the event is the official holiday kickoff for the Mag Mile.
Ettenhofer is an experienced professional in sales and marketing, business development, event planning, culinary arts, writing and video production. He also is a long-time volunteer leader for the BMO Harris Magnificent Mile Lights Festival. He even met his wife through the event. For the past several years, his role has been to work with the Chicago police to shut off Michigan Avenue before the parade, and to keep the route safe with the help of other volunteer teams.
The purpose of the Special Events Planning course is to teach students how to plan and execute special events, as well as the strategy behind them. Ettenhofer saw an opportunity to offer his students real-life experience by enabling them to volunteer for the festival.
"You can't ask for a better teaching opportunity than a million-person, nationally-televised event on Michigan Avenue that involves so many organizations, sponsors, media, and so many other moving parts," Ettenhofer said.
The Lights Festival began on Friday, Nov. 23 with a range of holiday-themed activities, including activities for children, food, games, prizes and musical entertainment.
Activities led up to the much-anticipated parade, which stepped off Saturday, Nov. 24 at Oak Street and North Michigan Avenue. Grand marshals Mickey Mouse and Minnie Mouse joined classic Disney characters along with floats, helium-filled balloons and marching bands. Mickey helps lights trees along the parade as it heads south to the river where there is a fireworks display to end the event. An estimated 1 million people lined Michigan Avenue this year to watch the parade.
School of Communication students also volunteered as part of their service project for the Beta Theta Pi fraternity. Their group was in charge of crowd control for three blocks from Chestnut to Superior, directing traffic and setting up barricades to keep pedestrians safe.
"It was truly a magical night, even though it was freezing outside," said Nicolas Tamayo, a Multimedia Journalism major. "We were all in good spirits and it was worth it to see the joy on little kid's faces when the music started and the parade finally began. I'm glad I was able to help people who weren't from the area find their way around downtown."